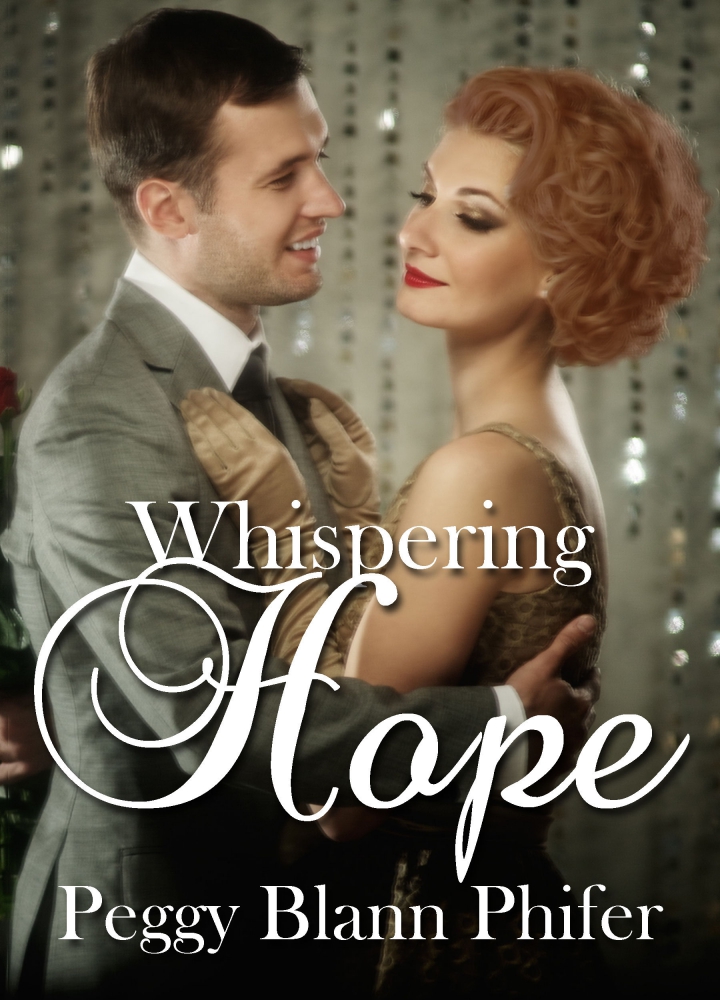 FEATURED BOOK: Whispering Hope
AUTHOR: Peggy Blann Phifer
PUBLISHER: Forget Me Not Romances, a division of Winged Publications
GENRE: Historical Romantic Suspense
SERIES OR STAND ALONE: Stand alone
TARGET AGE: All ages
IT IS MY PLEASURE TO WELCOME AUTHOR PEGGY BLANN PHIFER TO PATTI'S PORCH. PEGGY TALKS ABOUT THE STORY BEHIND HER LATEST HISTORICAL ROMANTIC SUSPENSE NOVEL.
PEGGY IS OFFERING A GIVEAWAY! SIMPLY LEAVE A COMMENT BELOW TO ENTER THE DRAWING FOR A PRINT OR EBOOK COPY OFWHISPERING HOPE.
THE STORY BEHIND THE WRITING OF WHISPERING HOPE
by
Peggy Blann Phifer
In what seems an impossibly long time ago, I'd become captivated by a property we drove past regularly. It had a large fieldstone arch over the driveway at the highway, a wide, two-story house, another building I assumed was a stable because it didn't look like a barn, and other outlying buildings. Best of all, it was situated along the shore of a rather large lake.
The sad truth is that I never drove through that arch, never got to explore those buildings, or see what it looked like from the lake. But my imagination did … and this was long before I ever thought about writing. But the memory of that place stayed with me over the years, and eventually became the fictitious setting for Whispering Hope.
As a history buff, particularly American history, for some odd reason I can't explain, I was drawn to the era of Prohibition, of all things, and the notorious Al Capone. Maybe it was because, in those long-ago days, the show The Untouchables was on TV, about the Prohibition Bureau agent Elliot Ness and his efforts to 'clean up' Chicago.
Maybe it was because, not far from where I used to live, was the stone fortress Al and Frank Capone built as a hideout when things got too hot for them in Chicago.
Whatever it was, when I sat down to write Whispering Hope, it seemed natural to combine these two fascinations and write a story about my heroine Virginia Hopewell, a Wisconsin country girl visiting Chicago and getting caught in a gangland shooting at a speakeasy, in Al Capone territory. Of course, I had to have a hero, so I created my own "Elliot Ness" in the form of Ransom Blake who encounters Virginia at that same speakeasy.
The research was daunting, but I loved it. I bought a DVD of a PBS documentary by Ken Burns, as well as other books that helped me a lot. I visited Chicago several years ago and went to dinner with friends at Capone's hideout, though I've forgotten where it was, and browsed their gift shop, buying a few books about the man. I downloaded and printed copious amounts of pictures and documenting the era amounting to about a two-and-a-half-inch stack, most of which I will probably never use again.
So, there you have it.
Back Cover Copy for Whispering Hope
1930 Chicago is no place for a Wisconsin country girl.
Virginia Hopewell visits her cousin in Chicago and gets caught up in a deadly gangster shooting at a speakeasy, barely escaping with her life. After learning of the tragic death of her father, brother, and sister-in-law, Ginny returns to Wisconsin and convinces her mother to reopen the resort her father had closed after losing everything in the stock market crash in 1929.
Ransom Blake, an agent with the Chicago Bureau of Prohibition, had been at the same speakeasy acting on a tip about the shooting. Rance is charged with finding the gangster responsible. He and his team are sent to Wisconsin where the man was reported being seen, and to investigate how illegal liquor from Canada is making its way to Chicago.
With the opening of Whispering Hope Resort, Rance registers as a guest and comes face to face with the lovely redhead he'd briefly encountered at the speakeasy during the shooting.
Buy LInks:
DON'T FORGET TO LEAVE A COMMENT TO BE PLACED IN THE DRAWING TO WIN A PRINT OR EBOOK COPY OF WHISPERING HOPE BETWEEN NOW AND TUESDAY, NOVEMBER 20TH AT MIDNIGHT MST. (U.S. entrants only eligible for print copy)
BY LEAVING A COMMENT, YOU GRANT PERMISSION FOR YOUR EMAIL TO BE REVEALED TO THE AUTHOR IF YOU ARE THE WINNER TO FACILITATE RECEIPT OF YOUR BOOK.
Author Peggy Blann Phifer lives in the 'boonies' of NW Wisconsin with her daughter, son-in-law, and a Border Collie mix dog named Rocky
Peg's debut novel, To See the Sun, a contemporary romantic suspense, released in January 2012. A second novel, Somehow, Christmas Will Come, contemporary women's fiction with a touch of romance and mystery, released in November 2014, revised and re-released in late 2015. A recent work titled Whispering Hope, an historical romantic suspense, set during the years of Prohibition, released in May 2018. Broken, Book 1, and Stronger, Book 2, in a series of novellas called Sweetwater River, released in September 2018.
Peg is a member of American Christian Fiction Writers. When she's not writing, she enjoys reading, blogging, supporting her fellow writers, and watching Netflix movies on her Kindle.
Connect with Peg online:
Twitter @pegphifer
Email: [email protected]
Purchase links for Peg's other books:
TO SEE THE SUN: Paperback
TO SEE THE SUN: (Kindle)
SOMEHOW: Paperback
SOMEHOW: (Kindle)
BROKEN Paperback
BROKEN (Kindle)
STRONGER Paperback
STRONGER (Kindle)