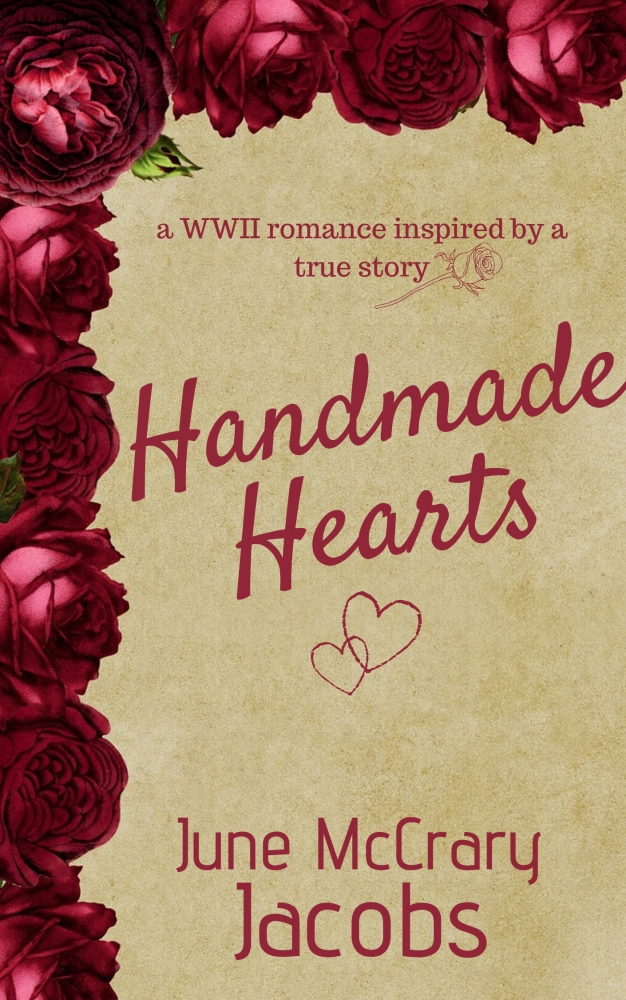 FEATURED BOOK: Handmade Hearts (a short story)
AUTHOR: June McCrary Jacobs
PUBLISHER: JMJ Story Stitcher Books
GENRE: Inspirational Historical Romance
SERIES OR STAND ALONE: Stand-alone short story
TARGET AGE: Young Adult & Adult
IT IS MY PLEASURE TO WELCOME AUTHOR JUNE McCRARY JACOBS TO PATTI'S PORCH. JUNE SHARES THE TRUE STORY BEHIND HER WORLD WAR II HISTORCAL ROMANTIC SHORT STORY BASED ON REAL LIFE EVENTS.
JUNE IS OFFERING A GIVEAWAY! SIMPLY LEAVE A COMMENT BELOW TO ENTER THE DRAWING FOR A DIGITAL COPY OF HANDMADE HEARTS.
TRUTH OR FICTION?
by
June McCrary Jacobs
My latest release, an historical World War II romance short story, Handmade Hearts, is based on a true story. As a history buff and fan of historical fiction for decades, people are surprised to learn this is my first release in the historical genre. My previous two books, A Holiday Miracle in Apple Blossom and Robin's Reward, are both contemporary inspirational romance stories. So why did I choose to change genres to write about the past?
First and foremost, I wrote this story as a tribute to my aunt and uncle's beautiful relationship of over sixty years. They had a special bond and were visibly in love with each other until their last days together.
My uncle and aunt lived in Mississippi while I live in California. Cards and letters passed between us for years, but my favorite way of communicating with my uncle was over the phone. He was a witty, interesting, 'plain as dirt' man who was open to sharing his life experiences and opinions with me. We talked about many different topics—current events, golf, fishing, football, cars, NASCAR racing, books, his military service, my sewing and quilting, my teaching career—the list goes on and on.
One day a few months before my aunt passed away suddenly and unexpectedly, I asked my uncle how the two of them met. I knew they had met during World War II, but that was all I knew about the start of their romance.
My uncle cleared his throat and smiled. I could always tell when he was smiling on the other end of the phone by the way the tone of his voice changed. And whenever he spoke of my aunt, his voice really changed because he was smiling so broadly.
He told me he was still on crutches from his war injuries sustained in the South Pacific as a young Marine. The local church was having a social for the young adults in their neighborhood in New Orleans, and my uncle decided he would give it a try. He was tired of being cooped up in his room feeling sorry for himself. It had taken him months to recover from his multiple injuries, and he hadn't really gone out socially since before he enlisted in the Marines.
He walked over to the church and struggled up the front stairs to enter the fellowship hall. There were a lot of people milling around, and somehow he connected with my aunt. That was it for him, he told me. She was so special and so pretty, he was hooked.
When I decided to write Handmade Hearts several years later, they were both deceased. Therefore, I used a lot of my very active imagination to write about my aunt's background, how their relationship progressed, and where they might have gone on dates back in New Orleans in 1944 and 1945 because I didn't know the specific details from my brief conversation with my uncle.
The elements of the story besides how my aunt and uncle actually met which are based on fact include my uncle's family background, his military service record and wounds, and the military service of his two older brothers. I performed a good amount of research on what movies were released during the time of the story and what types of gifts a gentleman was likely to give a lady friend in the south—little details which enrich a reader's enjoyment of a story.
I enjoyed writing historical fiction so much that I am releasing my debut middle-grade historical novel, RES-Q Tyler Stop, later this spring. This book for children is set in 1968 in Northern California and involves the Gregg family and their eleven-year old son Weston's adventures in rescuing injured and unwanted animals along with difficult lessons learned at the hand of a bully. I performed hours of research for this full-length novel to gain an authentic perspective for what was going on in Northern California at that time and what challenges Weston and the others in his small town may have encountered during that era.
So while Handmade Hearts is historical fiction inspired by true individuals and a true event, RES-Q Tyler Stop is historical fiction occurring in a fictional town with fictional characters but with an authentic backdrop of Northern California in the late 1960s. Either way I look at it, I am blessed to be able to share my writing with the world.
Many thanks to Patti for allowing me to share Handmade Hearts and this guest post with you here on Patti's Porch.
Book blurb for Handmade Hearts
Handmade Hearts is an historical romance short story set in New Orleans during World War II and was inspired by a true story.
Toward the end of his life, the author asked her Uncle 'Allen' how he met his wife. He shared about how he met 'Irene' at a church social in their neighborhood in New Orleans in the early 1940s. He had been seriously wounded in Guadalcanal in the South Pacific as a young Marine and was using crutches to get around as best he could.
He had many inner wounds which needed time to heal, too. He had no way of knowing when they first met that Irene had suffered her own wartime tragedy. She bravely sought to keep her grief locked away deep inside because thinking about her loss caused her even more sorrow. She needed to be strong because she was the breadwinner for her small family.
Times were tough, but these two unique individuals made it through each day with inner fortitude, determination, and the sincere hope of something greater just over the horizon.
HANDMADE HEARTS – EXCERPT
New Orleans, Louisiana
October 20, 1944
Allen wrestled with his heavy wooden crutches. Each step was agonizing. He grimaced as he labored up the stairs of the church's fellowship hall proudly wearing his uniform—a uniform he'd dreamed of wearing since learning of the attack on Pearl Harbor on December 7, 1941.
In addition to the almost intolerable and constant pain, the three bullet wounds received from a sniper in Guadalcanal two months ago had wreaked havoc with his plans for his life. Well, at least I still have a life . . .
Dozens of his fellow Marines had not made it out of Guadalcanal alive on that horrendous, life-altering night. Allen felt himself slipping into the abyss of traumatic memories once again. The vivid memories that plagued him daily flashed in front of his eyes. His pulse quickened, and his heart pounded loudly in his ears. He felt clammy and nauseous, and both legs began to tremble.
A woman's melodic voice roused him from his memories of the ambush.
"Good evening, Lance Corporal. May I hold the door for you?"
Allen wondered how long she had been speaking to him before her voice drifted through to his subconscious. He blinked as the details of her face came into focus.
"Uh, what? Yes, I guess you'd better," Allen snapped.
When he recognized the hurt expression on her face, he turned toward her.
"Sorry if I sounded gruff. I just feel so helpless being dependent on these blasted crutches!"
"No need to apologize or explain," she answered in a soothing voice. "Let me introduce myself. I'm Irene Carston."
DON'T FORGET TO LEAVE A COMMENT TO BE PLACED IN THE DRAWING TO WIN A DIGITAL COPY OF HANDMADE HEARTS BETWEEN NOW AND TUESDAY, FEBRUARY 19TH AT MIDNIGHT MST.
BY LEAVING A COMMENT, YOU GRANT PERMISSION FOR YOUR EMAIL TO BE REVEALED TO THE AUTHOR IF YOU ARE THE WINNER TO FACILITATE RECEIPT OF YOUR BOOK.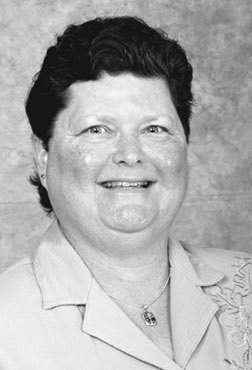 June McCrary Jacobs was the winner of Cedar Fort Publishing's 2013 Holiday Tale Contest for her debut novella, A Holiday Miracle in Apple Blossom. Robin's Reward, her first full-length novel, was set in her favorite location in California—the Mendocino coastal region.
June's debut middle-grade novel, RES-Q Tyler Stop, an historical novel set in Sonoma County, California, in 1968, will be released in the spring of 2019.
June's original sewing, quilting, and stitchery designs have been published in over one hundred books, magazines, and on sewing industry blogs. June enjoys cooking, walking, visiting art and history museums, and touring historic homes and gardens.
Connect with June online:
Reading, Writing & Stitch-Metic Author's Blog
SUBSCRIBE TO PATTI'S BLOGS HERE