I have always loved trains. As a child, I watched the commuter trains speed toward New York City as they breezed through our small Long Island town and delighted in standing at the platform when wheels squealed to a stop at the local station. Today, the commuter trains that roll through my small Colorado plains town and sometimes grind to a stop, blocking the crossing for hours, still generate that childlike fascination.
My grandmother took my sister and I for our first train ride when we were kids. She told us we were going to the next town, about two miles away, when in fact she took us to New York City. I recall very little of that trip except that it was my first train ride!
Since then, I have traveled back to New York to visit family and out to LA for vacation on Amtrak. These trips on the steel rails that whisked me across the country were thrilling.
So, when I heard that our Senior Opportunity Center here in town was planning a trip on the Royal Gorge Route Railroad, I was all in. I'd been interested in that sightseeing trip for years!
The day started out clear and warm as some twenty plus seniors lumbered our way up the steps of a bright yellow school bus a little before eight o'clock. I embarked on the trip armed with my Colorado Rockies travel cup brimming with fresh coffee from home and a couple of bags (caught a sale – 2 for $5 yesterday!) of those mini glazed donuts that have become my staple when I travel in the morning.
We journeyed the 120 miles to Canon City, sharing stories and idle chatter, all anticipating the excitement of the train ride. I am a fairly new member to the senior center, but have known most of the regulars there for years. However, the lady I picked up this morning and sat next to on the bus had recently moved to town. She is a published author, so we are rapidly becoming friends. She introduced us to the lady who sat behind us on the bus, and even though she has lived her for quite some time, I had never met her. The three of us enjoyed sharing stories of our different life experiences.
Once we arrived at the train station, we were met by several others from our group who had opted to drive over in their private vehicles. We had plenty of time before boarding the train, so browsed the gift shop and relaxed under the shade trees in the park.
The walk to board the train proved to be somewhat lengthy for a few of our older folks who have challenges with walking. Before boarding the train, we were organized into a group photograph which took quite a few minutes. However, this will be a great photo to display at the center.
The train ride itself was exhilarating as we skirted a raging Arkansas River that is dangerously close to flood stage. All rafting has been prohibited in this section of the river.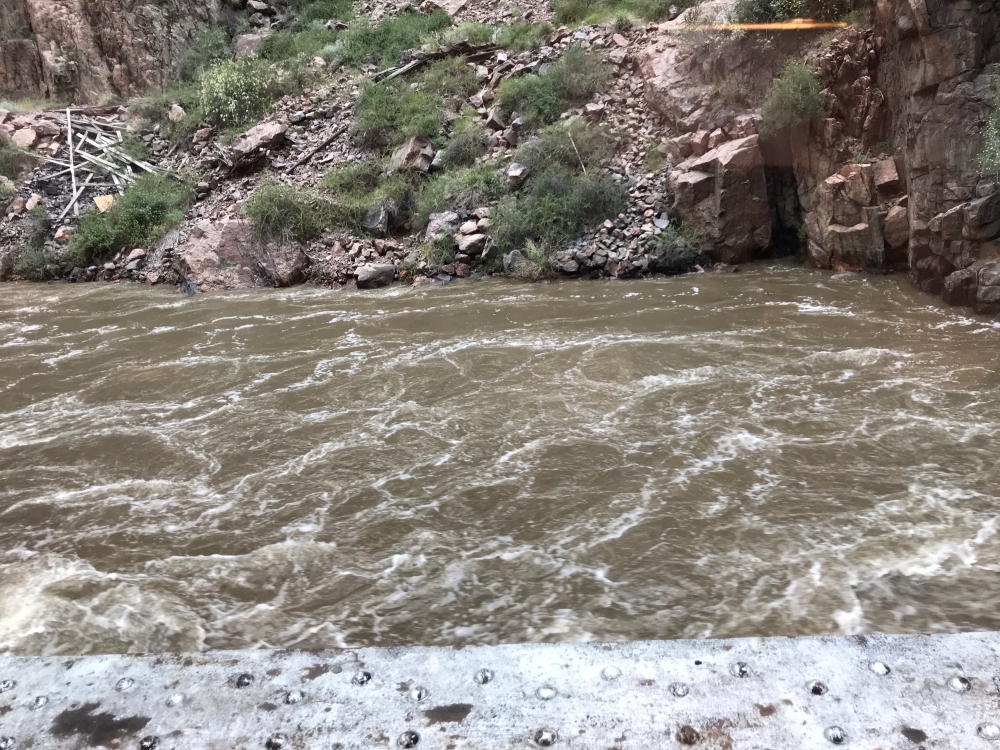 The side I was sitting on skirted the rocks so closely that there were times I wondered if the outer wall of the train could possibly brush against those stark and rough surfaces.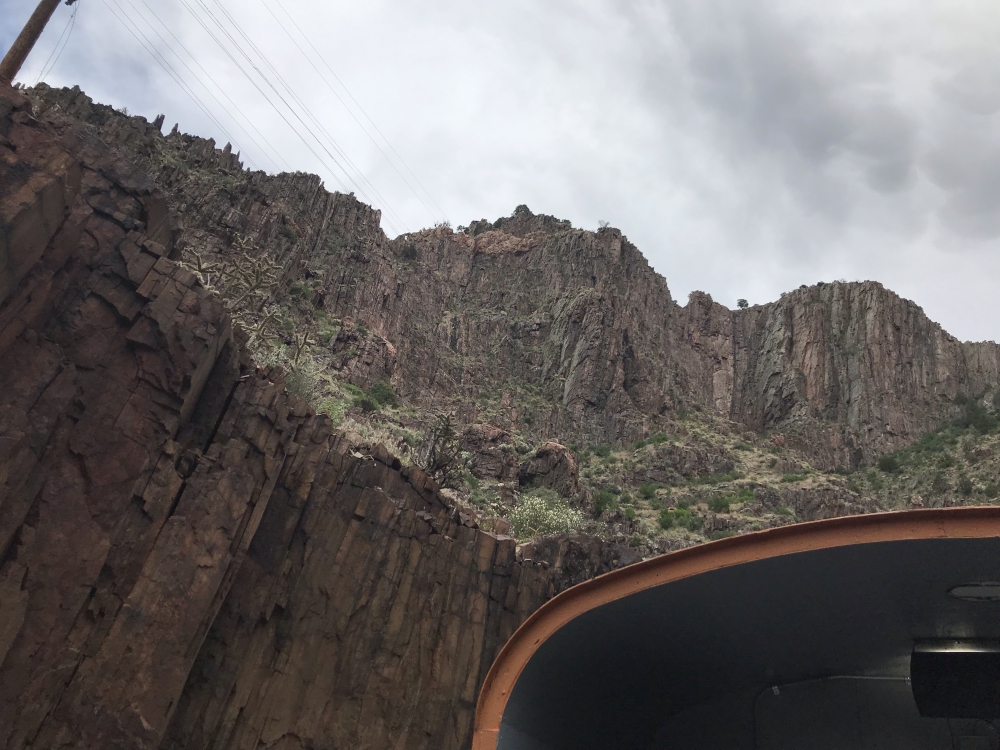 We had a choice for lunch of ordering off the menu or ordering a box lunch. I opted for the box lunch, and those of us who did received them toward the beginning of our journey. I was glad because I was so hungry!
After we finished our meal, we reached the end point, where the train stopped, allowing us to leave our seats and go to the "open air" car. Several people were there, so I had to maneuver my way around folks to get some decent photos. People for the most part were polite, though, allowing newcomers to edge their way to the outside of the car for pictures.
I have been to the Royal Gorge and walked the bridge a few times, so seeing it from the underside was interesting. Truth be told, I'd rather be on top of the bridge than under it since I love heights! The train crew kept us entertained with some interesting historical facts along our route.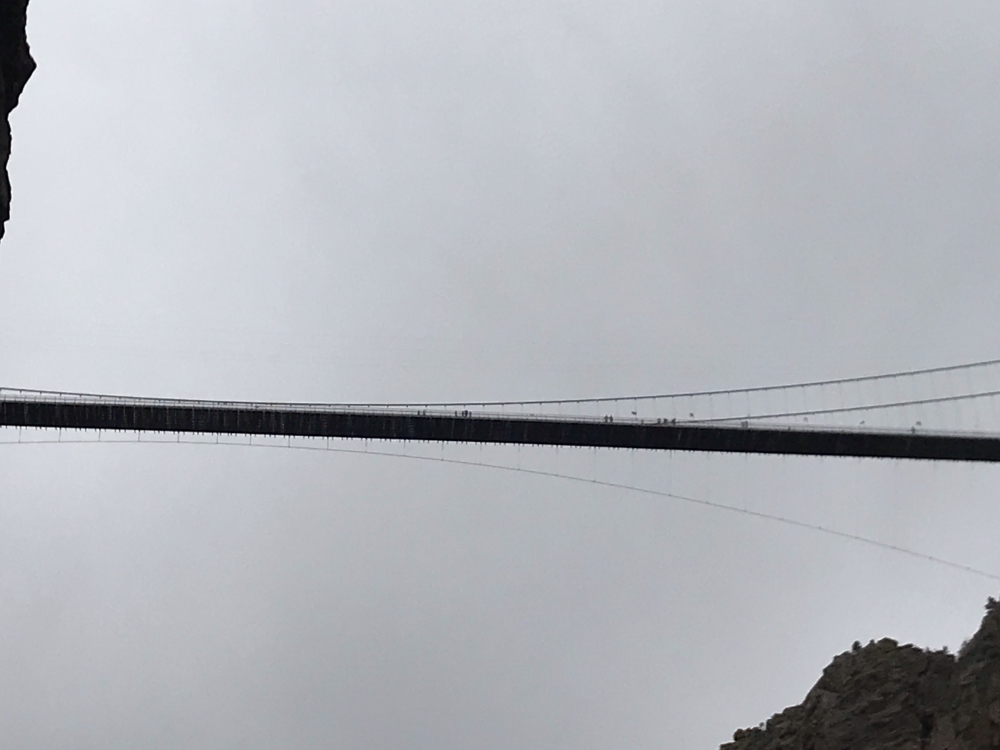 Sadly, the skies were gray and overcast during most of our trip, although the temperature remained quite warm, and we never did see any rain. The wind came up very strong just after we left the train. It was our plan to picnic on or way home, but we decided that with the possibility of inclement weather and everyone's tummies plenty full from lunch that we would head on home.
The day was full of fun, friends, adventure, and God's majesty!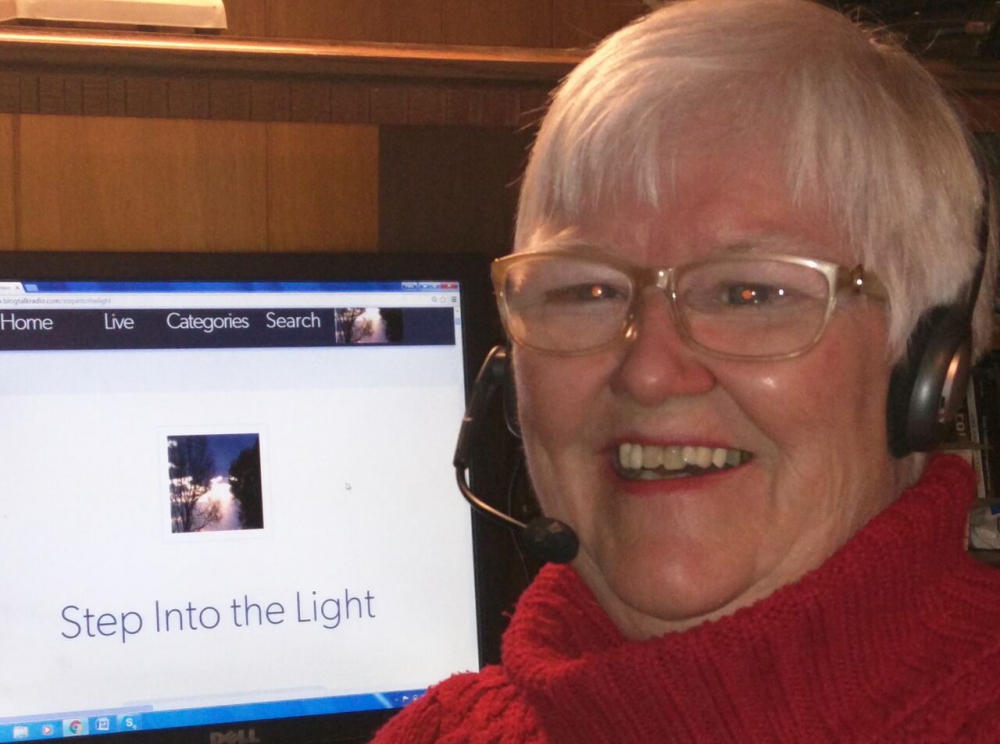 Patti Shene Gonzales is published in two anthologies and local publications and has three western novels in progress. When not writing or reading, she is spending time with friends or attending her only granddaughter's sports activities. Patti lives in Colorado with her devoted feline companion, Duncan.
SUBSCRIBE TO PATTI'S BLOGS HERE