Close your eyes.
What sticks out in your mind about the place? Do you recall a specific scent? See unique colors, crowded streets, empty cobblestone lanes?
Do you hear music, loud noises, different languages? Feel the soft tablecloth beneath your fingers or the coarse fur of a camel's neck? Taste salt, sugar, exotic spices in the food?
Petra, Jordan (recognize it from Indiana Jones 3?)
For additional help, look over your pictures, videos or souvenirs from the place. I always do and it's another tool to help me be in the place again so I can take readers there too.
After re-familiarizing yourself with the place, hone in on one specific aspect of it (perhaps the answer to the question about what sticks out in your mind) and start writing.
Don't worry about writing it perfectly to sound like a travel guid or TV travel script. Write about what comes to mind about the place—what you liked, were surprised about, activities you did, etc. Just write until you find a stopping point.
Read your writing (out loud is best) and circle or just take note of the details. Make sure several (if not all) senses have been represented.
For the opening of the article, look back over it and pick out the most interesting, shocking or funny detail or fact noted. The article must catch the reader's attention right off the bat.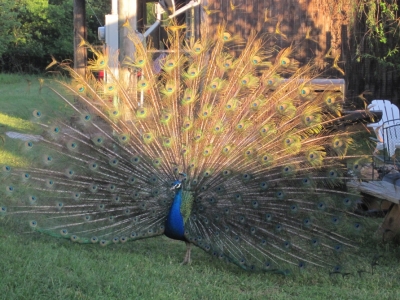 In my article about camping in an Arkansas teepee, I started with "This writer nearly shot an arrow through a peacock... " I know…it's an odd opener, but I felt it was a quirky happening of the trip. (To read more about the near peacock homicide, click here.
Whether your article is short or long, about somewhere nearby or far off, travel writing that connects with readers is about thinking back on the experience and its details, picking a starting point, being yourself and just writing it. Try it.

The almost Peacock victim
Please feel free to ask questions below in the comments. For a travel blog opportunity, see below.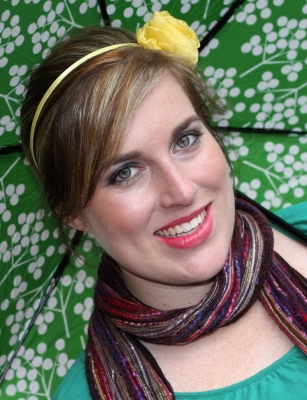 Morgan Tarpley
is a Christ follower and an award-winning newspaper reporter and photographer in Louisiana. She is also a
historical novelist currently seeking representation. She runs a travel and writing blog called "Pens on a World Map" and writes about travel and the writing life as well as posts a vlog and features a guest blogger each week.
Besides traveling to over a dozen countries, her interests include reading, acting in her local theater, photography, and singing. For more information about Morgan, visit her website (www.morgantarpley.com) and blog. You can also connect with her on Facebook, Twitter, or Pinterest. Check out her blog's World Map Archive of articles here.