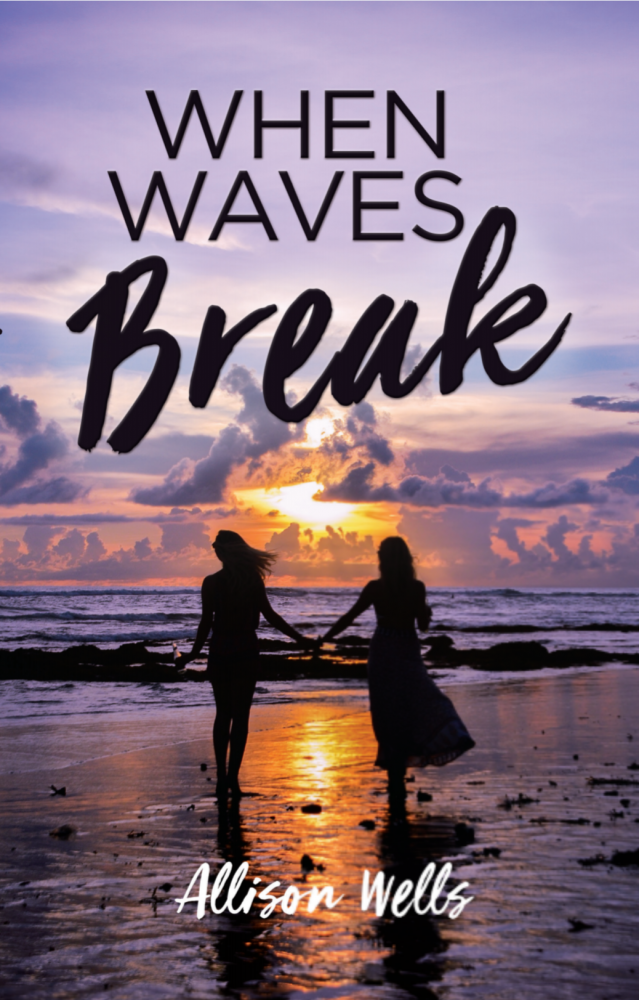 FEATURED BOOK: When Waves Break
AUTHOR: Allison Wells
PUBLISHER: Ambassador International
GENRE: Christian Historical Fiction
SERIES OR STAND ALONE: sequel to War-Torn Heart, but can stand alone
TARGET AGE: 18+ due to mature themes
IT IS MY PLEASURE TO WELCOME AUTHOR ALLISION WELLS TO PATTI'S PORCH. ALLISON SHARES WHY CHRISTIAN FICTION THAT ADDRESSES THE HARD TOPICS LEAVES READERS WITH A RELEVANT MESSAGE.
ALLISON IS OFFERING A GIVEAWAY! SIMPLY LEAVE A COMMENT BELOW TO ENTER THE DRAWING FOR A SIGNED PAPERBACK COPY OF WHEN WAVES BREAK.
GRITTY CHRISTIAN FICTION
by
Allison Wells
I am an avid reader of Christian fiction, particularly historical novels. I devour books that provide a Biblical worldview, are clean, and tell a gripping story. But so much of it presents like a Hallmark movie with little to no actual conflict.
Living life as a Christ-follower does not mean our troubles are little or insignificant. We fight demons, even more so than our secular friends as the enemy wants to bring us down. I wish more books depicted that struggle. The struggles where we wonder if God is really there after all.
These are the stories where the sin seems insurmountable, where the characters feel that they are unworthy, where life gets raw and real. But then the glory of God is realized and redemption comes in the end. But it's not pretty and it's often heart wrenching.
Some authors convey this idea quite well. That life is hard, but with God, we can climb to the top of the rubble and triumph in His name. That redemption is for anyone who accepts it, not just a few who appear spotless. I call this small faction of books "gritty Christian."
As a reader, I long to see more of these books. For those days when I feel unworthy or sinful above reproach myself and I can see that the character is actually able to find redemption and therefore I am as well. For you see, I am not perfect and I sometimes need a reminder that Christ died for me regardless of what sins I've committed. Books that tell that kind of tale to help me to remember that I am loved by the One who gave it all.
I try to aim my own writing into this vein. Christian books that show real struggle, real questions of faith, and then real redemption. All while wrapped up between the pages of a work of fiction. My works run the gamut of couples separated by war, sisters torn apart by assault, and a young woman who feels she is not worthy or capable of love. Yet in each one, the reminder of Christ's love and commitment to us helps them see that their value is not tied up in their circumstances.
Join me in my search for these gritty Christian novels. Books that present real struggles, the unpretty parts of life, but give us a story of redemption and love. Because in the end, redemption is what matters most.
Book cover blurb for When Waves Break:
One summer, one night, one mistake, and everything changes for Eve and Juliette Nicholas.
For the Nicholas twins, life is just beginning, until one summer of misguided love forces the twins to doubt everything they've ever believed. Eve and Juliette are the daughters of a preacher, raised to hold love in high esteem, although they may disagree on how to share it. As high school graduation looms, they must question the cost of love, and what it may mean for their futures.
The summer of 1968 is one of change for both the Nicholas twins and the nation. With Martin Luther King, Jr.'s speech fresh in everyone's minds, racial tensions are high and threaten to shake the very foundation that once held the twins together. Through it all, will the bond that Eve and Juliette share be broken? Can love truly endure all things? Or will their mistakes always haunt them?
Set during a time of racial instability, When Waves Break sheds light on the equality and redemption we all have in Christ.
DON'T FORGET TO LEAVE A COMMENT TO BE PLACED IN THE DRAWING TO WIN A SIGNED PAPERBACK COPY OF WHEN WAVES BREAK BETWEEN NOW AND TIESDAY, JULY 7TH AT MIDNIGHT MDT. (residents of lower 48 only eligible).
BY LEAVING A COMMENT, YOU GRANT PERMISSION FOR YOUR EMAIL TO BE REVEALED TO THE AUTHOR IF YOU ARE THE WINNER TO FACILITATE RECEIPT OF YOUR BOOK.
Allison Wells is a Southern wife, mother, and writer. She became a Christian at the age of sixteen. She's a graduate of Clemson University and she still lives close enough to hear football games on Saturdays. She loves to read, hates the snow, prefers the mountains to the beach, loves the color turquoise and she will belt out any 80s song from the top of her lungs. Allison's motto is "Life is short, eat the Oreos." She thanks the Lord for her husband and four children daily.
Visit Allison's website: www.allisonwellswrites.com
SUBSCRIBE TO PATTI'S BLOGS HERE