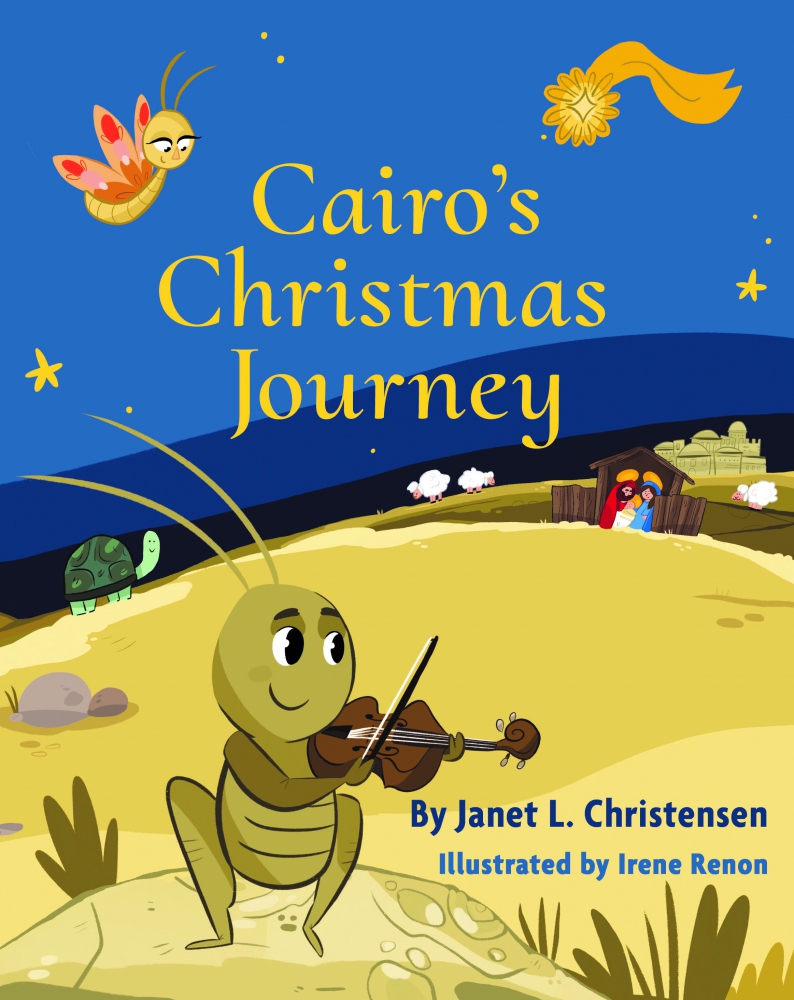 Featured Book: Cairo's Christmas Journey
Author: Janet L Christensen
Publisher: Little Lamb Books
Genre: Children's Christian Picture Book
Series or Stand Alone: Stand alone
Target Age: 4-9
IT IS MY PLEASURE TO WELCOME AUTHOR JANET L. CHRISTENSEN TO PATTI'S PORCH. JANET TIES THE BUMPY ROAD HER MAIN CHARACTER TRAVLES IN HER CHRISTMAS CHILDRENS' BOOK TO THE UNFORSEEN STRUGGLES WE ARE FACING TODAY.
JANET IS OFFERING A GIVEAWAY! SIMPLY LEAVE A COMMENT BELOW TO ENTER THE DRAWING FOR A SIGNED COPY OF CAIRO'S CHRISTMAS JOURNEY.
A VERY TINY CRICKET WITH A VERY BIG JOB
by
Janet Christensen
When I wrote Cairo's Christmas Journey in the end of 2019, I had no idea how bumpy our road would be today. I had no idea that our kids would be learning new ways to learn out of necessity, or that some of their lives would have been turned upside down. The message that God is always with us on our journeys, sending us helpers along the way, has always been an important one to share. But this year, it just feels a bit more so. With little ones having to find a new normal that in some cases, is vastly different from what they used to know, this message is one that needs repeated again and again.
No matter how bumpy the road that our youngest generation might have to travel, whether now or later in life, God will always be with them on their journey, just as he is with each of us on our journeys. But perhaps the most beautiful lesson of the book is shared by Cairo's new friends. This Christmas, as we are all adjusting to new ways of living, maybe our own focus should be on sharing our gifts and talents with others. In this season, we celebrate the greatest gift we ever received in the form of a tiny babe. Perhaps the purest way to celebrate is by sharing that gift of Jesus Christ with everyone we know.
Make it a family event to shovel the walk of a neighbor. Call someone from church that may be lonely. By being the hands and feet of Jesus, we are showing our kids real life examples of what it means to be a part of the body of Christ. Just like Cairo's new friends, we will be helping others on their journeys, smoothing out the bumps and sharing God's love with our communities. What a spirit filled way to celebrate the birth of our Savior and King!
Blurb for Cairo's Christmas Journey
Cairo the Cricket is a gifted musician. His friends, the shepherds, love his music. His lullabies can relax even the rowdiest sheep. But on the first Christmas Eve, he was given a very big job from one of the angels that visited his shepherd friends in the field—to play a lullaby for the newborn King. How can a tiny cricket make it all the way to Bethlehem, when dangers lurk around every corner? From irate birds to a sticky situation with an ant hole, Cairo's journey seems impossible. But he soon learns that nothing is impossible with God.
Along the way, Cairo learns that God is with us in our toughest journeys, sending helpers to share their gifts with us along the way. His new friends share their gifts and strengths selflessly. It is a beautiful reminder of how the body of Christ should function—each of us sharing our gifts and talents with our friends and neighbors.
DON'T FORGET TO LEAVE A COMMENT TO BE PLACED IN THE DRAWING TO WIN A SIGNED COPY OF CAIRO'S CHRISTMAS JOURNEY BETWEEN NOW AND TUESDAY, NOVEMBER 17TH AT MIDNIGHT MST.(U.S residents only eligible – book may not be available for 4-6 weeks after drawing closes)
BY LEAVING A COMMENT, YOU GRANT PERMISSION FOR YOUR EMAIL TO BE REVEALED TO THE AUTHOR IF YOU ARE THE WINNER TO FACILITATE RECEIPT OF YOUR BOOK.
Janet L Christensen is an award-winning writer, speaker and encourager that loves to captivate audiences with inspiring stories. Whether it is with the stories she writes or with the stories she tells with the help of one of her puppet friends, Janet is sure to deliver an entertaining message of hope and love.
When she is not writing, Janet enjoys living the life of a pastor's wife and leading children's or women's ministry projects. She is the proud mother of two teenage sons and a Cavalier King Charles Spaniel named Sully.
SUBSCRIBE TO PATTI'S BLOGS HERE