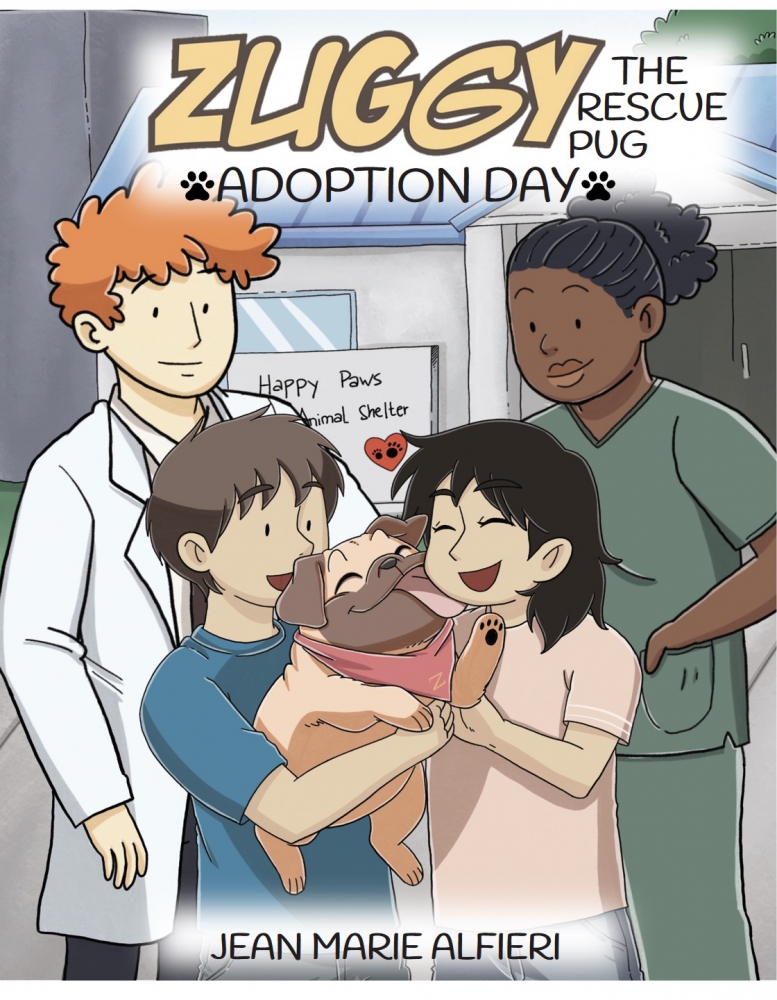 FEATURED BOOK Zuggy the Rescue Pug - Adoption Day
AUTHOR: Jean Marie Alfieri
PUBLISHER: self-published
GENRE: Children's Picture Book
SERIES OR STAND ALONE: Stand Alone
TARGET AGE: 5-8 years (also great for adults to read to younger kids)
IT IS MY PLEASURE TO WELCOM AUTHOR JEAN MARIE ALFIERI TO PATTI'S PORCH. JEAN OFFERS SOME TIPS ABOUT EDUCATING OUR CHILDREN DURING THIS TIME OF PANDEMIC AND ALTERNATE LEARNING.
JEAN IS OFFERING A GIVEAWAY! SIMPLY LEAVE A COMMENT BELOW TO ENTER THE DRAWING FOR A COPY OF ZUGGY THE RESCUE PUG – ADOPTION DAY.
TIPS FOR A SUCCESSFUL SCHOOL SEMESTER
Start 2021 the Right Way
by
Jean Alfieri
We all thought social distancing and wearing face masks would be long over by now. But the threat of Covid-19 is far from over. How can parents who had no intention of (or experience) being home-school teachers make the most of this situation? With many schools requiring at least some at-home learning, here are some simple tips to encourage a memorable learning experience AND maintain your sanity!
Be sure to READ over the holidays. Reading is an essential skill in every class. Don't let it get rusty over the winter break. Create family time by reading aloud. Kids can read to younger siblings and to their grown-ups. Even better, have them act out the story in a play. This may involve creating scripts for important scenes. Watch it "live" or older kids can record it "movie-style". Make some popcorn and enjoy the entertainment!
Introduce your kids to some of your favorite books from when you were their age. Want to be more current? Check out the on-line resources at the library for what is trending. Also, consider the classics. If your kids have seen it in movie-form, they'll likely enjoy reading the book!
Stay positive. You care more about your child's education than anyone. This makes you uniquely qualified to ensure they are learning, growing, and making the most of this school year. Your kids will likely embrace your attitude, so let them know this is unusual but okay.
Make it fun. Happy learners are more engaged. The more interactive a lesson can be, the easier it will be recalled and the longer it will be retained. Fresh air can be invigorating, even just a short break. Get outside when the weather permits and do a lesson or two in the yard or nearby park.
Use your resources:
The school has the established curriculum, tools and tips. Stay in close contact with the teacher.
Any subject matter experts in your extended family? Let them know how and when they can pitch in with phone or Zoom calls to discuss relevant topics.
Check out the wide variety of free supplemental online resources.
"Go to" your local Library – or utilize their virtual options.
Plan your day. Following a routine is important for kids and grown-ups. Posting an agenda will help to ensure everyone knows the daily goal, and the necessary lessons are covered. Besides, everyone wants to know when to expect a stretch-break and when to look forward to lunchtime. Check each agenda item off your list. This visual provides an affirming sense of accomplishment!
Don't forget the ARTS! Many schools are forgoing music, art and gym this year. Guest speakers (such as children's authors) have also been dropped from the curriculum. It's a shame because these classes and interactions are essential in the development of a child's creativity. They must be exposed to the arts to have an understanding and appreciation of them.
What did you love as a kid? Whether your passion is reading, writing, drawing, painting, knitting – it started somewhere. Carve out some time to share your favorite crafty activities with your kids. You could also look up a favorite author and see if they offer virtual visits.
Allow yourself some grace. You are doing a great job – one you weren't even formally trained to do! A great benefit of lessons from home is that you're staying better connected with how and what your children are learning this year. It's okay for you to have fun with it too!
Amazon Buy Link for Zuggy the Pug – Adoption Day
DON'T FORGET TO LEAVE A COMMENT TO BE PLACED IN THE DRAWING TO WIN A COPY OF ZUGGY THE RESCUE PUG – ADOPTION DAY BETWEEN NOW AND TUESDAY, DECEMBER 8TH AT MIDNIGHT MST.
BY LEAVING A COMMENT, YOU GRANT PERMISSION FOR YOUR EMAIL TO BE REVEALED TO THE AUTHOR IF YOU ARE THE WINNER TO FACILITATE RECEIPT OF YOUR BOOK.
When Jean Alfieri's eyes locked with those of a smooshy-faced little dog who sat inside a kennel at the Humane Society, it was love! He captured her heart. She captured their many adventures in short story poems starring Zuggy the Rescue Pug.
An author and speaker, Jean and her husband live in Colorado with their "vintage puppies". She is best known for her guided journals and short story pug poems. Find out more at:
SUBSCRIBE TO PATTI'S BLOGS HERE