Winter, bah humbug!
by
Wade Webster
What's your first reaction when someone says the word winter?
I have to admit I've never been a fan of winter. Never. I even delayed my own birth to avoid one.
Really! I was due in February, 1961. My birthday is March 21, the first day of spring. Just ask my Mom. She'll tell you she went to bed every night with slight labor pains wondering if this was going to be THE night. Nope, not til spring, baby!
God likes to show me His humorous side with this dreadful season. A few years ago my wife and I moved to Harlingen, Texas. It's about a half hour north of Brownsville. Yeah, we're talking DEEP south Texas. It hadn't snowed there in almost a hundred years. We'd finally moved away from all that cold we'd experienced in Michigan.
Christmas morning, of all days, we woke up to almost a half foot of snow on the ground. I have pictures of snow on palm trees. I went out to see if anybody made a snowman. I didn't find any. Instead I found a snow castle. You see, these people knew what to do with wet sand, and this stuff looked like wet sand to them: Voila' snow castle.
I now live in Plano, Texas. You'll be able to pin-point it easiest if I identify our more popular suburb to our south: Dallas. We get occasional winter here. We even had a white Christmas this year. It didn't come until the afternoon, but we had snow on the ground for part of the day.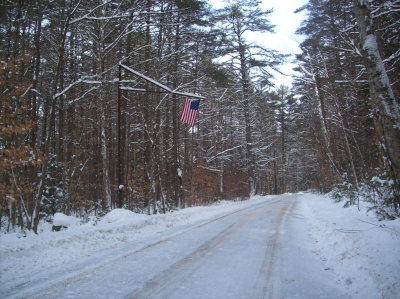 The worst week of winter I've experienced here happened the year the Super Bowl came to town. I have a theory as to what brought it about. This isn't a theory like evolution where, if you repeat it enough it becomes a fact, this is just the 'perhaps this is what happened, but I can't prove it' type of theory. That's the definition from this Webster, anyway.
The plane carrying the Pittsburg Steelers landed on Monday morning. When they opened the doors all that cold air poured out. The same thing happened when the Green Bay Packers' plane landed that afternoon. We woke up Tuesday morning to a LOT of ice on the ground.
Their fans must have poured in during the day on Thursday, because, we woke up to a LOT of snow on top of the un-melted ice on Friday. I think God just wanted Jerry Jones to know who was in charge of all the arrangements around here.
For those of you who just got off a space ship from Mars, Jerry Jones is the owner of the Dallas Cowboys. He was nice enough to let them play the big game in his new toy box locally known as "Jerry World."
Love it, or hate it, winter is a part of God's design on this planet. It's meant to be a season of rest and reflection. Modern conveniences have done away with that affect. It takes a pretty big blizzard to slow people down enough to find what's important in life. That's why nine months after such a storm there's usually a glut of babies being born in those areas. There's a theory that might have something to it.
Don't make God use a blizzard to slow you down enough to see what's important in life. Follow His blueprint found in the Bible. You'll be glad you did.
Wade Webster is a truck driver turned writer for Jesus. Not your typical career path, but, when you follow the same God who told a teenager who never had sex that she's going to have a baby and she does, things like that happen. There's been a few articles published by this guy in the Dallas Family Magazine. The best place to experience more writing from this strange man is his two blogs: http://wadewebsterwrites.com and http://laughoutloudloveourlord.wordpress.com