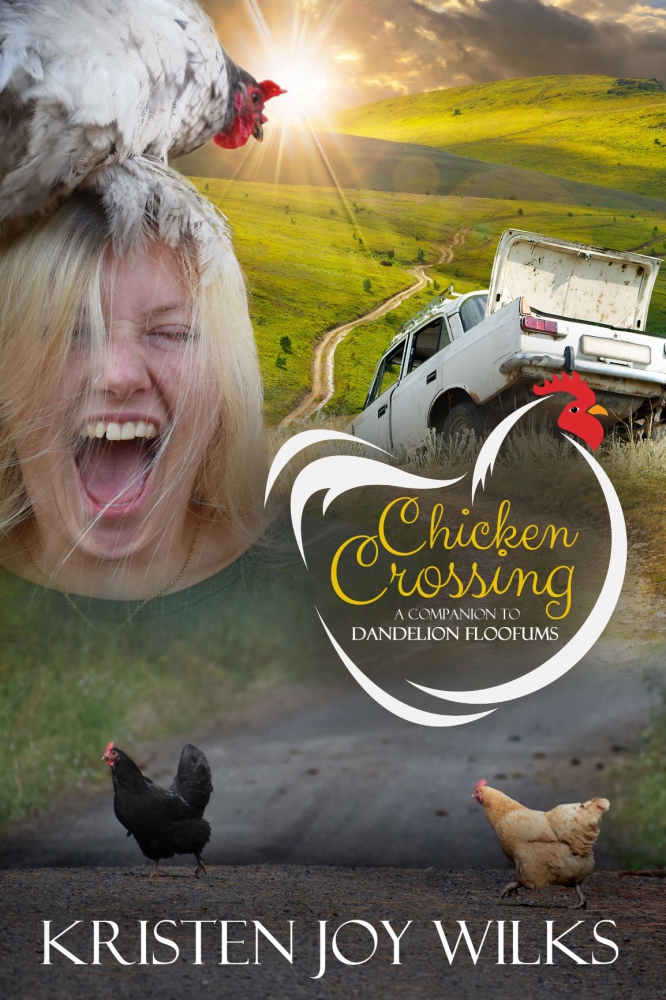 FEATURED BOOK: Chicken Crossing
AUTHOR: Kristen Joy Wilks
PUBLISHER: Independently Published
GENRE: Christian Romantic Comedy
SERIES OR STAND ALONE: Part of a two-book series
TARGET AGE: Women 12 and up
IT IS MY PLEASURE TO WELCOME AUTHOR KRISTEN JOY WILKS TO PATTI'S PORCH. THE AVERAGE BOOKWORM WOULD NOT LIKELY THINK OF CHICKENS WHEN CHOOSING THEIR NEXT GREAT READ, BUT KRISTEN MAY CHANGE YOUR MIND! READ ON…
KRISTEN IS OFFERING A GIVEAWAY! SIMPLY LEAVE A COMMENT BELOW TO ENTER THE DRAWING FOR A PAPERBACK COPY OF CHICKEN CROSSING AND DANDELION FLOOFUMS.
THE LITERARY ADVANTAGE OF OWNING PET CHICKENS
by
Kristen Joy Wilks
After Shamu, our Newfoundland dog died, my sister-in-law got chicks for my three sons. The boys were in love! At first the chicks stayed at their cousins' house, but soon, they were migrating more and more often to ours. My oldest asked for a chicken coop for his eleventh birthday and so Paintball, King, and Hawk moved in permanently. That one gift sparked years of chicken adventures.
Every school research paper and science experiment was about chickens. The boys built tree forts for the chickens, dressed their chickens up in special chicken sweaters, and even took them sledding! Just in case you are wondering, chickens are not fond of sledding.
My oldest son turned down the chance to participate in school sports for years because he wanted to be home right after school to snuggle his chicken. Painty, his special hen, expected those snuggles, too! I'd drive up to the house and there was Paintball, running to greet us. He'd sit on the porch and she'd jump into his lap. Once, he got distracted reading a book in the car. The door was open and so Painty hopped into the car to remind Judah about those important snuggles.
King, my middle son Theo's chicken, came to school for show-n-tell. She was the ruler of our small flock and didn't mind at all that time the boys talked me into blow drying the chickens when they got soggy chasing worms in the rain.
Brennan, my youngest, eventually got Puffus and Ewok. Puffus grew into a huge and gorgeous rooster who would sit in Brennan's lap for twenty minutes at a time. Ewok took over as lead hen after King and became famous as both she and Painty appear on the cover of Chicken Crossing running across the road at the bottom.
One story that actually made it into the book was the time that I was tucking Theo into bed and he realized that he'd left King down in his cousins' chicken coop! It was a great tragedy and so I journeyed forth in the dark to retrieve the beloved King. Theo gave me detailed instructions for telling King apart from the cousins' identical golden hens. I was to pat the chickens firmly on the back three times. King would give a loud, honking cluck with each pat. I was dubious, but proceeded with the plan. Stumbling about in the dark chicken coop, I started patting chickens firmly. They were tired and not all that happy about the patting. But one chicken did give a loud cluck, one for each pat. I picked up that hen and escaped. Once outside, lo and behold, I had grabbed a golden hen! Even more surprising, once I brought that chicken back, Theo declared her to be King. Phew!
So clearly, the need to rescue beloved pet chickens provides a VERY strong character motivation if one happens to love a chicken-enchanted child. Plus, I couldn't let all of these great experiences go to waste. I had already published five books with Pelican Book Group, but wanted something special to give away on my website. So I got cracking and wrote Chicken Crossing. The heroine gets talked into driving a trailer full of pet chickens over a mountain pass. She crashes, the chickens scatter into the wilderness, and she and the annoying hero must find every one before show-n-tell on Monday!
Also, since my boys were always looking over my shoulder when I was reading, I wrote a companion story for children. Kids can read the same tale but from the point of view of a chicken while Mom reads the RomCom. I have been told that Dandelion Floofums is my finest work and have heard that some readers just might start eating their food like a chicken, asking for gummy worms for dinner, and creating art with strong chicken themes. Reader beware, there might be pet chickens in your future, too!
Blurb for Chicken Crossing:
Why did the chicken cross the road?
The machinations of poultry are difficult to decipher. Add an infuriating youth pastor, a terrifying crash at highway speeds, and trap-building kids too bored for their own good and you have something a little more serious than a knock-knock joke.
After the local librarian foolishly agrees to haul a trailer full of chickens over the pass, an unexpected crash sends fifteen beloved hens scattering into the wilderness. Shelby and the exasperating Jack must locate, capture, and return the chickens to his nephew before the talent show at the boy's new school on Monday. The problem: chickens are incredibly difficult to catch. Especially when dispersed throughout the wild. When they take refuge in a coop occupied by twenty identical hens and guarded by multiple NO TRESPASSING signs and a pair of bored mountain children who have been watching way too much TV, tensions rise and feathers fly.
Can Shelby thwart an alarming collection of unlikely traps and find the chickens before they are devoured? Imagination and ingenuity go so very wrong in this epic clash of inventive child verses accidental chicken thief.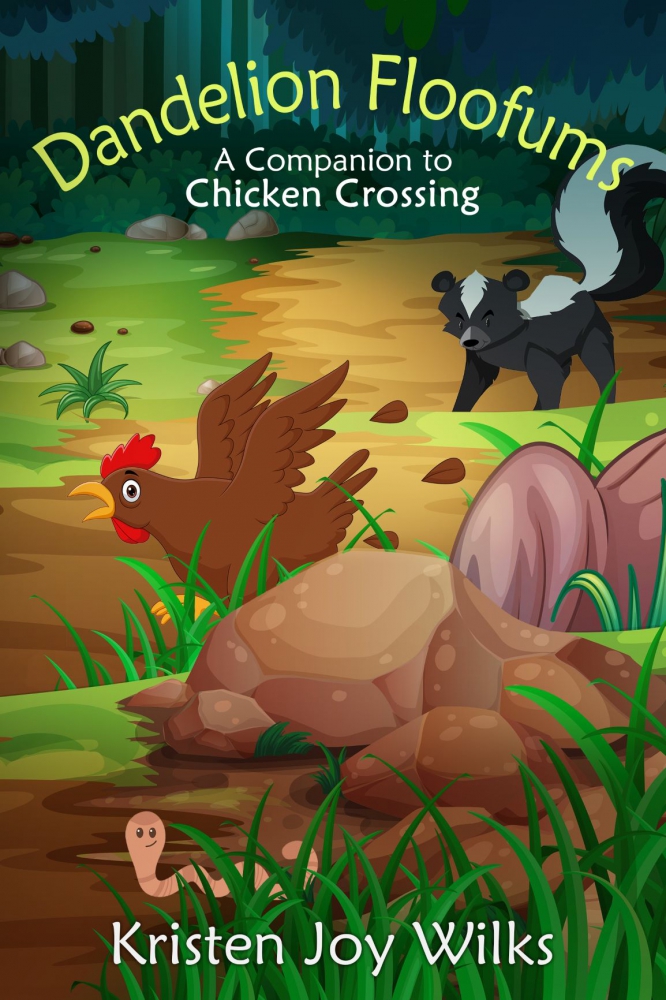 Blurb for Dandelion Floofums
A chicken on the run!
When her traveling chicken coop explodes and scatters everyone into the wilderness, Dandelion Floofums must rescue her boy from evil kidnappers. But how can she succeed when she has to escape insane forest humans, a plethora of pesky traps, and The Stripy Death Kitty who is intent on making her his next meal? God is clearly not a chicken or He would have taken better care of her special boy! Can Dandelion Floofums save her boy and figure out if she can trust her Creator, or will The Stripy Death Kitty win the day?
For readers age 7-12 yrs.
DON'T FORGET TO LEAVE A COMMENT BETWEEN NOW AND TUESDAY, JULY 6TH AT MIDNIGHT MST TO BE PLACED IN THE DRAWING TO WIN A PAPERBACK COPY OF CHICKEN CROSSING AND DANDELION FLOOFUMS.
BY LEAVING A COMMENT, YOU GRANT PERMISSION FOR YOUR EMAIL TO BE REVEALED TO THE AUTHOR IF YOU ARE THE WINNER TO FACILITATE RECEIPT OF YOUR BOOK.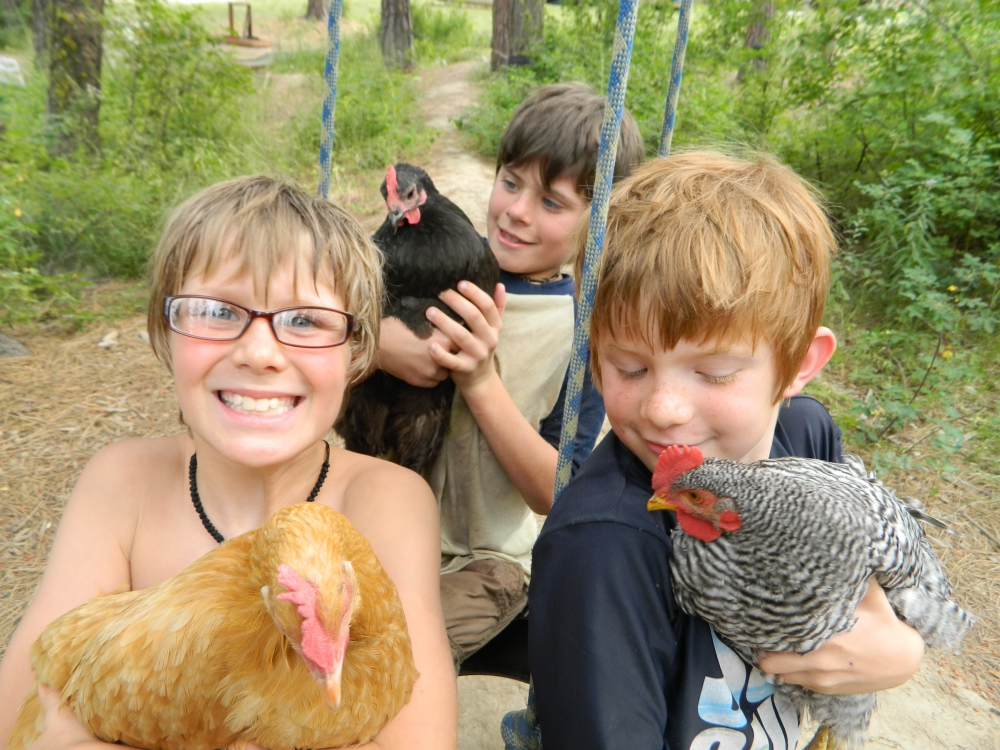 Kristen Joy Wilks is an author, camp photographer, and the mom of three teenage boys. She writes about what she loves: the quiet of the forest, the ill-considered schemes of unstoppable children, and the love of loyal pets who will never leave your side … as long as you pack meal worms! Follow Kristen on Instagram, Facebook, or try one of her chicken-themed books for free by signing up for her newsletter at kristenjoywilks.com