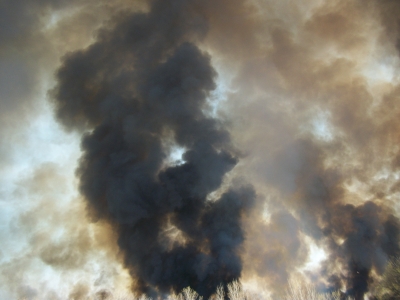 The horror of Monday's bombing in Boston invaded our living rooms in shocking detail as we watched in disbelief. Innocent people who had gathered that morning with festive spirits and the anticipation of participating in or observing the competitive race faced what probably turned out to be the worst day of their lives.
Newscasters voiced the fear that many of us face as these random acts of terror become more prevalent.
How safe are we? How can we protect ourselves, especially in mass crowd situations, from becoming the next victims?
I live in a very small town in a state far removed from Boston. Seldom do I find myself engulfed in a large crowd or susceptible to the potential dangers of public transportation.
Still, that doesn't protect me from fear for my personal safety or the safety of my loved ones.
My husband and I live in an area of the country that is vulnerable to violent thunderstorms, tornadoes, and with the current drought, fires.
Our son is a marathon runner. Although he wasn't at this particular marathon, he could have been.
Our daughter works for the Department of Corrections, and in view of the murder of an employee at her facility a few months ago, I'm acutely aware of the potential danger she faces every day on the job.
Our only granddaughter is at that age where bullying, pressure to achieve, and any number of things that could rob her of her innocence are daily concerns.
My mom has faced medical issues over the past few months that leave her future uncertain.
At our age, health issues become a concern for both my spouse and me. The recent roller coaster of events in our lives proves that.
Yet, I learned, as I watched my husband heal, that no amount of worry would have helped his healing. Prayer probably played a much stronger part in his rapid recovery.
I pray for our son and daughter-in-law's safety and our daughter's watchfulness on the job. I pray that our granddaughter will be receptive to those who render a positive influence in her life, and that mom will live out the rest of her days as pain free as possible.
I can't wake up every morning wondering what horrible thing may happen that will change our lives forever. Rather, I embrace the good times, and when the bad times knock me off my feet, I remember past events that have sent me reeling and remind myself that I always recover.
Faith chases away fear. Be vigilant, be sensible, be safe, but also be trusting in the One power that can calm our fears with peace.
Those who witnessed and suffered the terrible tragedy in Boston were no more vulnerable to disaster than each of us. We all have the potential to become victims of a horrific event in our lives.
Yet, God is there every moment and guides us through the frightening times. It is when we can't seem to see or feel Him that He is the closest, possibly because we let our fear cloud our vision as we look for Him.
What do you fear? Is your faith strong enough to overcome your worry?