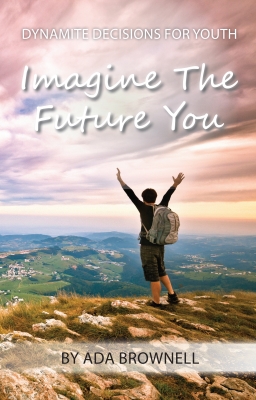 WILL YOU BE THE PERSON YOU DREAM OF BEING—OR SOMEONE FROM YOUR NIGHTMARES?
You don't need a fortune teller to reveal your future. You are the person who determines who you will be, what your life will be like, and how your hopes and dreams will be fulfilled.
Today is the time to IMAGINE and to create an action plan for your future
Teens of Today and Tomorrow is pleased to introduce:
IMAGINE THE FUTURE YOU, a motivational Bible study for teens
by author Ada Brownell
FREE January 25-26!
This Bible study will help you discover evidence for faith; how to look and be your best; who can help; interesting information about dating, love and marriage; choosing a career; how to deposit good things into your brain you can spend; and how to avoid hazards that jeopardize a successful life on earth and for eternity, all mingled with true stories that can make you smile.
Click here to read an excerpt from Imagine the Future You.
Now, a few words from Ada:
Welcome Ada! Tell us a little bit about yourself.
I have spent much of my life as a daily newspaper reporter. and worked most of my career at The Pueblo Chieftain in Colorado, where I spent the last seven years as a medical writer. After moving to Springfield, MO in retirement, I continue to free lance for Christian publications and write non-fiction and fiction books.
What books have influenced your life most?
The Bible (it still amazes and thrills me); The Greatest Thing in the World by Henry Drummond; Catherine Booth's biography; Luther's biography. Fiction: Nightmare Academy by Frank Peretti; Desert Rose series by Catherine Palmer, and many other great writers.
What was the most outstanding thing you learned while researching for your book?
For Imagine the Future You, I enjoyed learning the history of amplification and the first bass guitar; how a teenager discovered Carlsbad Caverns; and how habits grow into our character.
What do you want readers to take away from your book?
First, that they can achieve great things with God's help. Then, determination to do and be their best as they work toward the future enjoying abundant life now and for eternity.
Ada, you wrote a fiction YA book called Joe the Dreamer: The Castle and the Catapult. Let's talk about that.
Joe the Dreamer has surprising twists and turns. What kind of research was required to complete the story?
Engineering students from the college I attended used to build robots and demonstrate them at the Colorado State Fair. I think I did a story on one of them. I didn't need a lot more research because my characters' backgrounds make them capable of creating a robot. The catapults came straight out of 2 Chronicles 26 where King Uzziah used slings and engines to cast stones at the enemy. But I got more detail off the internet—the same place my character gets his knowledge about them.
The computer chips for the brain came from what I learned from neurologists about seizure control when I was on the medical beat. There has been advancement since then and I checked that out, but far some patients, seizures are still difficult to control.
Your character, Joe, is trying to build his faith so God will bring his parents home. Tell us how the book inspires readers in their faith journey.
Many teens today struggle with their faith and in this book we have people who want to eliminate Christianity from America. We peek into the castle where nearly 40 influential Christians are being held and in the conflict to defend their faith, some Christians give valid reasons for belief. But beyond that, in his dreams Joe drops into the skin of Bible characters—Joseph, Elijah, Daniel, and Peter. Readers experience, with Joe, being delivered from lions, calling down fire from heaven, walking on water and other biblical events.
Who is one of your characters you can't forget? Why does he or she stick in your memory?
I'm fond of Centipede, the leader of the Christian gang devoted to solving and preventing crime without blades or bullets. The lanky guy has guts and simple faith that helped him and his gang make his dangerous neighborhood safer with simple things like rope, water, noise. He's to helping his friend, Joe, find his parents.
Thank you so much, Ada, for sharing information about yourself and these two books.
Be sure to visit Ada's blog and her Amazon author page.
DON'T FORGET THE OPPORTUNITY TO OBTAIN IMAGINE THE FUTURE YOU FREE FROM AMAZON ON JANUARY 25TH AND 26TH!