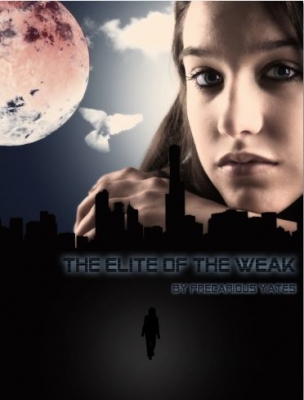 Featured book: The Elite of the Weak
Author: Precarious Yates
Publisher: Precarious Yates
Genre: YA Sci-fi
Series or stand alone: Series
Target age: 14+
SEE BELOW FOR INSTRUCTIONS ON HOW TO WIN AN AUTOGRAPHED COPY OF THE ELITE OF THE WEAK
Welcome author Precarious Yates. It's such a pleasure to have you here at Teens of Today and Tomorrow.
The word "precarious" reminds me of someone balancing on the edge of a roof as they feel for the ladder with a probing foot. How did you acquire the name Precarious?
I cut my creative teeth with playwriting. The first 5 Act play I wrote was about a young lady named Precarious who was a bull-in-the-china-shop evangelist. Precarious always said the wrong thing and was often in the 'wrong' place at the 'wrong' time, yet her words were used to transform the lives of others from wretched to anointed, from pitiful to powerful, from poor to blessed, from blind to faithful and from naked to clothed in glory. I lost that play in an international move, but it forever impressed me that although it seems like trusting humans to share the Gospel would be a precarious thing to do, that is the way God chose.
Tell us about your book, The Elite of the Weak.
The Elite of the Weak is a YA espionage/sci-fi novel, the first of the Revelation Special Ops series.
Crawling through an air duct in Queens...spending all night alone in an African jungle...that's normal for teen spy Hadassah Michelman. She wants to join Revelation Special Ops, a Christian organization that works to rescue kids from modern slavery.
Hadassah's life is about to get a whole lot crazier.
The spies of Revelation Special Ops are the elite of the weak. Weak because their hearts are broken for the oppressed. Elite because they keep the code.
Why do you believe American teens need to be aware of the atrocity of human trafficking? Isn't that something that happens in other countries?
I'll answer the second question first: according to Polaris Project, every year in America about 100,000 people are exploited through human trafficking. Many, if not most of those who are under 18 years of age. Some of these kids are from other countries but most of them are from America.
Why do teens need to learn and be aware of this? The reason is two-fold. For one, to protect themselves against the dangers. Human trafficking is the second largest criminal moneymaking activity in the world—outpacing even illegal arms sales. The dangers are very real and all too prevalent. The second reason is that on many levels, teens in America, especially those who attend public schools, are on the front lines. Teens who learn about the plight of human trafficking can help stop a friend who is heading down a path toward exploitation. Peers will tell each other things they are afraid to tell grown-ups. As a teen, I talked a friend out of a situation that would almost certainly have led to her being trafficked.
In what areas of the country do you think teens are most vulnerable to the snare of human trafficking?
The worst areas in the country are:
Los Angeles, Miami, New Orleans, Houston, Dallas, New York and Chicago
If you don't live in these areas, that doesn't mean there isn't a danger. It could (and does) happen in rural towns just as it could in big cities.
The times to be most careful are when you are alone and/or vulnerable. Travel with friends, especially if you are heartbroken. One of the most awful ways human traffickers enslave people is through false sympathies given to the heartbroken.
You have lived in several different states in the US. Which is your favorite and why?
I've loved different things about so many places where I've lived. The Blue Ridge Mountains in Virginia always provide excellent perspectives. I love to view the world from great heights and remember how small I am. I loved the smell of Long Island Sound when I lived in Connecticut. My dad always said it smelled like clams' dirty feet, but it holds a sweet nostalgia for me. My favorite, so far, may be the Outer Banks of NC. I love the ocean. I come from a long line of navy men so the ocean is almost a part of me at this point.
What other countries have you lived in? How do teens differ in those countries from teens here in the US? How are they the same?
I was born in the UK, but didn't stay there long. In 2004, my husband and I moved to Ireland. Talk about a favorite place: mountains behind us, the Atlantic Ocean in front of us—it was perfect! We lived there as missionaries for four years
The teens in Ireland have an exam during their last year of high school (called 'college' or 'secondary school' there). This exam pretty much determines what this teen excels at and therefore what he or she will be able to do with the rest of his or her life. There is little chance to change your mind or your university major after this test. The stress of the teens is palpable during exam time. That is one difference. Another difference is that the teen pregnancy rates are staggering.
How are they the same? They really want to be cool, be noticed and to find what meaning life has. They know intrinsically that life is so much more than an exam and its results.
I've heard that you are an accomplished slinky disentangler! Do tell us about that!
My daughter once tangled nine Slinkies® together and brought them to me in the hopes that I'd "fix this." Despite all the hackling from naysayers, both friends and strangers, I detangled and fixed all nine Slinkies. My daughter brought more tangled Slinkies to me after that, but my record was nine.
Where can readers acquire your book, The Elite of the Weak?
Where can readers find you on the Internet?
LEAVE A COMMENT TO BE PLACED IN A DRAWING TO WIN AN AUTOGRAPHED COPY OF THE ELITE OF THE WEAK. CONTEST IS OPEN UNTIL FEBRUARY 24TH AT MIDNIGHT (MST). DON'T FORGET TO LEAVE YOUR EMAIL ADDRESS SO I CAN CONTACT YOU IF YOU WIN!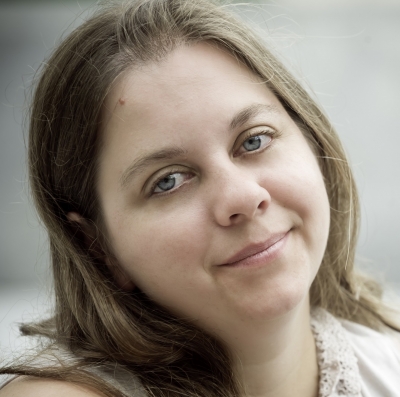 Precarious Yates lives in Texas with husband, daughter, sheep, dogs, chickens, rabbit, lizard and by the time you read this some other exotic creature her husband or daughter has brought home. She had studied the plight of and worked toward the abolition of modern slavery for over a decade before sitting down to write Revelation Special Ops. She was further inspired by the work of her sister-in-law, who helped to found Love146, an organization that works to raise awareness about human trafficking and builds safe homes in vulnerable regions. Yates spent several years overseas as a missionary in Ireland, and also did missions work in India and the Philippines. Her passion for literature has become her means of further educating young adults of the realities of modern slavery, while producing hope through the power of Christ Jesus in us.