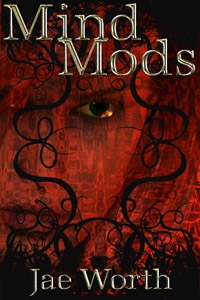 Featured book: Mind Mods
Author: Jae Worth
Publisher: Author's Art
Genre: YA Sci-Fi
Series or stand alone: Series
Target age: 12-18
Teens of Today and Tomorrow welcomes author Jae Worth. Jae is conducting an interview with one of her characters from her YA sci fi novel, Mind Mods.
Interview with Julie, from Mind Mods:
JAE: Julie, we saw some of the news reports about the nanobot infestation that started at your school. Can you tell us a bit about how that all began?
JULIE: Honestly? It started because some power-hungry people decided that it wasn't enough to be able to control themselves, they wanted to control others too. Against their will. So, a couple of teachers, using Science as an excuse, decided to take away the autonomy of the students. They wanted to modify their minds, and they used nanobots to do it.
JAE: That's truly horrible. I can't imagine how awful it would be to have my free will taken away. Were those infected by the nanobots aware that they were doing horrible things?
JULIE: My friend Marcia says that she knew fully what was happening for the first few seconds after infection and tried to fight it, but she wasn't able to. And, really, how could she? The nanobots operate on a cellular level to modify thought. There's just no fighting that.
JAE: But you found a way to fight it, didn't you?
JULIE: (short laugh) You give me too much credit. Professor Whit is the man responsible. Not me.
JAE: Yes, but from what I understand, you were a big help too. We're running out of time for our interview here, so please answer one last question. If you could give one piece of advice to everyone who reads this, what would it be?
JULIE: (smiling) If someone gives you candy created in a laboratory experiment, DON'T EAT IT!
Book cover blurb for Mind Mods
Julie tries to be just a regular girl, despite the fact that her mom is a drug addict. She goes to school, she goes to work and she's got great plans for the future.
But, someone on the faculty at Julie's school for the gifted wants her to be different. In fact, they want all of the students to be different. And they intend to modify the minds of their students in an illegal and unsanctioned experiment in order to make them change.
Julie soon finds that she's one of the few who are not "infected" yet, and as the whole city goes wild with infected teens, she must find a way to avoid detection and rescue her classmates before its too late.
Jae Worth is an author, website designer and tech geek. She's also an avid reader, devouring piles of books in a month, and a busy blogger. In her spare time, when she's not working, writing or reading, she loves to spend time with family and her adopted fur-baby, a sweet and sassy Labrador rescued from a shelter.
Catch up on her latest reads at the following blogs: