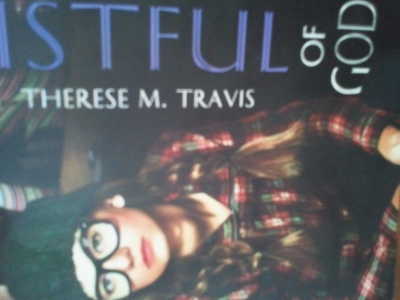 My scheduled guest author was unable to provide a post for today and will be making an appearance later in the year. Therefore, I would like to share with you a review of one of the latest YA books I have read, A Fistful of God by Therese M. Travis.
It's difficult enough to have lost a parent at a young age, but for sixteen year old Aidyn, the struggle is even more challenging. Her remaining parent is an alcoholic mom. When her mom claims she has stopped drinking, Aidyn responds with skepticism and doubt. After all, she's heard the same story before. Forced to serve as caregiver to her emotionally crippled mother, Aidyn lives in a world of resentment, fear, anger, and loneliness.
Alone and isolated from everyone who ever cared about her, Aidyn resists attempts by the local youth group to incorporate her into their circle. The thought of getting involved is just too scary. She's experienced rejection before, and vows to protect herself from its pain again.
Where is God in all this? Does He even exist, and if so, doesn't He care about any of the torment Aidyn endures? Therese Travis answers these questions through the interaction of the characters without preachiness as the story, told from Aidyn's point of view, unfolds.
The author takes Aidyn through a natural progression of events as she learns about herself, how to trust, and the value of love. Aidyn's mom's struggles with her addiction and Aidyn's reactions to her mother's behavior are realistically portrayed. The support and acceptance the youth group members display reflects Christian values that so many lonely and confused teens would benefit from today.
I would recommend this book to any teen ages 12 and up who is dealing with an addicted parent. Readers of all ages who are not faced with this problem would also enjoy the story for the lessons about self-worth, overcoming adversity, and relationship with God that the story teaches.