In honor of Memorial Day, I am proud to share some thoughts by teen Ariel J. about our country's freedom and what it means to us.
America. Land of the free and the home of the brave...This is us. Our nation, our background, our country. We as Americans have been given the liberty to speak freely. But with this freedom came great sacrifice. Why is my voice important? Because a great price has been paid in order that I may have the opportunity to use it and with this opportunity, there is also great responsibility.
America is founded upon sacrifice. That sacrifice was founded upon true patriots. And those patriots are America's heroes. Joseph Warren was one of these. Born In Roxbury, Massachusetts in 1740, Warren, a man of great importance, was acquainted with many others, including Paul Revere and Samuel Adams.
On June 14, 1775, Warren was elected Major General by the Provincial Congress of Massachusetts. Without military education or experience, he was placed over an army of American forces. With a musket over his shoulder, General Warren chose to join the fighting men at the battle of Bunker Hill, having laid aside the choice of taking command, and willingly placed his life on the line of almost certain death. While attempting to rally the small band of soldiers, he was shot and killed.
Joseph Warren had a vision of a free nation. He had counted the cost he knew would come with that vision, and just as many others have, he paid the price for vision to become a reality. As Warren himself once said, "America must and will be free; the contest may be severe; the end will be glorious."
You and I have a freedom of speech that has come with a truly immense price and this is what has given my voice true importance. With this in mind, I move to my second point.
The responsibility that comes with freedom of speech: For a man to give up his life for his country's independence, he must see something in us that is of great importance and potential, right? Maybe not.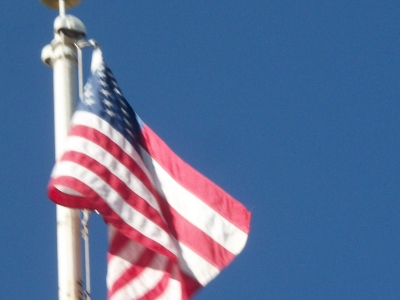 As American's we are given countless freedoms that we may have forgotten and taken for granted, at times forgetting what we are founded upon.
Why then? Why would any person be willing to sacrifice HIS life for OUR freedom? Could it have been for the potential that we should have, that we can have, but don't always? Just as those in the past paid great sacrifice to gain this freedom, we in the present must sacrifice of ourselves to keep this freedom alive.
I believe we are to go beyond our comfort zones, take action and speak up, to not merely "go with the flow", but to be willing to stand in the current, and strive for what is right.
When placing a vote or signing a petition, to consider how these decisions will affect our surroundings as well as the next generation. I am responsible for the way I present my voice; whether in a thoughtless manner or in a way that is slow-to-speak and willing to hear what others have to say first.
I believe as a nation under God, and God alone, it's time we wake up! Take a few steps back and realize just how privileged and undeserving we are to be called, "America; Land of the free," and as many have said, "Because of the brave."
Our freedom of speech was not handed over, it was fought for and this, I believe, gives my voice great importance.
Ariel J is a 14 year-old home school student. She comes from a family of nine kids, and she would never have it any other way! She is also in love with all things music. Singing is her passion and Jesus is her life. In her spare time, you'll find her hanging with her wonderful friends and family, writing, sketching/drawing, day-dreaming, playing basketball, watching football and of course—singing.
Find more of Ariel's work here.