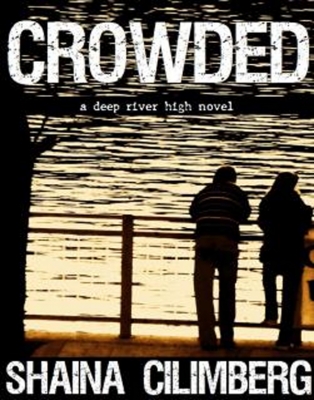 Title of book: Deep River High Series
Author's name: Shaina Cilimberg
Publisher: Self-published
Genre: Teen/YA
Stand alone or series: Series
Target age: 14-18
IT IS MY PLEASURE TO WELCOME YA AUTHOR SHAINA CILIMBERG, AUTHOR OF THE DEEP RIVER HIGH SERIES.
SHAINA IS OFFERING A GIVEAWAY OF THE WINNER'S CHOICE OF ANY ONE OF THE THREE BOOKS IN HER DEEP RIVER HIGH SERIES. CHECK BELOW TO SEE HOW TO ENTER TO WIN.
Hi Shaina! Welcome to Teens of Today and Tomorrow. Tell us about your Deep River High series.
Basically my series is about teens who struggle with God, with themselves and with other people. It confronts dark issues teens have to face, whether "as big as what the characters face" or not. My books are Christian and are meant to help people grow in Christ, however they are not the fluffy-pink yogurt, pink dress type. My books deal with raw issues such as: Bullying, mental illness, guilt, family/friendship troubles, school violence and characters who have or will participate in behaviors that are not always the best or are definitely not the best no matter what you believe. My characters are not popular, perfect nor do they have perfect lives.

What message do you strive to convey to teens through your writing?
I try to convey to teens that everyone hurts and should be there for others. One second you think it's off the Disney channel, the next you think you're reading a toned-down Hunger Games. I have had lots of good inspiration: from Beastly, to Narnia, to Austin and Ally and Rise of the Guardians. A lot of music has helped with my books- both Christian and secular.
What is the most difficult challenge you face when writing about teen issues from a Christian world view?
The most challenging is honoring God, not making parents mad, not causing anyone to stumble, being realistic and being entertaining. I also try to be deep and sometimes wonder if I do the topics justice.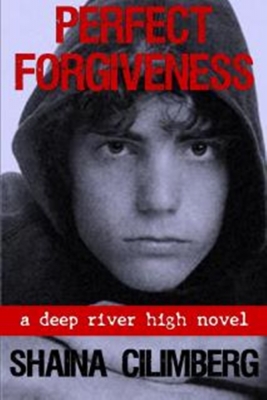 What motivates you to write for teens?
I want to bring teens to Christ or closer to Him. I also want to show them they can make a difference and it's okay not to be okay. Life is a journey, they will make mistakes along the way and they will also do good. Everyday, the have the choice between good and evil. They don't have to be afraid to do what's right and they don't have to be afraid of looking/ being different. I want all teens represented. Whether you are hot, ugly, popular, unpopular you will have struggles. You will slip and fall. Let God put people in your life to help you when you do.
What was the most serious problem you had to deal with in high school?
People not taking me seriously, not being believed in/believed, I was usually the one asking people to do things instead of the other way around (not always, sometimes they did ask first) persecution (to an extent) for my beliefs, other types of verbal bullying and my appearance. At least one person didn't understand why I would dress Gothic one day, preppy the next rather than stick to one style. I just can't be tamed like that, ya know? I wear what I like and don't let it define me. As long as you can tell I'm female and as long as my clothes aren't vulgar or immodest, I really don't care. I like punk, alternative, hipster, hippie, you name it. Why do we need rules that state if we dress a certain way one day, we must always dress that way? I live by what the Bible says when it says, "Be all things to all people" So, there I am.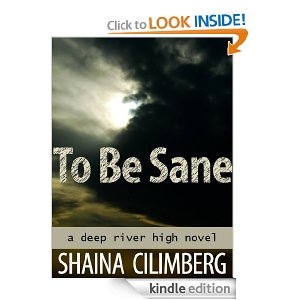 What has been the biggest obstacle in your faith walk?
These thoughts that God doesn't love me, other Christians don't love me and I'm not meant to be a Christian. Also, doubts about what God wants me to do in life. Trusting God.
What advice would you give to teens who feel they don't fit in anywhere?
Don't feel bad, because boring people can't handle different so they stay in their comfort zones as much as possible.
A few questions for fun:
Best movie you've seen in the past year
Frozen and Rise of the Guardians
Favorite YA book (other than your own. HA!)
The Hunger Games
Most fascinating place you have ever visited:
The Arboretum of James Madison University

Snack you can't resist
Ice cream, Mochas, Frozen coffee, cheesecake
LEAVE A COMMENT TO BE PLACED IN THE DRAWING TO WIN A COPY OF YOUR CHOICE OF ONE BOOK FROM THE DEEP RIVER HIGH SERIES BETWEEN NOW AND MONDAY, JUNE 30TH AT MIDNIGHT MST. DON'T FORGET TO LEAVE YOUR CONTACT EMAIL SO YOU CAN BE NOTIFIED IF YOU WIN!
Shaina Cilimberg is a God-fearing, Fun-loving young lady who doesn't like either of the two HUGE political parties. She has been writing on and off since the age of eleven and prefers to consider herself as the artsy type...thank you very much. She is studying with persistent fervor for a Human Service degree so she can counsel and mentor teens. She has done a little bit of volunteer work and is looking forward to doing more. She wants to contribute to society and be a positive influence on other people.
Connect with Shaina: