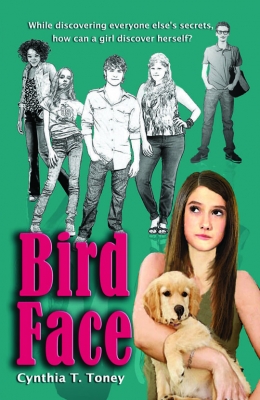 Title: Bird Face
Author: Cynthia Toney
Publisher: SharksFinn Books, an imprint of Port Yonder Press
Genre: Young Adult
Series: possibly
Target age: Ages 11-14, parents, educators, counselors
I'M PLEASED TO WELCOME YA AUTHOR CYNTHIA TONEY TO TEENS OF TODAY AND TOMORROW. CYNTHIA SHARES INFORMATION ABOUT HERSELF AND HER BOOK, BIRD FACE.
As a teenager, what did you want to become?
A fashion designer. I'd always loved to draw, and I liked to draw fashion figures wearing pretty clothes similar to what I'd seen in real life or in magazines.
In high school, we didn't do any creative writing. I only got to write term papers and other noncreative pieces. I didn't enjoy those at all, so I didn't think I'd ever like to write!
In college, I majored in art and then switched to art education. I taught school for a short while and never pursued a career in fashion illustration or design. My first big job using my degree was as an artist/designer for a daily metropolitan newspaper.
What's your favorite genre to read?
I love both contemporary and historical fiction that contains a good mystery, from middle-grade novels to adult. If I had more time, I'd finish reading all of The Hunger Games series and all the Sammy Keyes mystery novels I've missed, which is most of them. My favorite story of all is To Kill a Mockingbird, and I featured it in the plot of Bird Face.
What else do you like to do in your leisure time?
I love animals, particularly dogs, and I have a few! I also help groups that rescue dogs from being euthanized in animal shelters. Sometimes I provide a temporary foster home for a dog that's been rescued, until the rescue organization can find a permanent home for it. Facebook has been a good tool for doing that.
In Bird Face, Wendy and her best friend Jennifer care for an abandoned dog and her litter of puppies. I think I will always include a dog in my stories.
Which scene in Bird Face did you have the most fun writing?
I think it's a tie between the big confrontation scene that takes place at school and the intensely emotional scene at the Spring Program. I'm afraid that to mention details would be a spoiler for the readers.
When is a good time to read Bird Face?
Anytime, but I've heard from a lot of adults who wished they'd read it in middle school or junior high or who wished their daughters had read it then.
As far as the time of year---SUMMER is a great time! The story begins when Wendy is in the final weeks of eighth grade and continues through the summer, and the last chapter takes place on her first day of high school.
Where can readers purchase Bird Face?
Amazon, Barnes & Noble, Books-a-Million websites, or ask your local bookseller
Back cover copy for Bird Face:
Almost-fourteen-year-old Wendy Robichaud doesn't care one bit about being popular like her good-looking classmates Tookie and the Sticks—until Brainiac bully John-Monster schemes against her, and someone leaves anonymous sticky-note messages all over school. Even her best friend, Jennifer, is hiding something and pulling away. But the Spring Program, abandoned puppies, and high school track team tryouts don't leave much time to play detective. When secrets and failed dreams kick off the summer, will Jennifer still be around to support her?
Excerpt from Bird Face:
"Bird. Face." A whisper, but the voice rang deep. He stood against the wall just inside the door.
The hair on the back of my neck stood up. With animal instinct, I turned only my eyes toward the sound. Time slowed while I walked past him, so close the breath from his sneering mouth rustled my hair.
Bird Face. Those two simple little words came from John Wilson, the tallest boy in eighth grade. A Brainiac, he reminded me of Frankenstein's monster. Not that he was hideous or scarred or anything. Other than his block-shaped head, he looked about as ordinary as any boy could—brown hair, brown eyes, glasses. He had bony arms and wimpy shoulders. Nothing scary about that.
But he had a way of creeping up on a person. I could be in the library or the bus line, and all of a sudden, there he'd be, looming in my personal space. He acted like the monster in an old black-and-white movie. I had gotten somewhat used to that, but it was weird he decided to speak. And what the heck was a "bird face," anyway?
I kept walking. If John-Monster expected some kind of reaction from me, he wasn't going to get one.
I didn't stop until I got to my desk. That's when I noticed a swatch of yellow on the seat. Another sticky-note message. Still printed, but this time signed too.
Only words.
"A FREND"
And a bad speller, apparently. I examined the little square of paper for a few seconds. The writing still didn't seem familiar at all. An eerie sensation like someone was watching me made me turn. But when I glanced around the room, I got nothing.
A yellow note pad would be a clue, if only I could find one. Tookie wore a yellow shirt —designer, of course. Gayle wrote in a yellow notebook. Frank grinned at me with yellow teeth. But no yellow sticky notes anywhere in sight.
I slipped this one into my purse. At least someone was paying attention.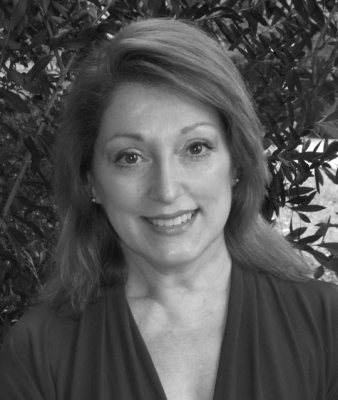 Cynthia enjoys writing both historical and contemporary teen fiction with a touch of mystery and romance. She holds a BA in art education with a minor in history and worked as an advertising designer and marketing copywriter when she began her first novel. More recently she has been an interior decorator, and her decorating articles appear on eHow.com and homeguides.SFGate.com (The San Francisco Chronicle online). She has a passion for rescuing dogs from animal shelters and encourages people to adopt and save the life of a shelter dog or cat. In her leisure time she cooks Italian and studies the complex history of the friendly South, where she resides with her husband and several dogs.
Connect with Cynthia: