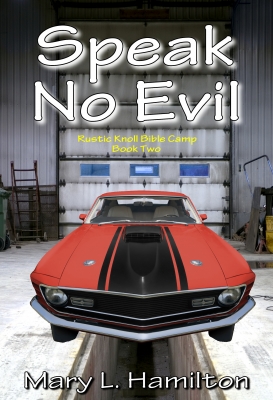 Title of Book: Speak No Evil
Author's Name: Mary L. Hamilton
Publisher: HopeSpringsBooks/Chalfont House
Genre: Middle Grade/YA
Stand Alone or Series: Book 2 of the Rustic Knoll Bible Camp series
Target Age: 10-15 years
AUTHOR MARY HAMILTON RETURNS TO TEENS OF TODAY AND TOMORROW TO SHARE A PERSONAL INTERVIEW AND A PEEK AT THE SECOND BOOK IN HER RUSTIC KNOLL BIBLE CAMP SERIES.
MARY IS OFFERING A GIVEAWAY OF SPEAK NO EVIL. CHECK BELOW TO SEE HOW TO ENTER TO WIN.
Since you write for young teens, what do you remember most about when you were that age?
I remember it being a time of deep insecurity. I wasn't necessarily conscious of it but I was trying to figure out who I was and how I fit in with the rest of my world. It was a time of testing things out—clothing, hairstyles, behaviors. For me, it wasn't the worst time in my life but it wasn't the best either.
How did you come up with the idea for your newest book, Speak No Evil?
When I began writing the Rustic Knoll Bible Camp series, I based it on the camp where I grew up in Wisconsin. I wanted to write a series where each book would focus on a different character. After the first book was published, several people commented on Taylor, the bully in the story and how relevant that was to what kids are dealing with today. So I chose him to star in the second book. Because he wasn't a very likeable character, I had to find something to make him likeable. And I figured most fifteen-year-old boys are interested in cars.
Did you model Taylor after anyone you knew?
In a way, I did. I remember a classmate who was a goof-off. He had a little attitude and he never seemed very responsible. When a teacher assigned us to the same small group to work on a project and put him in charge, I was afraid we'd all get an F on the project. But this boy was the best small group leader I'd ever had. He assigned each of us part of the project and made sure we were getting it done and he wasn't obnoxious about it, either. It changed my whole opinion of him. That's who I had in mind when I was writing about Taylor.
Do you have a favorite scene?
I don't want to give too much away, but my favorite scene is the one where the car ends up in the lake. It's exciting and gut-wrenching at the same time. I loved writing it!
What do you want your readers to take away from your story?
There's the obvious message of how we all need Jesus Christ to cleanse us from our sins—to clean out our hearts and make them new. But also, we see that Taylor had a good heart under all that attitude and long hair and smart aleck ways. He was using those things to cover up the hurt inside, and to defend himself against getting hurt further. I'd like readers to look past the outer behaviors and the way others dress and really try to see the heart of the people they come in contact with. There are a lot of kids (and adults, too) who are rough around the edges, but when you take time to talk with them and get to know them, you find a really good heart beneath all the outside stuff.
What's next for the Rustic Knoll series?
The next book, See No Evil, will feature Steven, the blind character. I can't tell you much about it because I'm working on it now and don't know much about it myself!
One fun question: What was the best part of growing up at a camp?
I lived where other kids came for vacation! I could go swimming, take out a boat, play softball or tennis, go to campfires every night. My old school friends still remind me of the birthday parties I had where we'd go tobogganing and skating. And once or twice, I even persuaded my dad to let me have a sleepover in one of the cabins. That was awesome!
Back Cover Blurb for Speak No Evil:
Having his younger sister at camp was a pain, but Taylor Dixon never expected the pain to go so deep.
At 15, Taylor dreams of getting his driver's license and driving racecars when he's older. Only his younger sister, Marissa, believes in his dreams, but her adventurous spirit keeps landing him in trouble. Dad won't let Taylor get his license unless he stays out of trouble, and predicts he's heading for the same jail cell as his once-favored older brother.
Taylor returns to Rustic Knoll Bible Camp, expecting softball, swimming and sermons. Then he discovers a classic Mustang in the camp's machine shed, and the owner's invitation to help restore it fuels his dream of driving race cars. But when Marissa falls for his snobbish cabin mate, the ensuing war of words and pranks escalates until it threatens to destroy both the car and his dreams for the future.
Will Taylor fulfill Dad's prediction?
Or will the message of the old Mustang's engine set him free from the prison he built himself?
See a review of Speak No Evil here.
See a review of teh first book in the Rustic Knoll Bible Camp series, Hear No Evil here.
Purchase links:
LEAVE A COMMENT TO BE PLACED IN THE DRAWING TO WIN A COPY OF SPEAK NO EVIL BETWEEN NOW AND MONDAY, AUGUST 25TH AT MIDNIGHT MST. DON'T FORGET TO LEAVE YOUR CONTACT EMAIL SO YOU CAN BE NOTIFIED IF YOU WIN!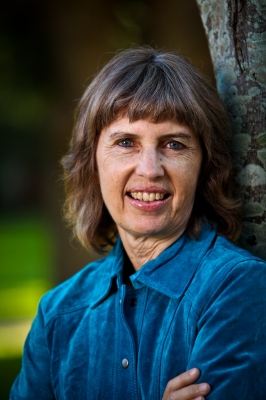 Mary L. Hamilton grew up at a youth camp in southern Wisconsin, much like the setting for her Rustic Knoll Bible Camp series. While raising her own three children, she was active in her church's youth ministry, hosting small group Bible studies and pancake suppers. One summer, she even volunteered as a camp counselor for a week—and decided once was enough.
When not writing, Mary enjoys knitting, reading and being outdoors. She and her husband make their home in Texas with a rescued Golden Retriever.
Connect with Mary: