TWO TEENS FROM A SMALL TOWN IN SOUTHEASTERN COLORADO REACH OUT TO THE WORLD OVER THE AIRWAVES EVERY SATURDAY EVENING WITH WILD, WEIRD, AND WACKY CONVERSATION . I MANAGED TO PIN THE BOYS DOWN FOR A PERSONAL INTERVIEW. IT IS MY GREAT PLEASURE TO INTRODUCE YOU TO SALO AND HUTCH.
Good morning, Jacob and Jeremy. Welcome to Teens of Today and Tomorrow. Tell us about your radio show, Salo and Hutch.
Hi Patti We're glad to be here. Salo and Hutch is a show about two goofball friends and the ideas that come out of our conversations and experiences. We discuss everything from religion and education, to our favorite super heroes. A typical show is packed with a discussion, skits with characters from our own imagination, and the occasional special guest. It is a ton of fun!
Wow, sounds cool. So what would possess two teens to spend their Saturday evenings doing a radio show?
Salo and Hutch spawned out of mine (Jacob) and Jeremy's tendency to have insane and hilarious conversations. When most teens were out getting into trouble on Saturday night, we were busy playing video games with our friends or making silly videos. It could have been any night really, but Saturday night is where it fell and it seemed to stick with us as well as our listeners.
Sounds like there are others not getting into trouble on Saturday nights, probably because of you guys! Do you have any idea how many listeners you have?
Our listener numbers vary from show to show. There are live listeners and archived listeners, meaning people who went back after the show was over and listened. The most live listeners we have had was around 120 thousand. Each episode is a new statistic.
Wow, that's quite a following! How old should you be to listen to the show? Would tweens like the show as well as older teens?
There is no age restriction when it comes to Salo and Hutch. Even though it is directed toward youth, it seems like the majority of our audience is in their thirties and forties! We try our best to reach a wide variety of listeners regardless of age.
So the young at heart enjoy the show as much as young people A lot of teens aren't really into God and religion. Would your show appeal to them as well?
It most certainly would! We would like to think that Salo and Hutch is a gateway into the rest of the Road Less Traveled Ministry. The majority of our shows don't feature a religious topic, making teens who aren't religious more likely to join in on our fun.
Suppose a listener hears something they agree or disagree with, or just want to comment on. Is there a way to contact you during the show and get some discussion going?
The great thing about blog talk radio is that it's set up so live listeners have the opportunity to interact with us in real time in a chat room. They can also call a toll free number and talk with us live on the air.
Wow, that sounds pretty neat. Is there anywhere else we can find you on the web?
Facebook, Twitter, and hopefully YouTube in the future! Go like our pages and add your voice and ideas to the show!
Go here to listen to a Salo and Hutch show!
Thanks so much for spending some time with us, Jeremy and Jacob! See ya Saturday night!
Wait, there's more! We have a contest!
"LIKE" SALO AND HUTCH ON FACEBOOK OR CONNECT ON TWITTER, THEN LEAVE A COMMENT ON THIS BLOG STATING THAT YOU CONNECTED TO BE PLACED IN A DRAWING TO WIN A COPY OF ANY BOOK MENTIONED ON THIS TEENS OF TODAY AND TOMORROW SITE. BE SURE TO LEAVE YOUR EMAIL ADDRESS. (email address will not be made public when entered in comments submission form. It can only be seen publicly if entered in comments section.). (Sorry, US entrants only).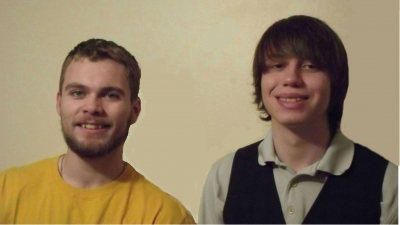 ​Salo and Hutch is an internet radio program hosted by Jeremy Salo and Jacob Hutchison. Every Saturday night at 6 PM MST Salo and Hutch entertain the BlogTalk Radio listeners with skits, musical pieces, and teen relevant discussions. Both Jeremy and Jacob are seniors at La Junta High School in La Junta, CO. To find out more about Salo and Hutch visit their website.