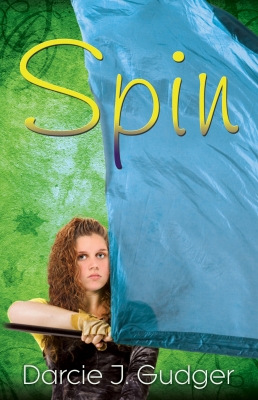 Featured book: Spin
Author: Darcie J. Gudger
Publisher: Mountainview Books LLC
Genre: Contemporary YA
Stand alone or series: Book #1 in the Guarded series
Target age: 15- 85 (I have had several senior citizens love the book!)
I'M PLEASED TO WELCOME AUTHOR DARCIE GUDGER. WHO GIVES SOME STARK AND HONEST ANSWERS TO QUESTIONS ABOUT ISSUES THAT TEENS DEAL WITH ON A DAILY BASIS.
DARCIE IS OFFERING A GIVEAWAY OF HER BOOK, SPIN. CHECK BELOW TO SEE HOW TO ENTER TO WIN
Hi Darcie I'm excited to have you visit Teens of Today and Tomorrow. Tell us about your debut novel, Spin.
Sophomore Kisrie Kelley longs to fit in. Instead, she's always been a misfit, a fact her nemesis Wendy won't let her forget. At least she's got color guard and photography, right? She almost feels normal when she's out on the field performing or behind the lens. Truth be told, they're the only reasons she even shows up at school, though her professor mom thinks they're both a waste of Kisrie's time. Add a serious affinity to Reese's Peanut Butter Cups that has her battling the bulge and a pestering "prodigy" little sister who thinks she's a bush baby, and Kisrie's contemplating moving to a different planet.
The stakes are raised even higher when she overhears Wendy plotting against Kisrie's English teacher uncle all over a stupid grade! Should Kisrie snitch and risk Wendy's wrath? Even since elementary school the young beauty queen has bullied Kisrie as if it were an Olympic sport. Who's going to believe Wendy's story anyway?
Everything spins out of control as vicious rumors fly and lives are on the line. Only the truth can set them all free, but will it be too late?
What motivated you to write a novel for a young adult audience?
When I was a teen, I was frustrated with the contemporary young adult fiction available at the time. The world it portrayed did not match the world in which I lived. Over time, I developed false expectations about life. Disappointment ruled. I felt the authors were out of touch with what average teens dealt with on a day-to-day basis. I did not care about sun-kissed California beauties driving expensive convertibles! I wanted to read about a girl like me. Girls like my friend in the flute section. Boys like my neighbor across the street.
Teenagers are smart. In many ways, they can be smarter than the average adult because their creativity has not been slaughtered by practicality. So little is expected of them these days and they know it. They feel it. They want someone to expect more from them.
Kids join gangs and make destructive decisions because they are looking for a place to belong. They want to find a few people who know what it's like to be them. I write for teens because I want to give them an honest view of their world. Sometimes just knowing someone else gets it is enough. I want them to know they don't have give in to those low expectations society seems to crush them with.
Which of the issues your characters face did you have to deal with as a teen?
Where do I begin? I was bullied off and on throughout my schooling years. I struggled with low self esteem which delved into pure self hatred.
How did you overcome them?
I think a better question would be "how am I overcoming them"? I wish I could say I was fully healed from all the trauma and drama of the past. I wish I could give kids a step-by-step list on how to be a whole person in twenty-four hours. But such a list doesn't exist.
Overcoming is a daily choice. It starts by going to the root of all Truth – the Word of God. Who does GOD say I am? Then, I have to take a good look at those truths of who I am in Christ and compare it to who my peers told me I was. I have to choose: do I believe the God who created the universe, or a bunch of kids who grew up a few miles from my home – kids who probably struggled with their own brand of insecurity and secret trauma?
Satan, the father of all lies, does not want me to find security in Christ. He will go so far as to manipulate circumstances in my life supporting all the lies I've been told over time (you're ugly, you're fat, you'll be a failure, no one will ever love you, you just flat out suck as a person). Do I have faith in God or faith in situation?
And just when I thought I was over some of my issues… BAM! They resurface as my book launches. What will people think when they read it? Will they hate it? Will they hate me? I am so fat, how can I become a public figure?
God and I are working on those things. Still. Again. Overcoming is not one and done. It is a daily surrender to Christ. It is seeking help from trusted friends and adults. Build yourself a support system. Find people who have walked that path before you. People whose outcomes you admire. Latch onto them. They will help.
Do you believe bullying behavior stems from "meanness" or fear? Why?
Fear. A bully has little to no control in her life, so she targets someone she perceives as weaker, or someone who has what she wants. Bullies also attack those who are different. They don't like to be uncomfortable. They control their feelings of discomfort by picking on or beating up upon those who are different from them.
What advice would you give to a teen who deals with low self-esteem?
Join color guard. No, I'm serious! Getting involved in an activity that challenges you and allows you to develop and master skills which you showcase publically will help with self-esteem. Achievement is the most tangible way to gain self-respect gaining a sense of success and empowerment. Color guard is one sport that gives you all of the above and much more. Color guard, in most places, goes year round. You don't have those off-season slumps. And you can see personal and team growth.
Go back to what I wrote on overcoming teen issues. Find your identity in Christ and surround yourself with people who will reinforce and affirm the truth about you. Identify and steer clear of toxic people. Think for yourself and only chose what will take you upward and onwawrd.
What was the worst "bad choice" you made as a teen? Has it affected your life today?
Hating myself and comparing myself to everyone else. I wish I did not buy into the lies at such an early age. I believed I was a worthless human being by the time I was three years old because I had a step-grandparent who told me that again and again. He told my parents I was the worst mistake they ever made. Add to that being a kid with poor vision and glasses thicker than a glass-bottomed boat… there was an ever building pile of Bad Things About Darcie throughout my life.
Over time, it was easier to give in to the bullies than stick up for myself. I outdid them at times in saying mean things about myself. It made them laugh and leave me alone.
Another bad choice was that I compared myself to everyone else. My thighs rubbed together whereas my friends' did not. My friends had long, silky, shiny hair. I had a tangled mess of curls. The girls on the cover of fashion magazines never looked like me. Everyone in my classes (advanced placement) were in gifted and talented… they went on field trips leaving me alone with the teacher. I thought I was stupid.
This kind of self-talk became habit. Habits are so hard to break. I am 42 years old and I wrestle everyday with self-abusive thoughts. Self-depreciating insults fly out of my mouth whenever someone tries to compliment me. Why is it so hard for me to say thank you and move on? Negativity can be isolating in the adult world. With God's help, I will win this battle.
Oftentimes I wonder where I would be if I defeated that self-hatred years and years ago. Did I sabotage my own success? Did I derail my own dreams with my negativity? How did my fear of failure hold me back from achieving some of my dreams? What could God have done with me if I believed Him over my peers?
Good thing we have a God that loves us and helps us grow. God is using my struggles to help others. And that is cool.
Where can we find you on the web?
Leave a comment to be placed in the drawing to win a copy of Spin between now and Monday October 20th at midnight MST. Don't forget to leave your contact email so you can be notified if you win!
YA author Darcie J. Gudger loves teenagers. Aside from making up stories, she is the director of the award-winning color guard program at Evergreen High School where she teaches students to throw things, catch things, and dance with them. To music. Wearing costumes. She holds a masters degree in education from the University of Colorado. Whenever she gets the chance, Darcie escapes the city with her husband and son into the pine-scented Colorado Rockies.