WHAT DOES CHRISTMAS MEAN TO YOU?
Wednesday, December 24, 2014 by Patti Shene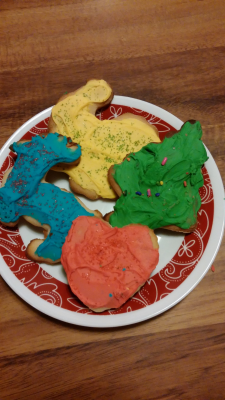 My 13-yr old granddaughter and I were baking and decorating sugar cookies a few nights ago to take to a church event. She pulled out an assortment of various shaped cookie cutters from their plastic sack. When she placed a heart on the rolled out dough, I laughed.
"The heart is for Valentine's Day," I chuckled.
Hands on hips, she promptly reprimanded me. "Grandma, the heart is for love. Isn't that what Christmas is all about?"
A lesson we should never forget.
Whatever waits for you under the tree on Christmas morning—or whatever isn't there that you so desperately wanted—remember the most important gift is the love you receive and the love you give.
Jesus came to earth, shared all His love, and gave His life for you.
He's the reason for the season!
May you have a Merry and Joyous Christmas and may your 2015 be rich with more blessings than you can count!
---