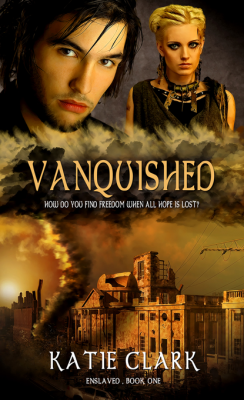 Title of book: Vanquished
Author: Katie Clark
Publisher: Pelican Book Group
Genre: Dystopian
Series or stand alone: The Enslaved Series
Target age: 14+
IT IS MY PLEASURE TO START OUT THE NEW YEAR ON TEENS OF TODAY AND TOMORROW WITH AUTHOR KATIE CLARK. SHE SHARES THOUGHTS ABOUT HERSELF, HER WRITING, AND HER NEW YA NOVEL, VANQUISHED.
KATIE IS OFFERING A GIVEAWAY OF AN EBOOK COPY OF VANQUISHED. CHECK BELOW TO SEE HOW TO ENTER TO WIN.
Katie, if you could invite a fictional character to dinner who would it be and why?
I had to think about this one for a while, but I finally settled on the Genie from Aladdin. He could grant me three wishes, so why wouldn't I want to eat with him?!
Of all the current technological marvels, which is your favorite and why?
I know there is a lot of hate for e-readers, but I adore them. Absolutely adore them. I can take dozens (hundreds!) of books with me wherever I go, and I can read whatever I'm in the mood for. I will read any genre of book, because what I love most is a good story. My e-reader lets me gather books of any genre, and have them at my fingertips for whatever mood I'm in.E SHARES
What do you hope readers will take away from this book?
I hope they take away the belief that they can make a difference. No matter what God has put in your heart to accomplish, you can do it. One person can make a difference, and does make a difference. Be that difference!
What is the funniest, strangest, or most interesting thing you have learned when doing research?
There are so many things I'm not sure I can pinpoint just one! I start a Pinterest board for each book I write, though, and I Pin any interesting stuff I find.
If you could travel back in time when and where would you go?
Oh, this is very relevant to my current novel-in-progress (time travel)! I would love to visit Victorian England. It's always fascinated me, with the pretty dresses and romantic art.
What are you working on now?
I am currently working on a series for Pelican Book Group that is being written for the young adult audience. Each book will focus on a lost Biblical treasure. Shadowed Eden is book 1 and will be published in 2015. Book 2 will be Whispering Tower, and I'm writing it now. It's going to be awesome!
Thank you for spending some time with us today, Katie!
ABOUT VANQUISHED:
When Hana's mom is diagnosed with the mutation, she is denied the medication that might save her life. Fischer, a medic at the hospital, implies there are people who can help—except Hana's not sure she can trust him; Fischer is involved in a religious group, and religion has been outlawed for the last hundred years. Hana embarks on a dangerous journey, seeking the answers Fischer insists are available. When the truth is uncovered does Hana stick to what she knows? Or does she join the rebellion, taking a stand against an untrustworthy society?
LEAVE A COMMENT TO BE PLACED IN THE DRAWING TO WIN AN EBOOK COPY OF VANQUISHED BETWEEN NOW AND MONDAY, JANUARY 19TH AT MIDNIGHT MST.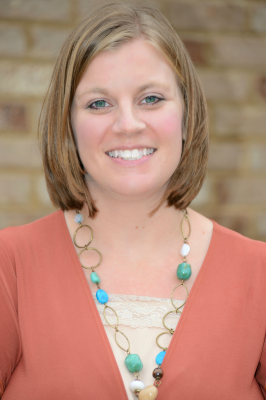 KATIE CLARK writes young adult speculative fiction, including her dystopian Enslaved Series, made up of Vanquished, Deliverance, and Redeemer. Connect with Katie: