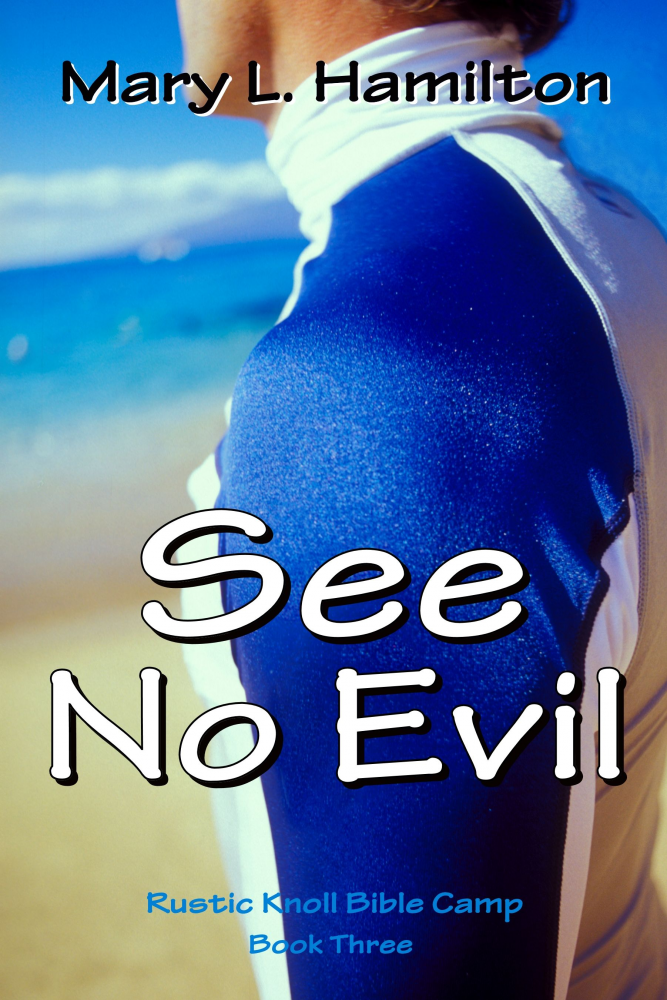 Featured book: See No Evil, Book 3 Rustic Knoll Bible Camp series
Author: Mary L. Hamilton
Publisher: HopeSprings Books
Genre:YA
Series or stand alone:Series
Target age:10 and up
AUTHOR MARY HAMILTON RETURNS TO INTRODUCE READERS TO THE MAIN CHARACTER IN THE THRD BOOK OF HER RUSTIC KNOLL BIBLE CAMP SERIES ENTITLED SEE NO EVIL.
MARY IS OFFERING A GIVEAWAY OF SEE NO EVIL. CHECK BELOW TO SEE HOW TO ENTER TO WIN.
MARY: For our readers who aren't familiar with the other Rustic Knoll stories, tell us a little about yourself and your connection to Rustic Knoll Bible Camp.
STEVEN: I started coming to camp when I was about five. My parents brought me to family camp every year until I got old enough to come by myself. I haven't missed in 12 years! Since I'm blind, my dad used the time at camp to work with me a lot, teaching me how to orient myself from one place to get to another. And of course, the people here are great. They step in any time I need help.
MARY: You mentioned your dad who was really a mentor to you. His death must have been pretty traumatic. Very often, our fathers influence the way we view God. How do you think your view of God was shaped by your relationship with your dad?
STEVEN: I had a pretty close relationship with my dad, so I didn't have much trouble seeing God as loving. Dad was also tough at times and he disciplined me when necessary. But when he died, I had a hard time getting over the idea that I'd failed him. That's been the hardest part of my relationship with God, too. Believing I can be forgiven when I mess up, when I feel like I've failed Him.
MARY: You and Claire have enjoyed a long friendship, even though you only see each other one week a year at camp. Why do you think your friendship has lasted so long? Do you connect with each other outside of camp?
STEVEN: Social media makes it pretty easy to stay in touch. Up until recently, though, we kind of ignored each other most of the year. A few weeks before camp, we'd start messaging each other almost every day because we were so excited about camp. Claire's a special friend. She "gets" me without my having to explain anything. She understands when I might need help, but she doesn't make it obvious. She also knows what I'm capable of and lets me try, even if I flop. I trust her, and I have a lot of respect for her, too.
MARY: Nurse Willie's illness shook both you and Claire. What made you so determined to help her recover?
STEVEN: Nurse Willie has been part of camp since I first started coming. At first, people think she's kinda weird with that hat she wears and the way she loves fishing. But once you get to know her, you figure out how much she cares about us kids, even though she doesn't smile a lot like Zeke and Janie. Her being sick and all reminded me of Dad. I believed I failed Dad when he needed me, and I couldn't let that happen again to someone I cared about.
MARY: Zeke makes a strong point in his evening devotions that each of us is specially designed by God and created in His own image. What made the biggest impression on you from his messages?
STEVEN: I still have a hard time believing God designed me to be blind, because that means He designs others with more serious handicaps. But I get the idea that He can use our limitations beyond what we think or imagine. What made the biggest impression on me was that He has already written every one of our days in His book. I thought that might mean we don't have a choice in what we do, that it's all predetermined. But Zeke explained that God knows who we are way down deep. He knows the choices we'll make and the mistakes and failures that are bound to happen because of those choices. He knew all that before any of us existed, which is why He knew we'd need Jesus, to save us from all those wrong choices. Understanding that helped me let go of the guilt I'd been trying so hard to cover up.
MARY: Speaking of wrong choices, See No Evil is your story, and it appears to be appropriately named since you're blind. But even though you can't see the kind of pornography that's a real problem for guys today, you still got caught up in it. Tell us about that.
STEVEN: It's kind of embarrassing to talk about this. But, yeah, I got hooked on dial-a-porn when I was in junior high. Pornography comes in all kinds of packages, not just sexy magazines or movies or on the Internet. The first time I called that number and listened, I felt sick to my stomach. But it also fascinated me. That's why I kept calling. It took a tragedy to make me realize how hooked I'd become.
MARY: When your buddy, Dillon, received a sexy picture from a girl he knows, you took away his phone and hid it for the rest of the week. Why risk your friendship over something like that?
STEVEN: Dillon didn't understand what could happen, like I did. That's how pornography works. It looks and feels really good and harmless at first. But the more we indulge, the more we get hooked on it and eventually, it will affect our relationships with others. I've been there. What kind of friend would I be if I'd let Dillon travel that same dangerous road, let him get caught in the same trap?
MARY: What advice would you give other young people based on your experience?
It can be really, really hard to stay away from sexual images and messages. Do whatever you have to—install filters, give up certain movies, television shows, music. And even though it's really embarrassing to talk about, find a buddy who will help you stay away from the stuff. Help each other and encourage each other. And try to keep a healthy attitude of respect for the bodies God has given us. Treat them like the temples they are, not like common dirt.
Back Cover blurb for See No Evil:
Steven Miller guards a dark secret.
Dad drilled into Steven that blindness should never be used as an excuse. So when Steven finds an old triathlon medallion among Dad's belongings, he's inspired to follow in his footsteps. Maybe it'll quiet the guilt he's carried since Dad's death three years ago.
While Steven continues his triathlon training during his final summer at camp, a serious illness keeps Rustic Knoll's beloved Nurse Willie from managing her clinic. When Steven teams up with his friend Claire to encourage Willie's recovery, his feelings for Claire grow beyond friendship.
But his buddy, Dillon, has started down a dangerous path that Steven knows all too well. Can he keep his friend from falling into that sin without exposing his own past?
Find See No Evil at Amazon: http://amzn.to/1yslU36
LEAVE A COMMENT TO BE PLACED IN THE DRAWING TO WIN A COPY OF SEE NO EVIL BETWEEN NOW AND MONDAY, JUNE 1ST AT MIDNIGHT MDT
Read about the second book in The Rustic Knoll Bible Camp series, Speak No Evil, here and here
Read about the first book in The Rustic Knoll Bible Camp series Hear No Evil here.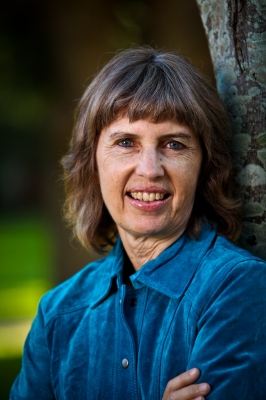 Mary L. Hamilton grew up at a youth camp in southern Wisconsin, much like the setting for her Rustic Knoll Bible Camp series. While raising her own three children, she was active in her church's youth ministry, including serving as a camp counselor for a week. She decided once was enough.
When not writing, Mary enjoys knitting, reading and being outdoors. She and her husband make their home in Texas with a rescued Golden Retriever. Connect with Mary: