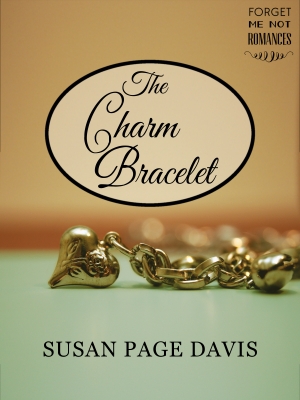 Featured book: The Charm Bracelet
Author's name: Susan Page Davis
Publisher: Forget-Me-Not Romance
Genre: Romance
Stand alone or series: standalone
Target age: adult (not YA)
The Over 50 Writer is thrilled to welcome multi-published author Susan Page Davis.
SUSAN IS OFFERING A GIVEAWAY (PRINT OR EBOOK) OF THE CHARM BRACELET. CHECK BELOW TO SEE HOW TO ENTER TO WIN.
I've been seriously writing fiction for about fifteen years now. The Lord has blessed me richly, and I have more than 40 titles published. One of my latest efforts is a simple story—a romance. While writing The Charm Bracelet, I got out my old sterling silver bracelet. Soon my friends and I were comparing and waxing nostalgic over our charms.
The traditional charm bracelets reached the peak of popularity in the United States in the 1950s. I got mine in the late 1960s. They've been around for a lot longer than that, though. Queen Victoria helped popularize them in England a hundred and fifty years ago. They have recently enjoyed a resurgence of stylishness.
My first charm was a horse, because my mother knew I was horse crazy. The next was a report card that opens and says "You're tops" inside. Then came an airliner, commemorating a flight, and a disc with my initial, "S," and the date of my sister's wedding engraved on it. The last one I added has a fireplace in a heart-shaped charm. It was a prize for scoring highest on a home economics test at my school. After that, I didn't add any more charms, but I've hung onto that string of little tokens as a reminder of pleasant times.
Some of the charms on Lisa's bracelet in the featured book are: a snowman, a German shepherd, a sailboat, an artist's palette, a Cupid, and a Christmas tree. What's on your bracelet? If you love charm bracelets, vintage or new, I'd love to hear from you.
Back cover blurb for The Charm Bracelet:
When Lisa Archer's charm bracelet is caught in a mall escalator, she is rescued by a flippant but dashing EMT. Steve Rollins seems to understand only too well Lisa's mixed feelings toward her escort, Dr. Bryan Cooper, who gave her the bracelet. Lisa and Steve meet again, and the sparks fly. Steve is sure Lisa hates him, and Lisa can't help comparing vibrant Steve to mediocre Bryan, although Steve makes her furious every time she sees him. She tells Bryan she no longer wants to wear the charm bracelet, angering Bryan, and both are injured in an auto accident. When Steve responds to the emergency call and finds that Lisa is one of the accident victims, his guilt weighs him down. Will he have the chance to ask Lisa's forgiveness and start over in his clumsy attempts to win her heart? With a lot of prayer and some manipulation from Steve's sister, he may be able to charm his way into Lisa's life.
This romantic novel has elements of Christian faith. The book also includes a bonus short story, Wandering Irises, by Susan Page Davis.
The Charm Bracelet can be purchased at:
Buy in paperback
Buy for Kindle
Buy for Nook
LEAVE A COMMENT TO BE PLACED IN THE DRAWING TO WIN A COPY OF THE CHARM BRACELET BETWEEN NOW AND APRIL 2ND AT MIDNIGHT MST. DON'T FORGET TO LEAVE YOUR CONTACT EMAIL SO YOU CAN BE NOTIFIED IF YOU WIN!
Susan Page Davis is the author of more than forty novels, in the romance, mystery, suspense, and historical romance genres. A Maine native, she now lives in western Kentucky with her husband, Jim, a retired news editor. They are the parents of six, and the grandparents of nine fantastic kids. She is a past winner of the Carol Award, the Will Rogers Medallion for Western Fiction, and the Inspirational Readers' Choice Award. Visit her website or her FaceBook page.