Title of book: Where Hope Starts
Author's name: Angela D. Meyer
Publisher : CrossRiver Media Group (www.crossrivermediagroup.com)
Genre: Contemporary Christian Women's Fiction
Stand alone or series : Series
Target age : 25-50
Author Angela D. Meyer shares her thoughts about the part God's timing has played in her writing career. Angela, welcome to The Over 50 Writer! It's great to have you here.
ANGELA IS OFFERING A GIVEAWAY OF HER BOOK, WHERE HOPE STARTS. CHECK BELOW TO SEE HOW TO ENTER TO WIN.
I've been writing a long time; since I was in junior high. My career began at age 50 when my debut novel, Where Hope Starts, was released.
I wrote because I had to. I couldn't keep it inside. I joined critique groups and read books to improve my craft. The year before I found my publisher, I became serious about submitting smaller pieces. When I least expected it, God provided the opportunity for a contract. I signed.
After all those years of planning and hoping, it was HIS timing that said NOW.
I wonder at His timing. There are so many life changes during this season. My husband and I had our kids when I was 32 and 37. While a lot of people our age are now empty nesters, we still have one at home. Our son graduated last year and joined the Marines, but I am still homeschooling our daughter who just turned 13. Teenager alert! I'm going to counseling. Family dynamics stuff. And now I have a book to market and sequels to write.
It is often difficult to write and market. At times, this is because I can't find my creative place due to stress and emotions. Other times, I can't find the time. It might be easier to hang up my writing hat for a while, and at times, I do need to take a break. But regardless of the time and energy it takes, at this point in my life, writing is giving to me more than I am giving to it.
Even as the time I spend writing and marketing ebbs and flows with my other responsibilities, writing is a gift God has given me in the midst of a season of letting go. It gives me purpose and direction, ministry and provision, growth and connection, and hope.
About Where Hope Starts:
In a city full of dreams… Karen Marino's life is a nightmare. The New York City restaurant manager is a professional success, but her marriage is in shambles. When her husband, Barry shows up drunk at her restaurant, she loses both. She flees The Big Apple and returns to her Midwestern home to sort through her options. But instead of answers, she finds an old boyfriend ready to rekindle romance, a family full of secrets and an angry brother bent on revenge.
Still in New York, Barry fights his own demons. He knows he messed up, but is powerless to stop his rage and addictions. A fistfight on the streets of the city lands him in jail and forces him to face the possibility of a future behind bars.
Karen knows holding onto her bitterness won't repair her marriage. But how do you forgive someone when you don't feel like it? As she searches for the answer, she uncovers the family secret that threatens to tear them all apart. Can she find her way back to the place Where Hope Starts?
Purchase link:
Leave a comment to be placed in the drawing to win a copy of Where Hope Starts between now and Wednesday, April 16th at midnight MST. Don't forget to leave your contact email so you can be notified if you win!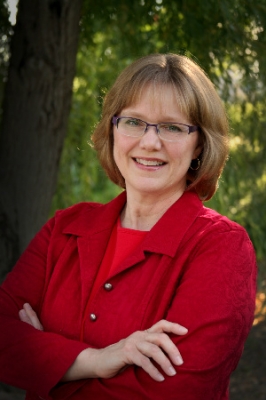 Angela D. Meyer lives in Omaha, NE with her husband of more than 22 years. She homeschools their daughter and recently graduated their son who is now a Marine. She taught Bible class for over 35 years and served for almost three years on the leadership team of her local Christian writers group. Her debut novel, Where Hope Starts, is a finalist in the Grace Awards. She loves God, her family, the ocean, good stories, connecting with friends, taking pictures, quiet evenings and a good laugh. Someday she wants to ride in a hot air balloon and vacation by the sea.
Find Angela on the web:
Other Blogs Angela contributes to on a regular basis: