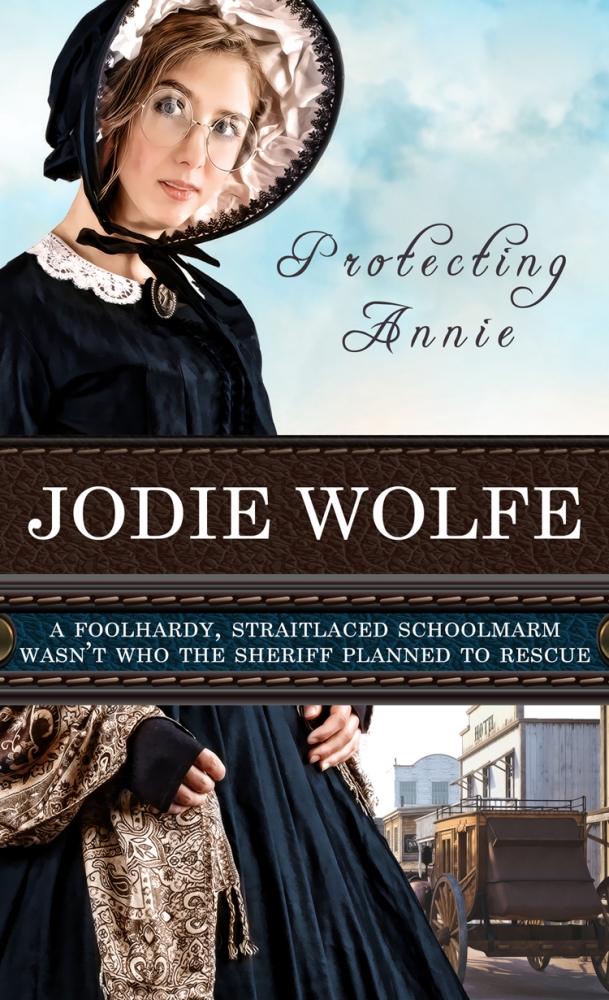 FEATURED BOOK: Protecting Annie
AUTHOR: Jodie Wolfe
PUBLISHER: White Rose Publishing
GENRE: Historical Romance
SERIES OR STAND ALONE: Book Two of Burrton Springs Brides Series
TARGET AGE: Women ages 20-70
IT IS MY PLEASURE TO WELCOME AUTHOR JODIE WOLFE TO THE OVER 50 WRITER. JODIE SHARES WHAT KEEPS HER WRITING DESPITE THE CHALLENGES OF GETTING OLDER.
SEE BELOW FOR DETAILS OF JODIE'S AMAZING GIVEAWAY!
WRITING AFTER 50
by
Jodie Wolfe
I had the advantage of writing Protecting Annie well before I turned 50. It along with Taming Julia (the first book in my Burrton Springs Brides Series) sat on my computer for quite a while as I tried to find a publisher. I finally gave up and decided it wasn't the right timing. But three years ago, I felt it was time to send it out again. The publisher I sent it to, had it for a little over three months before they contracted it. Since Protecting Annie also had been written years ago, it didn't need a whole lot of polishing before I sent it to my publisher.
But now I'm 56…and I find it a little more difficult to keep things straight when I'm writing and plotting a novel. It makes me wonder how Christian author Gilbert Morris did it. :) I believe he was close to 60 when he had his first book published and went on to write many, many books. I think it was close to 100. Wow! What an illustrious career.
I love this promise from Isaiah 46:4 (TPT).
Even as you grow old and your hair turns gray,
I'll keep carrying you!
I am your Maker and your Caregiver.
I will carry you and be your Savior.
How reassuring to know that as I age and my hair continues to turn gray, God promises to carry me. While I don't always remember things or keep them straight in my mind, I can trust God to still work through me. So, while it may take me longer to write and I may need to make more notes for myself, I know God will meet my every need. What a comfort to know He's in control.
Are you finding it harder to remember things as you get older? What things do you do to help you remember things? Leave a comment for your chance to win a historical CD with 12 books on it, including Taming Julia. (US only) Hopefully it will get you excited to read my newly released book, Protecting Annie. :)
Blurb for Protecting Annie
After twenty years of living along the trail as a deputy U.S. Marshal, Joshua Walker takes a job as sheriff in Burrton Springs, Kansas so he can be closer to his sister. Only problem, she no longer requires his protecting so he's unsure of his next step.
Annie McPherson needs a change after the death of her father. She accepts a position as schoolmarm, hoping her past won't catch up with her. Life is good, except for the pesky sheriff who continues to question her ability to adjust to life in the west and creates confrontations at every turn.
When the irritating schoolteacher's past and present collide, dragging him into the turmoil, Josh has to decide who he's willing to defend.
Purchase Links
Barnes and Noble http://ow.ly/Aw5Z30s1fg8
Pelican Book Group http://ow.ly/9anX30s1fgj
Amazon http://ow.ly/vEWh30s1fgs
DON'T FORGET TO LEAVE A COMMENT TO BE PLACED IN THE DRAWING TO WIN A HISTORICAL CD WITH 12 BOOKS ON IT, INCLUDING TAMING JULIA. BETWEEN NOW AND SATURDAY, DEECMEBER 4TH AT MIDNIGHT MST.
BY LEAVING A COMMENT, YOU GRANT PERMISSION FOR YOUR EMAIL TO BE REVEALED TO THE AUTHOR IF YOU ARE THE WINNER TO FACILITATE RECEIPT OF YOUR CD.
Jodie Wolfe creates novels where hope and quirky meet. She is a member of American Christian Fiction Writers (ACFW), Faith, Hope & Love Christian Writers, and COMPEL Training. She's been a semi-finalist and finalist in various writing contests. A former columnist for Home School Enrichment magazine, her articles can be found online at: Crosswalk, Christian Devotions, and Heirloom Audio. When not writing she enjoys spending time with her husband in Pennsylvania, reading, walking, and being a Grammie. Learn more at jodiewolfe.com.
SUBSCRIBE TO PATTI'S BLOGS HERE