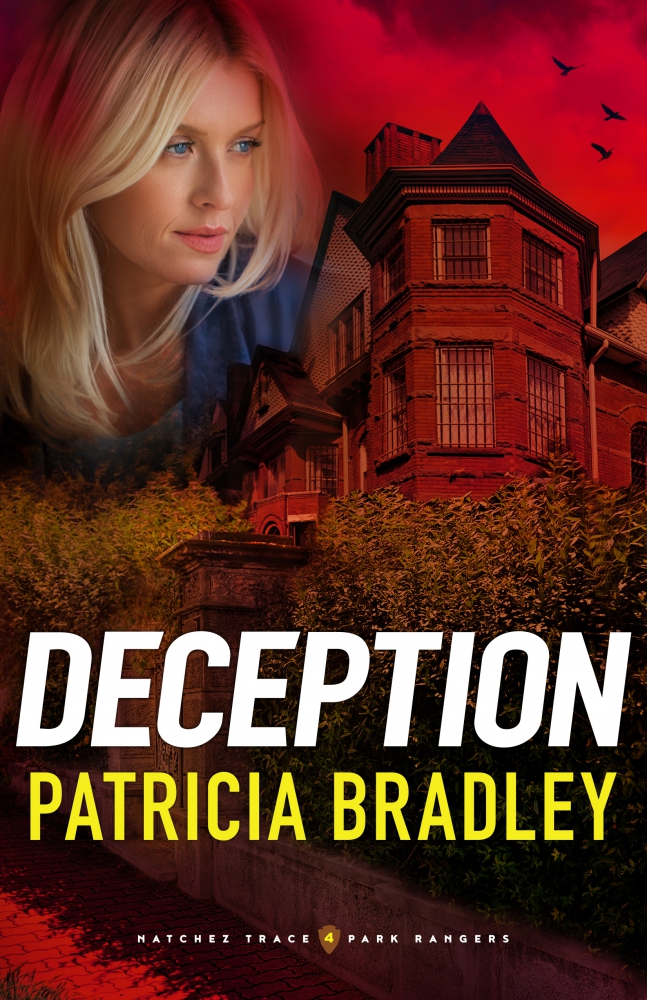 FEATURED BOOK: Deception, Natchez Trace Park Rangers, Book 4
AUTHOR Patricia Bradley
PUBLISHER: Revell, a Division of Baker Books
GENRE: Romantic Suspense
SERIES OR STAND ALONE: Series, Book 4 Natchez Trace Park Rangers
TARGET AGE: 25-70+
IT IS MY PLEASURE TO WELCOME AUTHOR PATRICIA BRADLEY TO THE OVER 50 WRITER. PATRICIA SHARES ONE OF THE IMPORTANT ELEMENTS OF GREAT WRITING.
PATRICIA IS OFFERING A GIVEAWAY! SIMPLY LEAVE A COMMENT BELOW TO ENTER THE DRAWING FOR A PRINT/ COPY OF DECEPTION.
PUTTING THE 5 SENSES IN YOUR WRITING
by
Patricia Bradley
I was well past the 50-year mark when I was published, so no matter what your age, don't give up! It's been nine years since my first book released, and August 2, book #15, Deception, Natchez Trace Park Rangers, Book 4 releases. AND I'm starting book #16. (That doesn't count the four novellas I've written. So, if God called you to write, learn the craft and you'll be ready when He opens the door.
There are a few things I wished someone had told me when I started out. Like don't have more than one point-of-view per scene—if you do, it's called head-hopping. And I'm sure you've heard the show-don't-tell saying more than once. And how about the "use all five senses" in your scenes? That's what I want to talk about today.
We've been told many times that using all five senses in our stores is imperative, and right away I recalled sight, sound, and smell, but briefly blanked on taste and touch. That made me realize I rarely used either of them in my writing, focusing mostly on the other three.
It's easy to use sight and sound while smell comes in a distant third. Most of what we write for our characters include those three senses: The forested mountains (sight), the babbling brook (sight and sound), the fragrant rose with a drop of dew (sight and smell), the rusted refrigerator at the city dump (sight and smell), the barking wet dogs at the animal shelter (sight, sound and smell)
Often, we overlook the opportunity to incorporate touch and taste. Using the examples above, let's see how we can add those two senses. If you're climbing the forested mountains, you can bring in touch: rubbing your hand over the rough bark of an oak tree; for the brook, trail your fingers through the cold water, and at the dump, the sharp pain of slicing your leg on the rusted refrigerator and then the jab of getting a tetanus shot, and for the last, the wet tongue from the puppy you picked up at the animal shelter as it showers you with love.
Here are a few more word choices to incorporate in the sense of touch: Angular, bumpy, caked, chapped, clammy, damp, embossed, feathery, fleecy, furry, gnarled, gooey, hairy, hot, icy, jagged, layered, lumpy, moist, oily, pockmarked, prickly, ragged, ribbed, rough, scratched, silky, thorny, tweedy, unblemished, uneven, velvety, warm, wiry, wrinkled.
Taste is much harder to work with, but here are two from the examples. The tangy, sweet juice as you bite down on a muscadine, drawing a bucket of water from a well and drinking the iron-flavored water. Again, google words that describe taste and you will find quite a few.
Here are a few words I found for the sense of taste: acerbic, acidic, acrid, astringent, bitter, bloody, briny, buttery, cheesy, chocolatey, chalky, citrus, charred, cream, curdled, delicate, dusty, earthy, fruity, lemony, mount-watering, peppery, salty, scalding, sharp, smokey, tangy, tart, vanilla, vinegary, watery to name a few.
Writing is all about layering. I write romantic suspense and my first draft is my first layer. In it I lay down the plot of the story—the crime and how it affects the characters. I mostly use sight and sound on this layer.
In the second layer I write in more of the romance and spiritual thread, and this is where I layer in more of smell, touch, and taste. Then as I polish, I look for more ways to use the five senses to draw my readers closer to the characters.
Look for ways to add all five senses to your scenes. It will help connect your reader to your characters and story.
Back cover copy for Deception:
After being forced to kill an FBI agent gone rogue in self-defense while working in the violent crimes unit for the Investigative Services Branch, ranger Madison Thorn is comfortable with her move to the fraud and cyber division. At least numbers don't lie. So she's less than thrilled when a white-collar crime investigation in Natchez, Mississippi, turns violent. She could also do without being forced to work with former-childhood-enemy-turned-infuriatingly-handsome park ranger Clayton Bradshaw.
When a woman who looks just like Madison is attacked on the same night Madison's grandfather is shot, it becomes clear that there is something much bigger going on here and that Madison herself is in danger. Madison and Clayton will have to work together--and suppress their growing feelings for one another--if they are to discover the truth before it's too late.
USA Today bestselling and award-winning author Patricia Bradley closes out her popular Natchez Trace Park Rangers series with this complex story of family secrets, mixed motives, and learning to trust.
DON'T FORGET TO LEAVE A COMMENT TO BE PLACED IN THE DRAWING TO WIN A PRINT COPY OF DECEPTION BETWEEN NOW AND SATURDAY, AUGUST 13TH AT MIDNIGHT MDT. (U.S. residents only eligible for print copy, otherwise, a digital copy will be awarded).
BY LEAVING A COMMENT, YOU GRANT PERMISSION FOR YOUR EMAIL TO BE REVEALED TO THE AUTHOR IF YOU ARE THE WINNER TO FACILITATE RECEIPT OF YOUR BOOK.
Patricia Bradley is a Romantic Suspense Selah winner, Carol and Daphne du Maurier finalist and the winner of an Inspirational Readers' Choice Award. Three anthologies that included her stories debuted on the USA Today Best Seller List.
She and her two cats call Northeast Mississippi home--the South is also where she sets most of her books. Her romantic suspense novels include the Logan Point series, the Memphis Cold Case Novels, and the Natchez Trace Park Rangers. She is now hard at work on the second book in her new Pearl River series set in the Cumberland Plateau area above Chattanooga.
Writing workshops include American Christian Fiction Writers, the Mid-South Christian Writer's Conference, the KenTen and Scrivener retreats where she was the keynote, Memphis American Christian Fiction Writer group, and the Bartlett Christian Writers group. When she has time, she likes to throw mud on a wheel and see what happens.
Connect with Pat at:
Blog: www.patriciabradleyauthor.com/blog
Twitter: @ptbradley1
FaceBook: www.facebook.com/patriciabradleyauthor
Instagram: https://www.instagram.com/ptbradley1/
Pinterest: https://www.pinterest.com/ptbradley/
SUBSCRIBE TO PATTI'S POSTS HERE