FEATURED BOOK: Books Afloat
AUTHOR: Delores Topliff
PUBLISHER: Scrivenings Press
GENRE: WWII Historical
SERIES OR STAND ALONE: Book 1 in the Columbia River Undercurrents series
TARGET AGE: Age 12 to senior citizens
IT IS MY PLEASURE TO WELCOME AUTHOR DELORES TOPLIFF TO THE OVER 50 WRITER. DELORES SHARES HOW HER GRADE SCHOOL LOVE OF READING LED TO HER WRIITNG CAREER.
DELORES IS OFFERING A GIVEAWAY! SIMPLY LEAVE A COMMENT BELOW TO ENTER THE DRAWING FOR AN EBOOK COPY OF BOOKS AFLOAT.
CHILDHOOD INFLUENCES IN MY WRITING
by
Delores Topliff
I was blessed to have a small public library across the street from where I grew up in Vancouver, WA and started writing in the third grade. Church presented a play I wrote at age 12 and I had poems and articles published in early years, but no books until I was past age 50. I began with four illustrated children's books and now added four historical novels. Once I started, there's no slowing me down.
I loved growing up in the scenic playground of the Pacific Northwest on the Columbia River. To avoid panic when a Japanese submarine invaded the river in 1942, officials didn't tell the public for 50 years. Learning of that event plus loving books combined in my 2021 WWII novel, Books Afloat.
This February, I released its sequel, Strong Currents, which also includes scenes in Midway and Hitler's Germany. I've written two other historic novels in between and am finalizing my travelogue/memoir from guiding small groups to Israel for 39 years, Israel on a Budget for all ages - A Traveling Grandma's Guide to Israel. Plan your trip for under $120 a day after airfare.
Back cover blurb for Books Afloat
Based upon a historical event--a network of undercover volunteers plot to prevent Japanese saboteurs from invading the Columbia River during World War II.
Oklahoma Dust Bowl survivor Anne Mettles creates a floating library to provide books and materials for Columbia River residents. But wartime budgets slash funding, and Washington's governor can only find money if Anne will conduct secret military surveillance along the river to monitor and report enemy activity. Anne wants to operate Books Afloat alone but must accept help to pilot the boat.
Mechanic Ted Vincent insists on being onboard and discovers that unusual boat damages are not accidents but sabotage. A young man who will do anything to win Anne's affections and an ambitious reporter writing public interest stories also ride along, complicating matters.
Anne and team hazard their lives to save the nation they love and discover newfound courage, giving her and Ted a chance at love--if they can survive.
Amazon buy link https://tinyurl.com/4dh94y7a
DON'T FORGET TO LEAVE A COMMENT TO BE PLACED IN THE DRAWING TO WIN AN EBOOK COPY OF BOOKS AFLOAT BETWEEN NOW AND MONDAY, APRIL 17TH AT MIDNIGHT MT.
BY LEAVING A COMMENT, YOU GRANT PERMISSION FOR YOUR EMAIL TO BE REVEALED TO THE AUTHOR IF YOU ARE THE WINNER TO FACILITATE RECEIPT OF YOUR BOOK.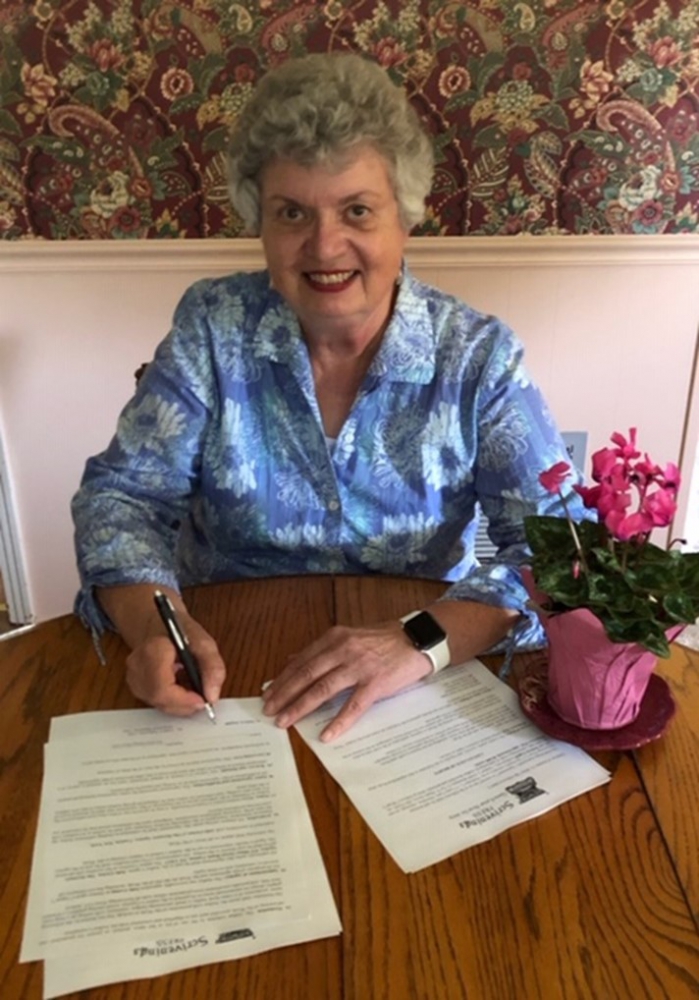 Delores Topliff grew up in Washington state but married a Canadian so enjoys dual citizenship. She teaches university classes online, travels, and published children's books and non-fiction stories before finding her stride writing historical fiction. Books Afloat, Christmas Tree Wars, Wilderness Wife, and Strong Currents have been published since January 2021. Delores loves her two doctor sons and five grandchildren and divides her year between a central Minnesota farm and the gentle climate and people in Northeastern Mississippi. She used to make fun of snowbirds and now she is one. Connect with Delores:
Website delorestopliff.com
Blog https://delorestopliff.com/blog/
Email [email protected]
Facebook https://www.facebook.com/DETopliff
Twitter @delorestopliff
Instagram delorese.topliff
Newsletter https://tinyurl.com/37f5xw3h
Subscribe and receive a free short story –
Bookbub https://www.bookbub.com/authors/delores-topliff
Goodreads: https://tinyurl.com/2zbc5925
SUBSCRIBE TO PATTI'S BLOGS HERE