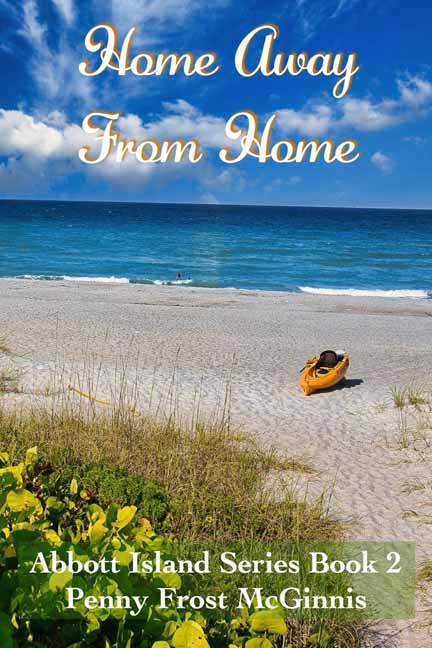 FEATURED BOOK: Home Away from Home
AUTHOR: Penny Frost McGinnis
PUBLISHER: Mt. Zion Ridge Press
GENRE: Contemporary Romance
SERIES OR STAND ALONE: Book Two in the Abbott Island Series
TARGET AGE: Women 30s+
IT IS MY PLEASURE TO WELCOME AUTHOR PENNY FROST McGINNIS TO THE OVER 50 WRITER. LPENNY SHARESES WHY RESEARCH IS ALWAYS IMPORTANT IN WRITING.
PENNY IS OFFERING A GIVEAWAY! SIMPLY LEAVE A COMMENT BELOW TO ENTER THE DRAWING FOR AN EBOOK COPY OF HOME AWAY FROM HOME.
IS RESEARCH ONLY FOR HISTORICAL NOVELS?
by
Penny Frost McGinnis
My latest contemporary romance, Home Away from Home, features a man and woman in their fifties. I enjoyed writing about a more mature couple who have to decide if the past will keep them apart or love will win.
Writing a story about two people in their fifties was both fun and a challenge. Both characters who are mature in their faith, experienced doubt and fear, even as they relied on hope.
In my own life, I've sailed through my fifties and celebrated my sixty-fifth birthday as I penned Home Away From Home. My age made writing the characters easier, but I'd not encountered their exact situations.
Marigold had never married. In her adult years, she searched for her father, who disappeared when she was fourteen. Even as she hoped he'd return, she built a life for herself.
Before I put fingers to keyboard, I researched the possibilities of why and what might have happened to him. Because I'm a discovery writer, sometimes referred to as a pantser, I took the research and allowed it to guide my writing. As a result, the story bloomed and gave way to the path Marigold trod.
Johnny had been married, divorced, and estranged from his daughter for several years. He's a man filled with compassion and passion. Since he owned a Greek restaurant, I researched the foods he might serve at Johnny's Place and craved baklava by the time I finished. In the process, his daughter's story grew, and the characters took on a life of their own.
One element that niggled at me as I wrote the story was the forty-year span her dad had been missing—was it too long? The research assured me the story was compelling and plausible and a person could be missing for over forty years.
As a writer, I've learned the important role research plays in writing a novel. Whether the author pens historical or contemporary fiction, there are important details we need to get right. The public library is a great source, not just for books, but also databases of information, photos, and other ephemera.
One trick I've learned is to read a book written for middle grades. They often offer the basic facts. Then I delve deeper into the facts that perk my interest. Bibliographies offer great lists of sources too.
The island I've set the series on is modeled after an actual island I've visited. I follow their Facebook pages, and I've read every book I found written about the island.
When you prepare to write, take time to research. What you learn will help shape your story, add layers, ground your readers, and create setting.
Blurb for Home Away from Home:
When Marigold Hayes turned fourteen, her mother died, and her father went missing. For forty years, she has searched for her dad and lived a quiet life on Abbott Island, until she met Johnny. As her love for Johnny grows, her sorrow from the relentless search for her father breaks her heart. She begs God to help her move forward with her life before she has no love left to give. Then three mysterious strangers show up who could change her life.
Johnny Papadakis moved to Abbott Island ten years ago. His ex-wife had pushed him away and discouraged him from having a relationship with their daughter. After years of hard work, his restaurant flourishes, and so does his relationship with Marigold. As he seeks Marigold's hand in marriage, his daughter shows up on his doorstep, looking for a place to call home.
Can Marigold and Johnny settle the past and move toward the promise of a blessed future?
Home Away from Home, book #2 in the Abbott Island series is available on Amazon, Mt Zion Ridge Press, and book retail sites.
DON'T FORGET TO LEAVE A COMMENT TO BE PLACED IN THE DRAWING TO WIN AN EBOOK COPY OF HOME AWAY FROM HOME BETWEEN NOW AND MONDAY, MAY 1ST AT MIDNIGHT MT.
BY LEAVING A COMMENT, YOU GRANT PERMISSION FOR YOUR EMAIL TO BE REVEALED TO THE AUTHOR IF YOU ARE THE WINNER TO FACILITATE RECEIPT OF YOUR BOOK.
Penny Frost McGinnis, author of Home Where She Belongs and Home Away from Home, books #1 and #2 of the Abbott Island series, would live in a lighthouse or on an island if she could. Instead, she and her husband are content to live in southwest Ohio and visit Lake Erie every chance they get. She adores her family and dog, indulges in dark chocolate, enjoys fiber arts, and baseball. She pens romance with a dash of mystery and the promise of hope. Her life's goal is to encourage and uplift through her writing. Visit her blog at Hope for Today's Heart, where she brings God's hope to people's lives through the written word.
Connect with Penny
Website/Blog https://www.pennyfrostmcginnis.com/
Facebook Author page: https://www.facebook.com/PennyFrostMcGinnisAuthor
Bookbub https://www.bookbub.com/profile/penny-frost-mcginnis
SUBSCRIBE TO PATTI'S BLOGS HERE