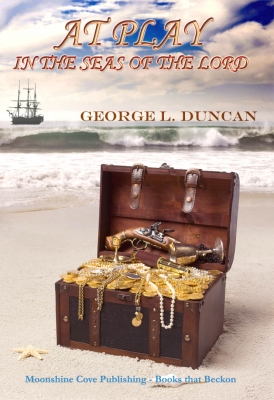 Featured book: At Play in the Seas of the Lord
Author: - George L. Duncan
Publisher: Moonshine Cove Publishers
Genre: Christian fiction
Series or stand alone: Stand Alone
Target age: YA and adult
I'M PLEASED TO INTRODUCE JOURNALIST TURNED NOVELIST GEORGE DUNCAN. GEORGE SHARES SOME THOUGHTS ABOUT HIS WRITING EXPERIENCE AND ADDS A WORD ABOUT HIS FAVORITE SPORT.
GEORGE IS OFFERING A GIVEAWAY OF AT PLAY IN THE SEAS OF THE LORD. CHECK BELOW TO SEE HOW TO ENTER TO WIN.
Welcome to The Over 50 Writer, George. Tell us about your novel "At Play in the Seas of the Lord."
"At Play" a tale of two Christians, former police reporter Harrison Craig, and beautiful diver Coral Delaplaine, as they search for the Diablo, a Spanish treasure ship, and death ship, holding $800 million in gold. But a second group, full of occultists, are also searching for the ship and will stop at nothing to get it. In addition, the Diablo holds a terrible secret and an ancient evil.
I also use the plot to address the problem of evil – if there is a loving and all-powerful God, why is evil allowed to roam the Earth.
What skills learned in journalism do you apply in novel writing?
Ignore advice from editors. Most of them have no idea about what they're doing. He or she is probably just a cousin of the publisher anyway. Of course, this advice will get you nothing published – ever.
Journalism demands clarity, style, skill and attention to details. Those traits can certainly help you in writing fiction as well as non-fiction.
Editors in both journalism and novel writing will often make suggestions. Some of them you won't like. Swallow your pride and heed them anyway
How much of your own personal experiences are weaved into your novel plots and/or the development of your characters?
In this novel, not much. The characters are three-dimensional but are not really based on any real individual. I'm a former police reporter too, but Harry is a much better golfer than I am and we are vastly different in other ways too. Even the con man, who is pivotal to the novel, is not based on any single individual
What is the most difficult aspect of writing for you and how have you managed to overcome it.
I think it's so important to keep a good sense of pace in a novel. It keeps people reading. I can write, good, witty dialogue that I think will keep the reader turning pages.
What type of advice would you give writers who began their career later in life?
I think the same type of advice you'd give younger writers. Mark Twain said there are three rules to writing – write, write and write. Can't do better than that. If you're starting late, I trust you have been reading for most of your life. I think if you want to write well you have to read.
How is writing a novel like playing a round of golf?
Both writing and golfing can be exasperating hobbies. This means I have TW0 exasperating hobbies. At times you can hit into the rough and it's tough to hack your way out. But when things go well, a five-iron bouncing a golf ball just five feet from the cup and a well-written page are things of beauty.
Thank you for visiting with us, George.
Leave a comment to be placed in the drawing to win a copy of At Play in the Seas of the Lord between now and Wednesday, December 17th at midnight MST. Don't forget to leave your contact email so you can be notified if you win!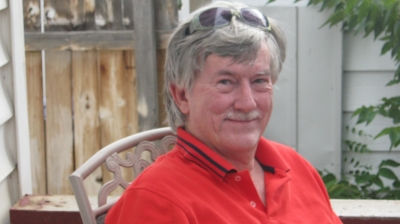 George Duncan is a former journalist/editorial writer who is now semi-retired and now writing novels and doing ghostwriting. A native of Florida, he met his wife on the Internet and now lives in the cold state of Colorado. They have two dogs, two cats and a horse. Find George on the web at www.endtimestavern.com.