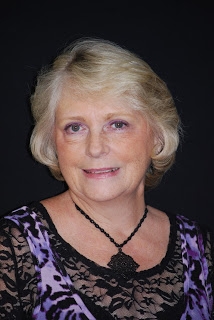 The Over 50 Writer is pleased to welcome author Sharon Srock and The Women of Valleyview. Be sure to check the lovely gift basket (contents list & illustration below) you have a chance to win if you comment on this blog!


Sharon, tell us about your novel, Callie.

Callie's spirit is broken after a child she was trying to help is murdered by his abusive father. Little Sawyer would still be alive if she'd minded her own business, wouldn't he? God refuses to allow Callie's life to be defined by undeserved guilt and blame, so he places her in a situation she can't walk away from.

Iris and Samantha Evans need help and Callie is the tool God wants to use. When she steps out in faith and begins working to reunite these girls with the father who abandoned them ten years ago, Callie discovers that God is rescuing her right along with the Evans family.

How long did it take you to complete Callie?

The initial draft was done in about 4 months, then the polishing, revising and editing began. The first word went on paper in the spring of 2009, she was accepted by a publisher in January 2012.

What stumbling blocks did you encounter?

Lack of self confidence, and not having a clue about how to pursue publication. I had a good story, but a lot to learn.

What take away message do you hope to convey to your readers?

That sometimes we let fear and past failures or hurts rob us of the blessings God has for us today. God loves us and He's not going to take us into a situation and leave us there to flounder.

Has completion of a novel been a lifelong aspiration?

Truthfully, no. I've been a reader all my life, but writing was never my dream. I remember cringing in English classes when a single page paper was due. One night I went to bed a reader and woke up determined to write a book. I was very involved in Star Trek fandom, had some short stories and poetry published in a fanzine here and there. My first full length project was a Star Trek story.

Now, I'm Pentecostal, so you'll have to work with me here…One night, about 25 years ago, we were in a revival. The evangelist, who didn't know me from Eve, spoke a word of prophecy over me. In Paraphrase… "I've put a pen in your hand and a light by your side. Use it for me." Well at that point in my life the only Christian writing I knew about were lessons or theological works of non fiction. That didn't seem like me, so I stopped writing altogether.

Three and a half years ago, a new employee stopped by my desk to introduce herself. In the course of the conversation, she mentioned that she was a writer. I told her that that was my dream at one time. She gave me the oddest look and spoke five words that have changed my life. "You gave up too soon." That night I started writing Callie's story.

Do you believe you could have written the same novel when you were younger?

Absolutely not. I think that's part of the reason I was able to walk away from writing when I did. I wasn't ready to write the kinds of stories God wanted me to write. When I was, He sent someone along to nudge me in the right direction.

Tell us about your Women of Valley View blog.

I'm blaming the whole blog thing on God.
Seriously, I never intended to have a blog. My life is not that interesting and I don't have wise and witty writing tips to pass along. With two jobs in addition to the writing I certainly didn't have the time to waste on senseless ramblings.

About a year ago I woke up with the idea of a fictional blog in my head. That's how things happen for me…I wake up with them. Anyway, this blog would be for and about my women. They pretty much took over from there.

Callie decided on a page for devotions, Terri wanted author interviews, Pam wanted recipes, and Karla decided she wanted to promote pre-releases. I woke up with the idea on a Tuesday, I think. I posted the first article on that Friday.

Heard you're a serious Trekkie. Ever been to a Star Trek convention? If so, what did you like most about it? If not, what would you look forward to the most?

I used to go to a couple of conventions a year. I have my own uniforms and LOTS of autographed pictures of the series cast members. My favorite thing was just getting the chance to get to know the cast better. I've got some terrific stories about James Doohan.

Where can readers order Callie?

Barnes and Noble

Amazon

Pelican Books

Where can readers learn more about you?

On the blog. The women have graciously consented to allow me to have a page to call my very own.

Connect with Sharon on Facebook
Follow Sharon on Twitter
Find Sharon on Goodreads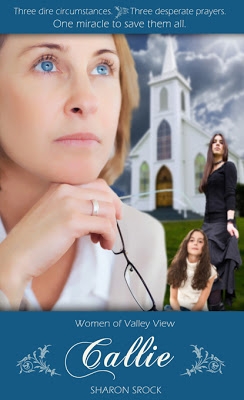 Three dire circumstances. Three desperate prayers. One miracle to save them all.

Callie Stillman is drawn to the evasive girl who's befriended her granddaughter, but the last time Callie tried to help a child, her efforts backfired. Memories of the tiny coffin still haunt her.

Samantha and Iris Evans should be worried about homework, not whether they can pool enough cash to survive another week of caring for an infant while evading the authorities.

Steve Evans wants a second chance at fatherhood, but his children are missing. And no one seems to want to help the former addict who deserted his family.

For Steve to regain the relationship he abandoned, for his girls to receive the care they deserve, Callie must surrender her fear and rely on God to work the miracle they all need.





Sharon is offering a gift basket packed with lots of goodies to pique the interest of any woman! Items total over $100.00 in value! Take a look for yourself:



A copy of Callie's story
A certificate for Terri's story when it releases in April
A 6 piece Cherry blossom bath set
A cosmetic bag
A Bath Wrap
A Cozy pink eye mask
A Pair of aloe infused booties
A Hair Turban
A Tennis Bracelet
A 25.00 Amazon gift card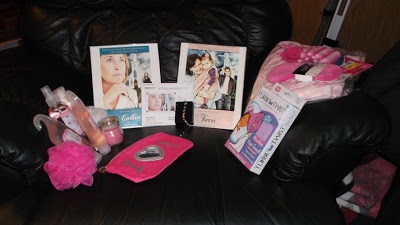 Interested? Simply leave a comment after this post to earn an entry into the drawing. Don't forget to leave your email address! Comments will be accepted until Saturday November 17th at midnight MST. Winner will be announced Monday November 19th.
WAIT! THERE'S MORE!
In an effort to introduce readers to the Women of Valley view, Sharon is offering a 39 page pdf free for the asking! Here's the link!
Don't forget to leave a comment to be entered in the drawing for the gift basket!