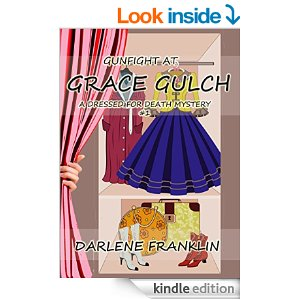 Featured book: Gunfight at Grace Gulch
Author's name: Darlene Franklin
Publisher: Forget Me Not Romances, a division of Winged Publications
Genre: Cozy Mystery
Stand alone or series: Dressed for Death series (book #1)
Target age: Adult
I'M SO PLEASED TO WELCOME MULTI-PUBLISHED AUTHOR DARLENE FRANKLIN, AN OLD FRIEND AND A TALENTED WRITER.
DARLENE IS OFFERING A GIVEAWAY OF AN EBOOK COPY OF GUNFLIGHT AT GRACE GULCH. CHECK BELOW TO SEE HOW TO ENTER TO WIN.
An "old" friend in more than one way, Pat. How many years ago was it that we met at CCWC in Estes Park? Thanks for having me as your guest, Pat.
Yes, Darlene, it's been a number of years since we met! Tell us about your latest release.
I am thrilled to announce the rerelease of my mystery series, Dressed for Death, including the concluding book, Paint Me a Murder, available for the first time. The three books are part of the premier titles in the new Forget-Me-Not Romances.
We meet vintage clothing store owner Cici Wilde in Gunfight at Grace Gulch. The feud between the Graces and the Gaynors is still going strong more than a century after its inception in the 1891 Oklahoma land run. Newspaper editor Penn Hardy is murdered during the reenactment of the most famous gunfight in the history of Grace Gulch, Oklahoma. Cici Wilde, owner of a vintage clothing store, feels compelled to investigate when police suspect people close to her. She soon discovers her talent for sleuthing equals her flare for wearing period clothing. Theater director Audie Howe never expected the reenactment to end in a real murder. He cares too much for the future of the Magda Grace Mallory Theater - and the charming Cici Wilde - to let her face danger alone. Cici and Audie take a dangerous gamble to nail the killer - and lay their lives on the line.
Sounds like an intriguing story. You have written numerous books. At what point in your life did you come to the decision that you wanted to pursue writing as a career?
Writing was one of my dream jobs when I was ten! As soon as I began writing seriously in my mid-thirties, I wanted to make it my career. That didn't happen until I reached fifty.
Sometimes, it takes a while to realize our dreams, doesn't it. If you could only promote one book as your "best work," which one would you choose? Why?
That's a difficult question. I'll let a reader choose for me, who said my short story, Christmas Visitors, was one of the best five stories he had ever read!
What a compliment! Which character in which of your books has a personality most similar to yours and why?
All of my heroines carry bits and pieces of me. The heroine in my first book, Carrie Randolph in Romanian Rhapsody, has the most similar life experiences. She's a musician who goes on tours while in college and loves working with children. She ends up spending two years volunteering in a Romanian orphanage.
Writers are told to write what they know. I knew Carrie's experience, although I've never been to Romania. Since then, I've added a second rule: write what you know—or what you'd like to know more about.
It's amazing how we can write about almost anything with research. What is the most difficult circumstance you have experienced in your life and how did God help you through it?
My daughter's suicide—in face, next week I face the seventh anniversary of losing her. When the calendar turns to March, I feel like the sky goes dark.
I know all the clichés. She's in a better place, and I'll see her again. It still hurts—it will never be "okay," but grief no longer consumes me. I could write a book on the subject. I'll just say God taught me a lot about the unwanted blessing (blessed are those who mourn), and His comfort indeed brought me through.
I remember when you shared that tragedy, Darlene. Where do you believe you obtained the most useful knowledge as you navigated through your writing journey? (critique group, conference attendance, writers' how to books, etc)
My critique group, and the practice of writing itself, taught me the most about writing. I learned the most about marketing, which is as essential to a "successful" author as technique, at conferences.
Your living situation has changed radically over the past few years. What obstacles have you encountered while writing from a nursing home environment?
The greatest obstacle has been the reason I ended up in a nursing home—my health. I can't predict when I'll end up in the hospital again, or when I'll have to take to bed. I also need to rest longer, and it takes me longer to do everyday things, so I have less time to write.
The other obstacle is the lack of control over my schedule. Yesterday I had a shower, a hair appointment, a club meeting, and visitors. I'm surprised I got any work done at all.
I admire your perseverance despite such major changes in your lifestyle, Darlene. What do you consider your greatest accomplishment as an "over 50 writer?
When the publisher I've worked with for ten years closed shortly after my sixtieth birthday, I asked myself, "is now the time to quit writing?" God answered me in a variety of ways.
One thing, I can no more not write than I can not breathe.
Another thing, with the doctor saying I may have ten-fifteen years to live, I realized I need to write intentionally more than ever. Whatever projects I undertake, I want to be sure it's something I want to do. (And that God wants me to do, of course)
I have changed how I write. After working with traditional publishers as a "plotter," now I am doing a lot of indie publishing—and flexing my "pantser" muscles. God blessed my new ventures by having them sit at number one for brief times when they were free.
In fact, I have more opportunities than ever before. I am known for historical romance, and I love writing it. Now I am working on mysteries again (my favorite genre to read) and also want to write devotionals.
My greatest accomplishment since I turned fifty have been my most productive years of writing. I have learned my craft, understand my audience, and even know a little bit about marketing. I will only stop when God takes the pen out of my hand.
Darlene, your writing journey will serve as an inspiration to many! Thank you so much for stopping by!
LEAVE A COMMENT TO BE PLACED IN THE DRAWING TO WIN AN E-COPY OF GUNFLGIT AT GRACE GULCH BETWEEN NOW AND WEDNESDAY, MARCH 18TH AT MIDNIGHT MST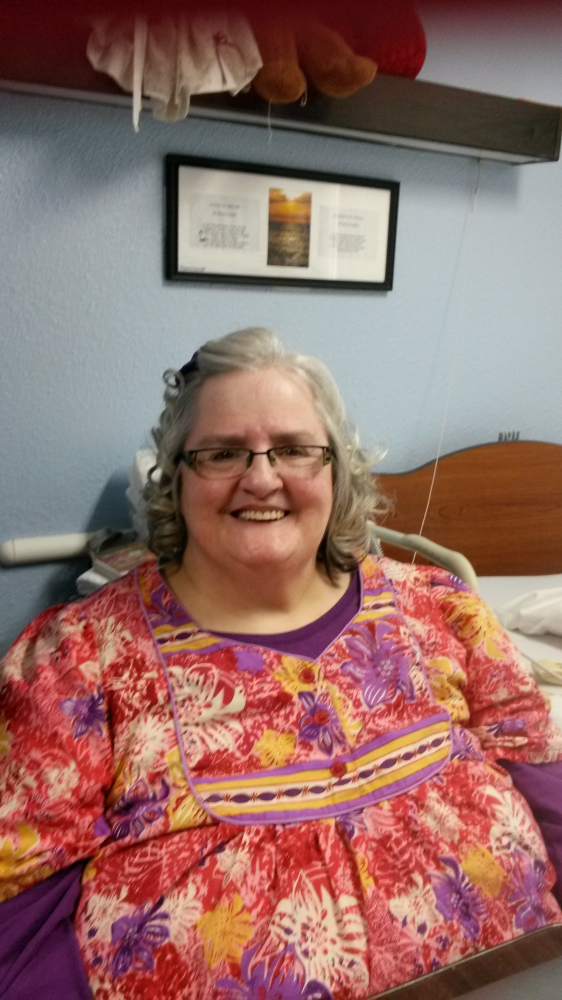 ​
Darlene Franklin's greatest claim to fame is that she writes full-time from a nursing home. She lives in Oklahoma, near her son and his family, and continues her interests in playing the piano and singing, books, good fellowship, and reality TV in addition to writing. She has written over thirty-five books and has written more than 250 devotionals. You can find Darlene online at her Amazon author page and on Facebook.