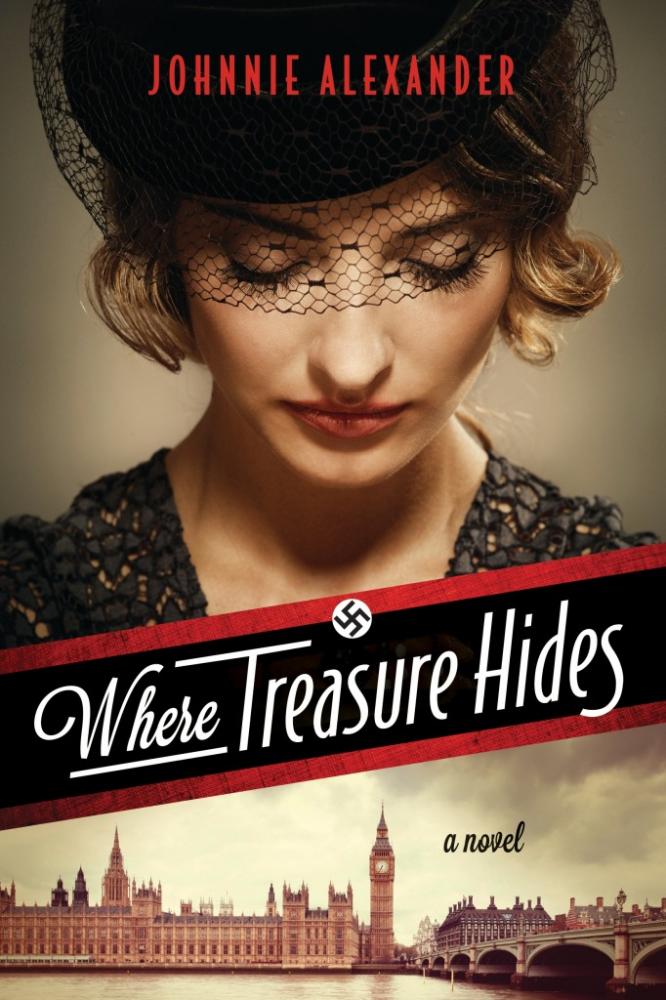 Featured Book: Where Treasure Hides
Author: Johnnie Alexander
Publisher: Tyndale
Genre: Historical fiction
Series or stand alone: Stand alone
Target age: Adult
I AM PLEASED TO WELCOME AUTHOR JOHNNIE ALEXANDER! JOHNINIE INTRODUCES US TO HER NEW BOOK AND SHARES THOUGHTS ABOUT THE WRITING LIFE.
JONHNNIE IS OFFERING A GIVEAWAY OF WHERE TREASURE HIDES. CHECK BELOW TO SEE HOW TO ENTER TO WIN.
Johnnie, welcome to the Over 50 Writer! Tell us about Where Treasure Hides.
Thanks, Patti. I'm so excited to be here today and to share a little bit about my writing journey and my debut novel.
Tyndale released Where Treasure Hides as an ebook in 2013 and the print edition officially released on August 1st. That's right, just about a week ago. I found it in a couple of local bookstores—such a tremendous feeling. I took photos and call them my Treasure sightings.
The story's heroine is Alison Schuyler, a Dutch-American artist who is smitten when she sees British officer Ian Devlin defending a young Kindertransport boy at a London train station. But this is August 1939, and a romance on the eve of impending war is a perilous plan.
During the war, Alison hides precious Dutch art and Jewish children while Ian escapes from a POW camp. Will they find each other again before the war destroys them both?
Why was it important for you to share the take away message found in Where Treasure Hides?
I didn't write the story with one specific takeaway in mind, but one of my go-to verses is also Alison's favorite, Proverbs 31:25: "Strength and honour are her clothing, and she rejoices in the days to come."
Through her difficult experiences, Alison learns to trust her uncertain future to God. We all experience circumstances that make it extremely difficult to "rejoice in the days to come," but trusting in God is key to finding this peace.
When did you first develop an interest in writing?
Writing is in my DNA, something I've always wanted to do. A turning point for me, though, was participating in National Novel Writing Month (nanowrimo.org). Writing 50,000 words in thirty days taught me that I could create characters and imagine a story. Both Where Treasure Hides and my next novel, Where She Belongs, started out as messy NanoNovels, but they've been extensively rewritten since then.
What was the most difficult part of your journey to publication and how did you overcome it?
At my age, it's a given that I have less years ahead of me than behind me. But a publishing journey, for most people, is a long one. Each rejection seemed like a setback, and it's difficult not to despair. My continual prayer, though, was that God would give me the right agent and the right publisher. When I received another "no," I told myself that this wasn't the right person for me. That helped to ease the hurt.
What steps did you take to obtain the right agent for you?
Agents attend writers conferences—and so did I! At the fourth Florida Christian Writers Conference I attended, the magic (kinda) happened. I met with an agent who passed my proposal along to Tamela Hancock Murray. And Tamela gave me a call!
What was the most valuable lesson you learned at your first writers conference?
I had a lot to learn about specific craft components such as show, don't tell and deep point of view writing.
Do you wish you had started taking writing seriously at a different season in your life? Why or why not?
Absolutely! If I had started writing when I was in my twenties, I might have a backlist by now, have a huge fan base, and, and . . . J
Except . . . would the books I'm now writing be the books they are? And knowing how time-consuming it is to write a novel, what part of my past would I give up to make room for all those hours?
Not an easy question, is it? So while I do regret that I didn't believe in myself enough to give it a go as a younger woman, I'm thankful for the blessings God is giving me now.
What advice do you have for new over 50 writers?
My advice is the same for new writers of any age:
join a critique group—your writing will improve both because of the comments you receive but also because you'll learn from critiquing others;
attend a writers conference to grow in your craft and network with publishing professionals and other writers;
enter contests for the feedback on what's working with your story and what's not.
Back Cover Blurb for Where Treasure Hides
Artist Alison Schuyler spends her time working in her family's renowned art gallery, determined to avoid the curse that has followed the Schuyler clan from the Netherlands to America and back again. She's certain that true love will only lead to tragedy—that is, until a chance meeting at Waterloo station brings Ian Devlin into her life.
Drawn to the bold and compassionate British Army captain, Alison begins to question her fear of love as World War II breaks out, separating the two and drawing each into their own battles. While Ian fights for freedom on the battlefield, Alison works with the Dutch Underground to find a safe haven for Jewish children and priceless pieces of art alike. But safety is a luxury war does not allow.
As time, war, and human will struggle to keep them apart, will Alison and Ian have the faith to fight for their love, or is it their fate to be separated forever?
LEAVE A COMMENT TO BE PLACED IN THE DRAWING TO WIN A COPY OF WHERE TREASURE HIDES BETWEEN NOW AND WEDNESDAY, AUGUST 19TH AT MIDNIGHT MDT.
Find Where Treasure Hides at:
Johnnie Alexander writes inspiring stories that linger in the heart. Where Treasure Hides, her debut novel, won the ACFW Genesis Contest (2011) and Golden Leaf Award (2014). Her first contemporary romance, Where She Belongs (Misty Willow Series; Revell), and her first novella, "The Healing Promise" (Courageous Bride Collection; Barbour), release in 2016.
She also has won Best Novel and Best Writer awards (Florida Christian Writers Conferences), and Bronze Medalist (My Book Therapy Frasier Contest). She volunteers as a category coordinator for the ACFW Genesis Contest, judges various contests, and serves as marketing director for the MidSouth Christian Writers Conference.
A graduate of Rollins College (Orlando) with a Master of Liberal Studies degree, Johnnie treasures family memories, classic movies, road trips, and stacks of books. She lives in the Memphis area with a small herd of alpacas and Rugby, the princely papillon who trees raccoons.
Find Johnnie on the web:
Facebook Profile (Friend or follow me!)