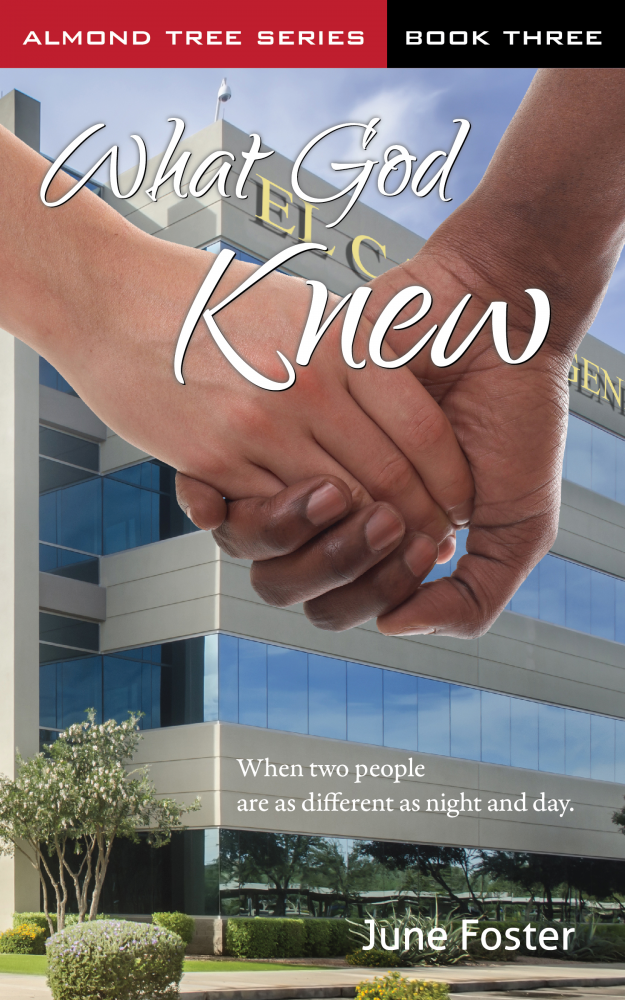 FEATURED BOOK: What God Knew
AUTHOR: June Foster
PUBLISHER: Self published
GENRE: Inspirational romance
SERIES OR STAND ALONE: Book 3 in the Almond Tree Series
TARGET AGE: 18 and older
IT IS MY PLEASURE TO WELCOME AUTHOR JUNE FOSTER. JUNE SHARES HER STORY, WHICH PROVES THAT AGE DOES NOT STOP GOD FROM USING US FOR HIS PURPOSE.
JUNE IS OFFERING A GIVEAWAY OF AN EBOOK COPY OF WHAT GOD KNEW. CHECK BELOW TO SEE HOW TO ENTER TO WIN.
God Can Use Us at Any Age
I'd like to encourage anymore over 55. You are not too old! Especially when God's got a purpose. Here's my story.
I was a teacher for 34 years then retired to go RV'ing with my husband. I suppose I thought the rest of my life would be a downhill slide to becoming an elderly senior citizen. Wrong!
During this time, I noticed a story lurking in my head. I could even see the characters and the setting in my mind. This was an unusual phenomenon for me because I didn't consider myself to be a creative person. I'd written academically and with my job, but not fiction. God must be putting that idea in the wrong head.
The story hung on for a period of several years, and one day my daughter patiently listened as I relayed the story. She smiled and said it was a great tale and that I should write it. That was the spark that God used to propel me down an unbelievable path—penning Christian romances.
At 65, I wrote my first novel and today I've got ten published and am working on number eleven. When God calls us to a project, He will provide the tools, the stamina, and the desire. Looking back now, I know that I couldn't have ignored His call, and it's been the most rewarding time of my life.
Back Cover Blurb for What God Knew:
Neonatal specialist Dr. Michael Clark is passionate about saving the lives of premature babies. But the pediatrics department at El Camino General can't provide the care many of his preemies require. Now he wants to build a specialty hospital where he can better offer medical treatment for his young patients.
Tammy Crawford is an accomplished geriatrics RN who wants nothing to do with her sister Joella's religious beliefs. She's independent and doesn't need anyone, including God in pursuing a new job as a nurse practitioner.
When she falls in love with the intriguing Michael Clark, she must reconsider her resolve to devote herself completely to her career and not become distracted by a romantic relationship. Now the obstacles are insurmountable. She's in love with a man from another culture and a different race.
Michael acknowledges his growing affection for the beautiful nurse yet can't ignore his brother's deep racial prejudices.
Can two people who are as different as night and day find a life together?
Find What God Knew on Amazon.
LEAVE A COMMENT TO BE PLACED IN THE DRAWING TO WIN AN EBOOK COPY OF WHAT GOD KNEW BETWEEN NOW AND WEDNESDAY, DECEMBER 16TH AT MIDNIGHT MST.
An award-winning author, June Foster is a retired teacher with a BA in education and MA in counseling. June has written four novels for Desert Breeze Publishing. The Bellewood Series, Give Us This Day, As We Forgive, and Deliver Us, and Hometown Fourth of July. Ryan's Father is available from WhiteFire Publishing. Red and the Wolf, a modern day retelling of Little Red Riding Hood and The Almond Tree Series, For All Eternity, Echoes From the Past, and What God Knew are available from Amazon.com. Misty Hollow and A New Family are published by Helping Hands Press and available at Amazon. June enjoys writing stories about characters who overcome the circumstances in their lives by the power of God and His Word. Find June online.