REVIEW OF HANNAH'S CHOICE BY JAN DREXLER
Saturday, February 27, 2016 by Patti Shene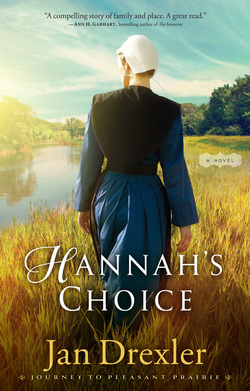 REVIEW OF HANNAH'S CHOICE BY JAN DREXLER
Hannah's Choice, by Jan Drexler, is a moving novel that portrays the realistic struggles members of the Amish community deal with and the beliefs of the faith, set against the backdrop of the pre-Civil War era.
Hannah Yoder has always been true to her Amish upbringing and comfortable with her idyllic life. Yet, the dark cloud of her mother's depression over the loss of Hannah's siblings hangs over Hannah's head, especially when the shadow of doubt leads the teen to believe she may have been partially responsible for the death of the children.
Life becomes much more complicated when she discovers her younger sister is heading toward a forbidden relationship and her best friend is deeply involved in dangerous activity that puts him outside the law.
When her family decides to leave her hometown and move to an Amish settlement out west, Hannah is torn between the familiarity of the surroundings she has known all her life and the fear of encountering the unknown, Hannah is forced to take a serious look at her beliefs and make choices she never thought she would be faced with, including her loyalty to the affections of an old friend versus the attentions of a new love interest.
Drexler draws well-defined characters and leads them through realistic conflicts consistent with the historical setting. She takes readers through the struggle the entire family deals with, precipitated by Hannah's mother's depression. Hannah's emotional and spiritual maturity develops with the conflicts she encounters.
I would recommend Hannah's Choice to any reader who enjoys well-written faith-based Amish fiction.
---