REVIEW OF SAINT'S ROOST by TERRY BURNS
Wednesday, March 30, 2016 by Patti Shene
REVIEW OF SAINT'S ROOST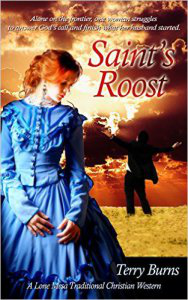 I have to admit it. Of all the genres I have read, from mystery to thriller, romance to YA, the American western remains my all-time favorite. That's why I so enjoyed Saint's Roost by Terry Burns. This story has all the elements of not only a great western, but reflects the craftsmanship of a master story teller.
Terry weaves a story that skillfully brings together an array of characters, from the Godly widow of a missionary to the scheming alcoholic who strives to manipulate the good people he encounters to get what he wants. The author uses surprises, twists and turns in his plot to show that God loves sinner as well as saint, that even the worst of us have good qualities, and the best of us have faults to overcome.
The faith message in this tale is strong, based on scripture and the basics of the Christian faith that reflect our need for love, acceptance, family, and community. Cowboys, Indians, thieves, the proud, the downtrodden, those who hurt and those who heal come together to combine with wagon travel, ranch life, cattle and horses to culminate in western excitement that engages action and affords insight into the human heart.
One of the things I enjoyed most about Saint's Roost is the manner in which each character grows emotionally and spiritually. Each character experiences trials that serve to strengthen their faith or increase their awareness of God's presence in their lives.
I would recommend Saint's Roost to all readers who enjoy western historical work and are looking for a story that delivers clean language, realistic scenarios, and a faith message.
---