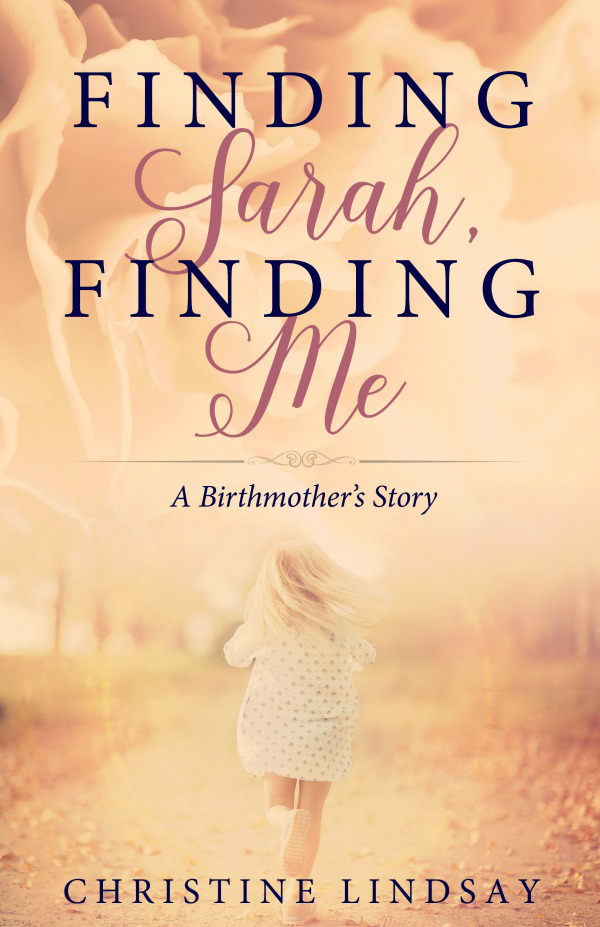 FEATURED BOOK: Finding Sarah Finding Me: A Birthmother's Story
AUTHOR: Christine Lindsay
PUBLISHER: WhiteFire Publishing
GENRE: Non-fiction Memoir
STAND ALONE OR SERIES: Stand alone
TARGET AGE: 15 to 95 men or women
IT IS SUCH A PLEASURE TO HAVE AUTHOR CHRISTINE LINDSAY HERE TODAY. CHRISTINE SHARES THE STORY BEHIND THE TRUE LIFE STORY THAT MOTIVATED HER TO LAUNCH A WRITING CAREER.
SARAH IS OFFERING A GIVEAWAY OF FINDING SARAH, FINDING ME. SIMPLY LEAVE A COMMENT BELOW TO ENTER THE DRAWING.
The Over-50 Writer
by
Christine Lindsay
I am so glad I'm over 50 and soon to be staring at 60. In my opinion life experience and wisdom add quality to most writing. Granted there are brilliant young writers, but there's something about the ability to look back and see life lived as an almost full glass.
Sixteen years ago when I first started writing, I despaired that my true-life story would never be published.
But as it is with many memoirs, it takes a number of years for the healing to come, the wisdom to be gained from the heart-break of life, so that what we share is qualified to help someone else through their heartache.
Finding Sarah Finding Me is my true-life story that started my fiction writing in the first place. It was during my years (2000 to 2016) of emotional healing over the Adoption Reunion with my birth-daughter that the Lord had me direct my energies into Christian fiction. What great years they were, allowing me to put my toe into the water as a writer, then my ankles and knees, and now I'm swimming away from the shore as a writer, venturing out to deeper depths. At 58 currently, I'm looking back on 7 titles published in my name.
It's at 58 going on 59 that I can say to younger writers, "Hang in there. Don't give up," because if know what I'm talking about. I'm living the life of a writer and I know that writers need to make PERSEVERANCE their middle name.
It was perseverance that kept me hoping and praying for a relationship with my adult birth-daughter whom I was reunited with when she was 20. Our reunion was so difficult and my heart broke, as if I were giving her up…again. But those blessed years since our reunion turned my heartache from Kool Aid into wine. Those years allowed me to slowly develop a relationship with the precious child I gave up for adoption in 1979.
Because the story of Finding Sarah Finding Me is priceless to me, I could never accept payment so I have arranged for100% of all my author royalties to be donated to Global Aid Network Women and Children's Initiative. This is not a one-time thing, but for the lifetime of the book. There's a special reason for this, but you'll have to read the book to find out why.
I hope you'll join me in this cause of supporting needy women and children in developing countries by buying Finding Sarah Finding Me and also telling others about it.
Book Description
Sometimes it is only through giving up our hearts that we learn to trust the Lord.
Adoption. It's something that touches one in three people today, a word that will conjure different emotions in those people touched by it. A word that might represent the greatest hope…the greatest question…the greatest sacrifice. But most of all, it's a word that represents God's immense love for his people.
Join birth mother Christine Lindsay as she shares the heartaches, hopes, and epiphanies of her journey to reunion with the daughter she gave up...and to understanding her true identity in Christ along the way.
Through her story and glimpses into the lives of other families in the adoption triad, readers will see the beauty of our broken families, broken hearts, and broken dreams when we entrust them to our loving God.
Read for FREE Forward and Chapter One of Finding Sarah Finding Me: Click HERE.
Purchase links:
Amazon (Paperback and Kindle)
DON'T FORGET TO LEAVE A COMMENT TO BE PLACED IN THE DRAWING TO WIN A COPY OF FINDING SARAH, FINDING ME BETWEEN NOW AND TUESDAY, DECEMBER 6TH AT MIDNIGHT MST.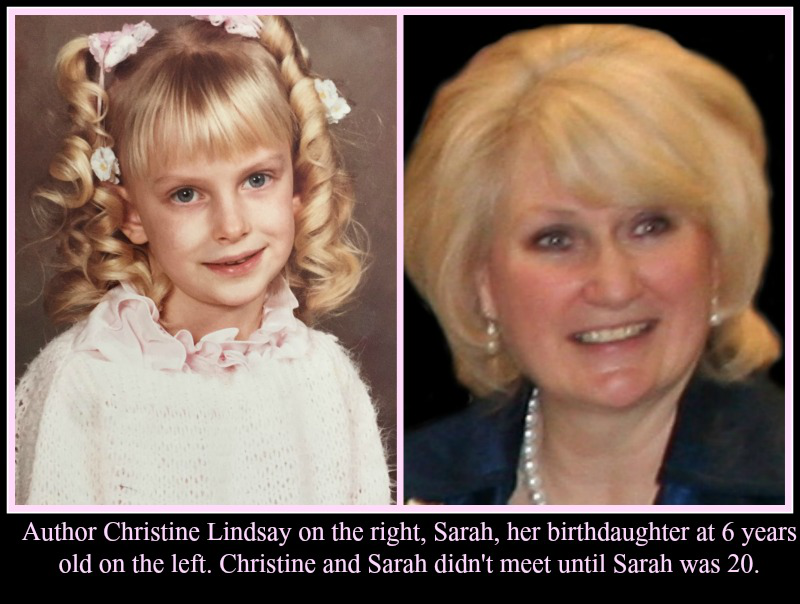 Christine Lindsay is the author of multi-award-winning Christian fiction with complex emotional and psychological truth, who always promises a happy ending. Tales of her Irish ancestors who served in the British Cavalry in Colonial India inspired her multi-award-winning series Twilight of the British Raj, Book 1 Shadowed in Silk, Book 2 Captured by Moonlight, and explosive finale Veiled at Midnight.
Christine's Irish wit and use of setting as a character is evident in her contemporary and historical romances Londonderry Dreaming and Sofi's Bridge.
A busy writer and speaker, Christine, and her husband live on the west coast of Canada, and she has just released her non-fiction book Finding Sarah—Finding Me: A Birthmother's Story.
Please connect with Christine online: website