FEATURED BOOK: Winning Over the Cowboy
AUTHOR'S NAME: Shannon Taylor Vannatter
PUBLISHER: Love Inspired
GENRE: Contemporary Romance
STAND ALONE OR SERIES: Book 2 in Texas Cowboys series (Each book stands alone)
TARGET AGE: Teen - adults
IT IS MY PLEASURE TO WELCOME AUTHOR SHANNON TAYLOR VANNATTER TO THE OVER 50 WRITER. SHANNON SHARES WHAT TEXAS AND COWBOYS HAVE DONE FOR HER WRITING CAREER.
SHANNON IS OFFERING A GIVEAWAY! SEE BELOW FOR INSTRUCTIONS ON HOW TO WIN A COPY OF WINNING OVER THE COWBOY.
I had stories in my head from the time I was fourteen, but I didn't know what to do with them. It wasn't until I was in my thirties that I realized they were books. At thirty-four, I started writing and promptly received a manila envelope full of rejections. I stopped counting at two-hundred.
All of my rejected manuscripts were set in rural Arkansas where I live. During those unpublished years, I read an article claiming that if a book has a cowboy on the cover or Texas in the title, they sell better. I just happened to marry a Texan and have made several jaunts there to visit his dad on his ranch.
But I liked writing about Arkansas and no Texas ideas really sparked. Until my husband and I took our son to the Arkansas State Fair. There I saw a cowboy wearing the requisite Stetson, Wranglers, and Justins holding hands with a girl wearing a pin-striped business suit and suede boots. I wondered how they met and what they could possibly have in common.
With a bit of cowboy experience at my disposal since my dad once announced our small town rodeo, that odd-couple sparked a story about a city girl and bull rider. There are rodeos in Arkansas, but a Texas ranch fit my cowboy. I submitted it and one of my Arkansas books to Heartsong Presents and Love Inspired. Finally, I got my first three-book contract at forty-three with Heartsong for the Arkansas book. A few years later, I signed a second contract with them for my Texas Rodeo series.
By fifty, I thought I'd be rich and famous. Not. But last year, at fifty-one, I finally became a Love Inspired author through a series of backdoors. Sadly Barbour decided to close the Heartsong Presents line after publishing my first five books. Harlequin bought the line. Five more rodeo books later and with four more books contracted, Harlequin made the same decision and the line closed. But the back door opened for me again when Harlequin decided to publish my remaining four books through Love Inspired. Why? Because I write cowboys.
I always thought eventually, I'd go back to writing Arkansas books. But Texas cowboys have been good to me and my agent says I've accidentally created a niche for myself. I don't believe in leaving, old unpublished books in a stack in a drawer. I wrote those characters because I loved them. Through the course of thirteen published books and two more contracted with LI, I've reworked all of those old unpublished manuscripts to see the light of day.
Except for three. Two of those will be in my next proposals. The third is a longer length manuscript. My agent and I are waiting for the right timing to shop it around, so maybe I'll achieve another first with longer length books in the future. But if not, I'm content with Love Inspired and having lots of fun with cowboys.
Blurb for Winning Over the Cowboy
The Rancher Stakes His Claim
When she inherits half a dude ranch after losing her best friend, Landry Malone is determined to see Eden's legacy flourish. That is if her friend's broad-shouldered cowboy brother will give her the chance. Chase Donovan isn't happy that his sister left their family business to an outsider—and he's determined to test Landry's mettle, hoping she'll give up her claim. Soon Chase is impressed by Landry's ability to rise to every challenge he puts in her way—and worried that his attraction to the perky spitfire seems to know no end. Finally working together to ensure the ranch's future, will their business partnership be the foundation for something more?
Discussion for Readers: Share an accomplishment you've achieved, at any age.
Giveaway details: Comment to enter the drawing for a copy of Winning Over the Cowboy. Eleven copies will be split among names drawn during the blog tour from April 3 -20. One winner will receive a fishing themed memory board personally crafted by the author.
This fabric is special because my son loves to fish as do the characters in the book. Great for displaying kids or grandkids or as a gift for the little fisherman in your life. Winners will be revealed on the author's blog on April 29th. Sign up to enter more giveaways.
Follow my blog tour for more chances to win Winning Over the Cowboy:
April 3 – http://www.danarlynn.com/blog/
April 4 – http://stitchesthrutime.blogspot.com/
April 4 – LI Release Party - https://www.facebook.com/events/1858400871097392/?__mref=mb
April 6 – http://www.pattishene.com/theover50writer
April 4 & 7 – http://shannonvannatter.com/blog/
April 10 – https://whispersinpurple.blogspot.com/
April 11 – http://brendaandersonbooks.com/blog/
April 13 – http://eahendryx.blogspot.com/
April 13 – http://www.castlegatepress.com/blog/
April 17 - http://www.inspyromance.com/
April 20 - http://seekerville.blogspot.com/
April 20 – http://www.whollyloved.com/blog-1/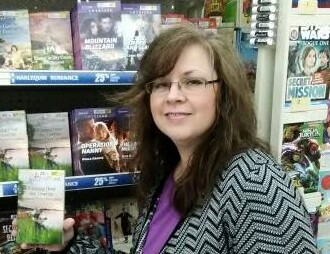 Award winning central Arkansas author Shannon Taylor Vannatter is a stay-at-home mom/pastor's wife. She once climbed a mountain wearing gold wedge-heeled sandals which became known as her hiking boots.
She has twelve published titles and is contracted for three more. Her books are available online. Learn more about Shannon and her books at her website and check out her real life romance blog with weekly book giveaways.
Connect with Shannon: