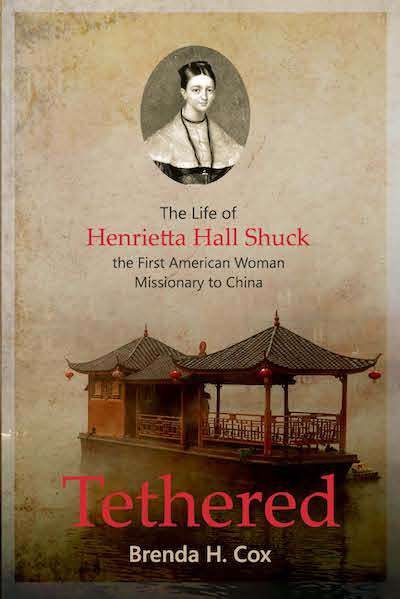 FEATURED BOOK: Tethered: The Life of Henrietta Hall Shuck, The First American Woman Missionary to China
AUTHOR'S NAME: Brenda H. Cox
PUBLISHER: CrossLink Publishers
GENRE: Creative biography / Historical fiction
STAND ALONE OR SERIES: stand alone
TARGET AGE: adult
IT IS MY PLEASURE TO WELCOME AUTHOR BRENDA H. COX TO THE OVER 50 WRITER. BRENDA SHARES WHY HER FIRST BOOK CAME INTO EXISTENCE AND GIVES US A GLIMPSE INTO THE FASCINATING SUBJECT OF THIS CREATIVE BIOGRAPHY.
BRENDA IS OFFERING A GIVEAWAY! SIMPLY LEAVE A COMMENT BELOW TO ENTER THE DRAWING FOR A COPY OF TETHERED.
A STORY THAT NEEDED TO BE TOLD
by
Brenda H. Cox
I received my first social security check after a 43-year career as an educator, and it shocked me. It was official. My career was over. I was retired. I was done. I was happy to babysit my two precious grandsons three days a week with my husband, and I enjoyed the adult contact in worship on Sundays, but there were three more days in the week to be productive. I had taught writing and taught teachers how to teach writing for my entire life, but when my husband suggested I write a book myself, I hesitated, thinking no one would want to read anything I had to say.
And then I remembered what I had told my students all those years: "Don't tell me you don't know what to write about. Everyone has a life; therefore, you have stories to tell. Everyone has opinions; therefore, you have an argument to craft." I realized I wasn't too old to tell my stories or craft my opinions and that I still had a voice. My strength as a writer had always been in argument or non-fiction, and my husband thought I should write an academic book and make a few bucks to put toward a new Corvette. He still thinks I should do that.
However, I challenged myself to tell the story of his third great grandmother, Henrietta Hall Shuck, in a creative biography/historical fiction piece. I can't even decide what genre it is exactly, except that I believe her life story as the first American woman missionary to China will be a blessing to others and that I have been blessed beyond measure in writing it. As a Christian, my faith has been refined and strengthened in telling about the obstacles she and her husband endured traveling 19,000 miles on the ocean and visiting missionaries in Calcutta, Bangkok, Penang, and Singapore where she has her first child.
After encountering pirates, they reach Macau where they endure illness, poverty, and challenges from their own foreign mission board as they navigate the dangers posed by the First Opium War. When they think they may have to leave Macao, their fortunes miraculously reverse and they are asked to come to Hong Kong where they establish the first Protestant (Baptist) mission in China. Henrietta becomes the first Western woman to reside in Hong Kong, the first to educate Chinese girls, and the first American woman missionary to China. Her perseverance through trials modern Christians can hardly fathom and her trust in God's providence for her life serve as inspiration for those today who find themselves in difficult circumstances.
As a writer, I have been emboldened to write another piece, again creative and not likely to finance Jim's Corvette, but never think it is too late to begin a career as a writer. Not one of us is guaranteed another day whether we are twenty-six or sixty-two, so write your stories while you can whether you have three days a week or six. Compose on your laptop, or on a yellow legal pad, or on a Blue Horse notebook – whatever works for you.
What's more, you have wisdom to offer that has been seasoned by experiences and insights through the years. Approaching publishers and agents is a daunting enterprise, and social media marketing has a steep learning curve, but if you have lived for more than fifty years, you have learned new things and overcome many obstacles that you can draw on for courage to attempt a writing career.
Write on!
Book Cover Blurb for Tethered:
Tethered begins in 1835 as Henrietta and Jehu Lewis Shuck set off on an arduous 19,000 mile voyage from Virginia to China to establish the first Baptist mission in the "Celestial Kingdom." In Tethered, Henrietta holds onto a leather strap nailed to the railing of their ship to keep from falling overboard, but her life is also tethered to her husband, to their mission board, and to God as she seeks to educate young girls whose lives were bound in centuries of traditions as brutal as the ligatures that bound their feet.
On their voyage they encounter a ship of convicts headed to Australia, British missionaries returning home from Ceylon, a whaler butchering her catch, and a slave ship that shatters Henrietta's illusions of her genteel life in Virginia. During their visits with established missionaries in Calcutta, Burma, and Singapore they gain valuable insights that will help to prepare them for the challenges they will meet in Macau all the while developing a deeper relationship with each other.
The young couple's marriage grows from a mission's partnership to genuine love and is marked by humor and unflinching determination to minister to the poor despite illness, poverty, robbers, and opposition from the mission board at home in the volatile years of conflict in the First Opium War. By the end of her story, she has come to a full faith relationship with God and has become an icon in Baptist missions for American and Chinese Christians across two centuries.
DON'T FORGET TO LEAVE A COMMENT TO BE PLACED IN THE DRAWING TO WIN A COPY OF TETHERED BETWEEN NOW AND SUNDAY, OCTOBER 1ST AT MIDNIGHT MDT.
Brenda H. Cox is a life-long English educator at the high school and university levels. She earned a BA at The University of South Carolina, an MAT from The Citadel, and a PhD at The University of Georgia where she served as the Assistant Director of the Freshman English Program. She was affiliated with the National Writing Project site at Clemson University where she led the Writing in the Humanities Institute and is a member of the North Carolina Writers' Network.
She has taught numerous writing workshops and delivered papers at state and national conferences and directed The Young Writers Conference at The University of North Carolina at Greensboro where she was an Assistant Professor of English Education. She has published articles in English leadership and in 18th century rhetoric.
In addition, she has served as a writing consultant in numerous school systems in the Southeast and in the American and International Schools in Kuwait. She also served as a Reader of Advanced Placement exams for The College Board, and her students have won numerous local, state, and national awards in writing. Brenda lives in Greensboro, NC and is married to Jim Cox. They have one son and daughter in-law and two perfect grandsons.
Connecct with Brenda online