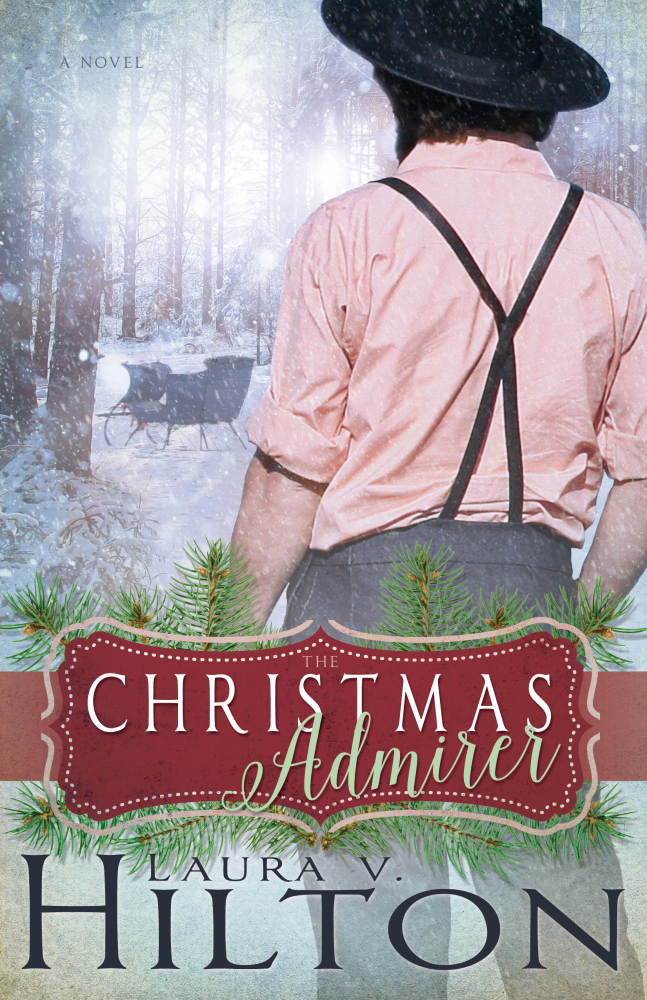 FEATURED BOOK: The Christmas Admirer
AUTHOR'S NAME: Laura V. Hilton
PUBLISHER: Whitaker House
GENRE: Amish Contemporary Romance
STAND ALONE OR SERIES: Stand-alone
TARGET AGE: adult
IT IS MY PLEASURE TO WELCOME AUTHOR LAURA V. HILTONN TO THE OVER 50 WRITER. LAURA TREATS READERS TO SOME OF HER FAVORITE AMISH HOLIDAY RECIPES AND SHARES SOME INFORMATION ABOUT HER LATEST NOVEL, THE CHRISTMAS ADMIRER.
LAURA IS OFFERING A GIVEAWAY! SIMPLY LEAVE A COMMENT BELOW TO ENTER THE DRAWING FOR A COPY OF THE CHRISTMAS ADMIRER.
With Thanksgiving soon approaching, many of us will be hosting Thanksgiving dinner in our homes for family and friends. Here are some recipes to consider.
The Cranberry Salad is one my Amish grandmother and Mom used to make. It is a favorite in our house.
Susanna's Cranberry Salad
Ingredients
3 cups fresh or frozen cranberries (thawed), chopped
1 can (20 ounces) unsweetened crushed pineapple, drained
2 cups miniature marshmallows
1 medium apple, chopped
2/3 cup sugar
1/8 teaspoon salt
2 cups heavy whipping cream
1/4 cup chopped walnuts
Directions
1. In a large bowl, mix the first six ingredients until blended. Refrigerate, covered, overnight.
2. In a large bowl, beat cream until still peaks form. Just before serving, fold cream and walnuts into cranberry mixture. Makes16 servings.
Susanna's Cranberry Sauce
For on top of turkey sandwiches as Becca requested
Ingredients
4 cups fresh or frozen cranberries (thawed), chopped
1 cup sugar
1 cup water or orange juice
Directions
In colander, rinse cranberries. In sauce pan, add water or orange juice and sugar, boil until sugar is dissolved. Add cranberries and return to a boil. Lower to simmer and cook about 10 minutes or until most of the cranberries had burst. Let cool.
After Thanksgiving dinner, making gingerbread cookies with the grandchildren would be fun while the men watch football.
Susanna's "Love Potion" Gingerbread
Ingredients
6 cups all-purpose flour
1 T baking powder
1 T ground ginger
1 t ground nutmeg
1 t ground cloves
1 t ground cinnamon
1 cup shortening, melted slightly
1 cup molasses
1 cup brown sugar
½ c water
1 egg
1 t vanilla
Directions
Sift together flour, baking powder, ginger, nutmeg, cloves and cinnamon. Set aside.
In mixing bowl, mix shortening, molasses, brown sugar, water, egg and vanilla until smooth. Gradually stir in the dry ingredients until they are absorbed. Divide dough into three pieces, pat down until about 1 ½ inch thickness, wrap in plastic wrap and refrigerate for three hours.
Preheat oven to 350 degrees F. On lightly floured surface, roll the dough out to ¼ inch thickness. Cut in desired shapes. Place cookies about 1 inch apart on ungreased cookie sheet.
Bake for 10 – 12 minutes in preheated oven. Cool on wire racks. When cool, decorate as desired.
The Christmas Admirer
Benaiah Troyer has loved Susanna King for as long as he can remember, but other than a lone summer filled with romantic buggy rides, marrying her remains an elusive dream. When his parents died in an accident a year ago, he broke up with her—for her own good. After all, they left him as the sole caregiver for his three younger sisters and his grandparents. What woman wants to step into a ready-made family like his? Still, he leaves her monthly gifts from "A Secret Admirer," hoping she'll know that someone loves her, even though he isn't free to step forward.
Susanna has never gotten over losing Benaiah, and hopes he's her secret admirer, but now the clock is ticking. Susanna's father is remarrying in January and his wife-to-be doesn't want to leave her Amish community and family in Iowa. So when Susanna's daed sells his glass-blowing business to his right-hand man, Benaiah, she's left with three options: 1) Go with Daed to his new home with a new frau and step-kinner, 2) Flush out her mysterious secret admirer, or 3) Resign herself to life as an old maid. She doesn't want to follow Daed where his new frau is leading him. And number three isn't happening. Marrying Benaiah is her greatest desire—but he broke her heart, and now he treats her like a pesky younger sister. Can she make him see her as a woman, one who could stand by his side as he cares for his family?
As Christmas approaches, Susanna and her friends start making gingerbread houses for select members of the community. Susanna plans for hers to go to Benaiah's family. But while her gingerbread may find a home—will her heart?
Chapter 1 Excerpt:
Susanna King paused midway through the door to the kitchen and stared at the single, long-stemmed red rose, artfully arranged with baby's breath and a green fern-type plant, sitting in the middle of the table.
She'd been the last one to bed the previous nacht. She'd stayed up late reading A White Christmas in Webster County and had trailed Daed upstairs over an hour after he'd gone.
There'd been no rose, red or otherwise, on the table then, for sure and certain.
With trembling fingers, she set the lit lantern on the table and touched a soft red petal. She pulled the white envelope free from the long plastic card holder. Susanna was written on it in a neat, block print.
Her breath quickened and she looked around, hoping for some clue to who had been in the unlocked haus.
Nothing. Not even a footprint left on the recently swept and scrubbed floor.
She carefully lifted the flap and pulled the card free. White, with a red rose on the left side. "With love" was printed in gold script on the upper right corner.
And in the same block print as on the envelope, the words, "I have loved you with an everlasting love. (Jeremiah 31:3) Always, Your Secret Admirer."
If only she could take this card, march out to Daed's glass-blowing shop, and confront Benaiah with what she wanted to be true. Proof he was her secret admirer.
But it wasn't possible. He hadn't even arrived at work yet. And she knew his handwriting. He'd written her several notes during the too-short time they'd courted last year, and it didn't in any way resemble this.
Didn't he know how much it hurt to see him every day when he came to work for Daed? He'd shattered her heart with his breakup, and she guessed, from the sheen of tears in his eyes, it hadn't been any easier for him.
But his resolve stood. Ten months ago, his parents died, and with them the planned wedding. He couldn't—wouldn't—ask her to step in and raise his younger sisters or take care of his Großeltern. He hadn't asked. Didn't he know she would've gladly—gladly—volunteered?
She'd stopped short of trying to convince him though. He wouldn't have listened and she wouldn't resort to begging. It was better to let it end with a semblance of dignity.
Dreams should make noise when they died a violent death. A loud scream, a cry of pain, and a shattering similar to the breaking of glass would've been appropriate. They shouldn't be taken from you silently, without warning.
She blinked, hoping to clear her blurry vision, and slid the card back into the envelope. This would be placed with her collection of cherished treasures from her unknown lover. Even if it they weren't from Benaiah. Someone loved her, but she worried she might be cheating on Benaiah by accepting the gifts. Not that she could return them even if she wanted to because his identity was still a secret. She slid the card into her pocket for now. She needed to start breakfast.
DON'T FORGET TO LEAVE A COMMENT TO BE PLACED IN THE DRAWING TO WIN A COPY OF THE CHRISTMAS ADMIRER BETWEEN NOW AND SUNDAY, OCTOBER 8TH AT MIDNIGHT MDT.
How did the idea for The Christmas Admirer come into existence? Read about it on Patti's Porch!
Laura V. Hilton is an award-winning, sought-after author with almost twenty Amish, contemporary, and historical romances. When she's not writing, she reviews books for her blogs, and writes devotionals for blog posts for Seriously Write and Putting on the New.
Laura and her pastor-husband have five children and a hyper dog named Skye. They currently live in Arkansas. One son is in the U.S. Coast Guard. She is a pastor's wife, and homeschools her two youngest children.
When she's not writing, Laura enjoys reading, and visiting lighthouses and waterfalls. Her favorite season is winter, her favorite holiday is Christmas.
Visit Laura's blogs: Lighthouse-Academy & Laura V. Hilton
Follow Laura on Twitter and Pinterest
Like Laura on Facebook
Purchase Laura's books:
SUBSCRIBE TO PATTI'S BLOGS ON HER HOME PAGE.