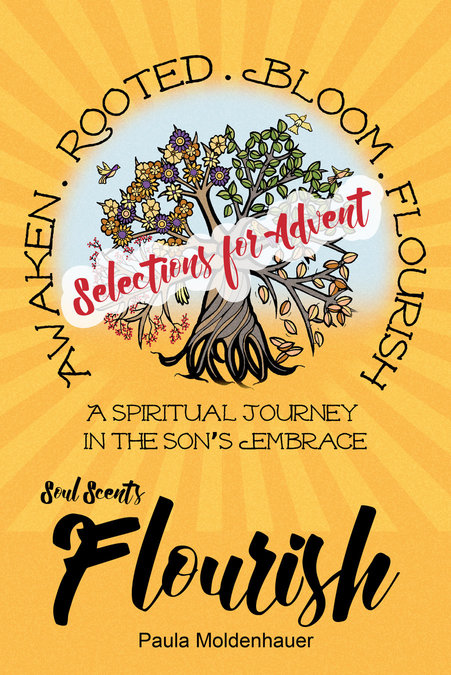 FEATURED BOOK: Soul Scents: Flourish Selections for Advent
AUTHOR: Paula Moldenhauer
PUBLISHER: Free to Flourish Publishing
GENRE: Devotional Book for Advent
SERIES OR STAND ALONE: Series
TARGET AGE: Over 30
IT IS A PLEASURE TO WELCOME AUTHOR PAULA MOLDENHAUER TO THE OVER 50 WRITER. PAULA SHARES HOW GOD'S PERFECT TIMING LED HER INTO A NEW AND REWARDING VENTURE LATE IN LIFE.
PAULA IS OFFERING A GIVEAWAY! SIMPLY LEAVE A COMMENT BELOW TO ENTER THE DRAWING FOR A COPY OF SOUL SCENTS FLOURISH. NOTE: THIS BOOK IS A FULL VERSION OF THE EXCERPTED FEATURED BOOK ABOVE.
THE RIGHT TIME
by
Paula Moldenhauer
It was in my 50th year the Holy Spirit called and a very personal, year-long devotional series was born. It's called Soul Scents: A Journey in the Son's embrace. While the four-book series comes from many years of journeying with Him, there are parts of these books I couldn't have written until that exact moment.
As over 50 writers we are in a wonderful position to write what we couldn't have before now. Our wisdom and courage have (hopefully) grown with our experiences, and our ego and self-protective devices have shrunk.
I don't know what you're dreaming about, but my over-50 story continues to surprise me! It was in my 50th year that the Lord prompted me to start an indie publishing company, Free to Flourish! While I still write for traditional markets, this launch into something I never dreamed of doing allows me (by God's grace!) to be crazy-productive and to write what my heart chooses instead of focusing toward a particular publisher or genre. As long as the project fits my mission statement, it's fair game!
I share this because I want to encourage you. As you dive into your own Over 50 writing journey, don't let the amount of years ahead or behind you dictate emotions or productivity. Ask God for direction, and be willing to move as prompted. You just might be surprised at how much you accomplish.
Right now from Free to Flourish Publishing we have four devotional books, three light-hearted Christmas novellas (in the Tinseled Tidings collection), and one full-length novel—all produced in less than 2 years!
We also have an Advent devotion, Soul Scents: Flourish Selections for Advent, that I offer as a free PDF on my website. I hope you'll download one for your personal worship this holiday season. (If you prefer to read on Kindle, it's available for 99 cents.)
book cover blurb for Soul Scents: Flourish Selections for Advent
Soul Scents: Flourish Selections for Advent offers four weeks of devotional thoughts, Scriptures, and prayers for meditation and worship in the weeks before Christmas. If you're celebrating Advent with candles, you can use Sunday's reading for reflection as you light the candles of hope, peace, joy, and love. It also includes a scripted prayer and suggestion for worship. Monday through Friday's daily readings focus on concepts like Christmas memories, the Christmas tree, the Cross, celebration, nativity, and worship. On Saturday journal questions prompt reflection on the week's worship experience.

Soul Scents: Flourish Selections for Advent is taken from weeks nine through twelve of the Soul Scents: Flourish thirteen-week devotional book. Additional content for reflection during the lighting of Advent candles and at the end of week is included only in this special holiday edition.
Here's a sample. May you be blessed!
Week Four~ Vignettes of Worship
Day 1: Quiet
Be still, and know that I am God.
~ Psalm 46:10 KJV
The hush that accompanies a heavy snow speaks quiet into my soul. The white blanket muffles the sounds, and even with the cold, I feel somehow insulated.
The snow changes everyday noises too. The ground underneath my feet now gives off a crunch instead of a clack or a thud. Even my car tires make a wonderful, squeaky sound as I pull into our cul-de-sac on a cold, snowy night.
There's stillness in a freshly snowed-in world that I don't experience at other times, and it makes me want to do calm things—like bake cinnamon rolls, read a good book, or take a leisurely walk to watch snowflakes fall.
When it snows at night, one of my favorite things to do is to brew myself a hot cup of herb tea, turn off all the lights, and watch the snowflakes out my window as they drift earthward in the glow of the lamplight.
God feels very close in these times. Perhaps the changes in routine, the slowing down for a snowy day, and the hushed, snow-muffled sounds help my heart quiet. I'm not sure. But I notice the Lord in the stillness.
There are many types of noise in life. A blaring radio and angry, honking rush hour traffic is noise. Busy schedules and long to-do lists are noise. Hateful words, unjust criticism is noise. But noise can also be found inside us. Worry and fear rattle around in our souls until they feel harried and loud instead of hushed and peaceful. Anger—whether at others or ourselves—can make our hearts clang with rapid heartbeats and heated scenarios. Taking those outside voices of negativity and assault into my interior places—owning them. Perhaps that's the worst kind of noise.
But Jesus says, "Be still, and know that I am God."
The world curses. The heart bruises. The verbal and emotional scarring.
It was part of Jesus' crushing.
And from the fragrance comes my freedom.
He says I am worthy.
He says I am loved.
Though my sins and the sins of those who wounded me are many, He says, "Come, let's talk this over, . . . no matter how deep the stain of your sins, I can take it out and make you as clean as freshly fallen snow" (Isaiah 1:18, TLB).
Like the blanket of white which covers my yard, unmarred by a single footstep, He covers me.
I am as clean as freshly fallen snow.
I am untouched by noise of the enemy.
All is blanketed, hushed, as the presence of Jesus reminds me of the truth.
I am new. Safe. Pure. Enveloped in His feathery blanket of white.
So are you.
Sweet Jesus, let Your peace fall upon me, as pure and gentle as snowflakes. May I know You in this hushed moment. May I believe in my purified state.
Book cover blurb for Soul Scents: Flourish (giveaway book)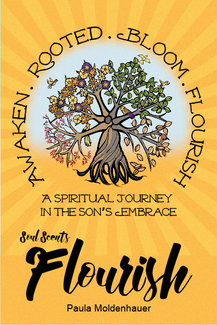 At just the right time in history God sent His beloved Son to set the captives free and claim victory over the darkness. At just the right time in each life God shows His child how to step into the freedom He already won.

Lie weeds twist around the good plantings of our heart, choking abundant life, but when we step into truth, the tendrils of that vile weed uncurl. In this fourth volume of the Soul Scents series, Paula talks about her journey out of emotional, verbal, and spiritual abuse. She says, "As God reveals how pain and abuse twists our understanding of who He is and how He works, the distrust falls away. The root of the lie weed is exposed, and the Lord pulls that sucker out completely! In its place comes a deepened intimacy with Jesus and the joy we've prayed for but couldn't find. We rise from the pain and live free to flourish."
Take the Flourish journey and brave deeper healing, letting go of shame and learning to live as vibrant daughters of the King!


The Soul Scents collection invites readers into an ever-deepening discovery of who God is and how He interacts with us. Combined, its four volumes—Awaken, Rooted, Bloom, and Flourish—offer a year's worth of devotional reading. Each book has thirteen weeks of down-to-earth insight gleaned from Scripture and the author's journey into spiritual freedom and designed to aid in inner healing. The week-day readings include Scriptures and prayers. Rest in the Son's embrace as you enter the beautiful heart of the Freedom Giver Himself.
Paula's books can be purchased on Amazon.com. The full-length Soul Scents books are available in print and electronic format.

Buy links:
Soul Scents: Flourish Selections for Advent on Kindle
For a free download of Soul Scents: Flourish Selections for Advent

DON'T FORGET TO LEAVE A COMMENT TO BE PLACED IN THE DRAWING TO WIN A COPY OF SOUL SCENTS FLOURISH BETWEEN NOW AND SUNDAY, NOVEMBER 19TH AT MIDNIGHT MST.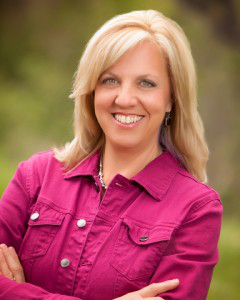 Author, speaker, and mom of four, Paula Moldenhauer encourages others to live free to flourish. She shares her message speaking at women's events, and it permeates her written work. Paula has published over 300 times in non-fiction markets and has a devotional book series, Soul Scents. Her first published novella, You're a Charmer Mr. Grinch, was a finalist in the ACFW Carol Awards, and she now has six published works of fiction. Her most recent, At Home with Daffodils, is included in Barbour's A Bouquet of Brides, releasing in 2018. Paula and her husband, Jerry, are adjusting to a sometimes-empty nest in Colorado. Visit her at her website.
SUBSCRIBE TO PATTI'S BLOGS HERE.