IT IS MY PLEASURE TO WELCOME AUTHOR GAIL KITTLESON TO THE OVER 50 WRITER. GAIL SHARES SOME OF THE OFTEN OVERLOOKED THINGS SHE OBSERVES IN A TYPICAL DAY.
WAY OVER FIFTY...AND GROWING MY POWERS OF OBSERVATION
by
Gail Kittleson
One side benefit of being an older writer: we have more time to really look at things. Always one to ponder, now there's more of an opportunity to take a second look, and a third and fourth, before I start trying to figure something out. (I know, out isn't a good word with which to end a sentence, but chalk this up to my rural Iowa dialect.)
For example, this morning I took an extra moment to notice these birdie tracks on our deck after our snowstorm. Then I took one more moment to capture them in a photo.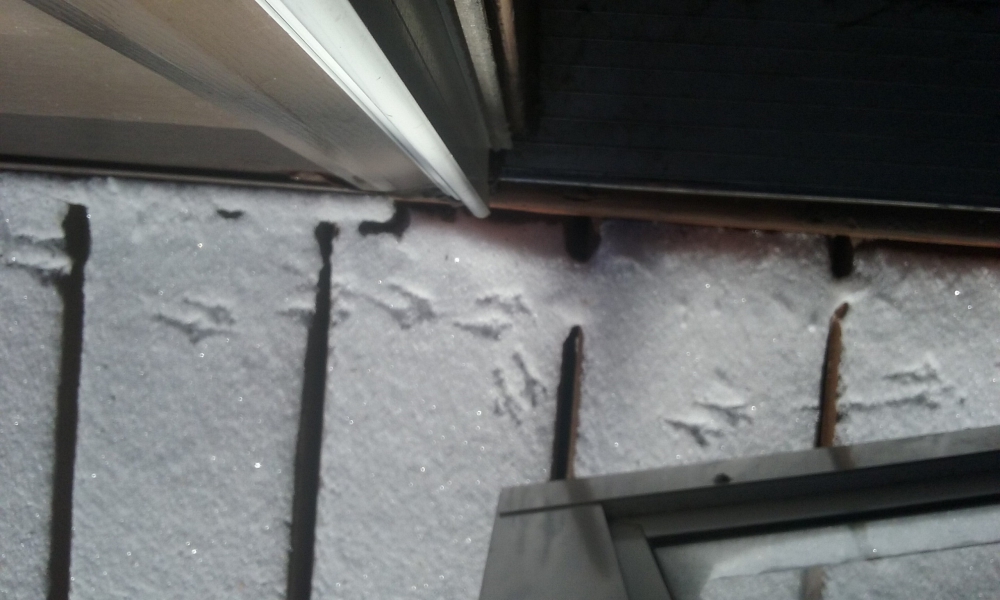 I texted this picture to my husband with a note: What I Notice.
He and I notice different things when we look out our back door or window, and it's been great fun to see him develop his photography hobby.
He's put up bird feeders this winter, and carefully observes the behavior of several species that daily attend his grain fest. Beyond snapping their pictures, he also researches their names and behavior. I'm amazed at his patience—he's able to wait long enough to see much more than I would have. Here's an example.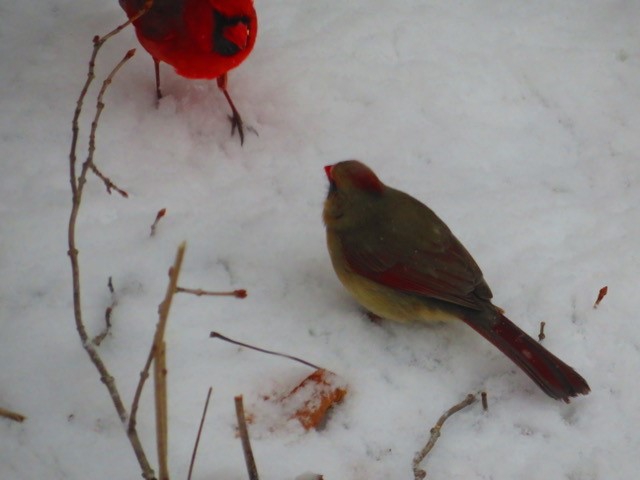 Clearly, two cardinals, male and female. The other day, my husband saw the male sharing a grain with his girlfriend, or so it seemed. But then, voila!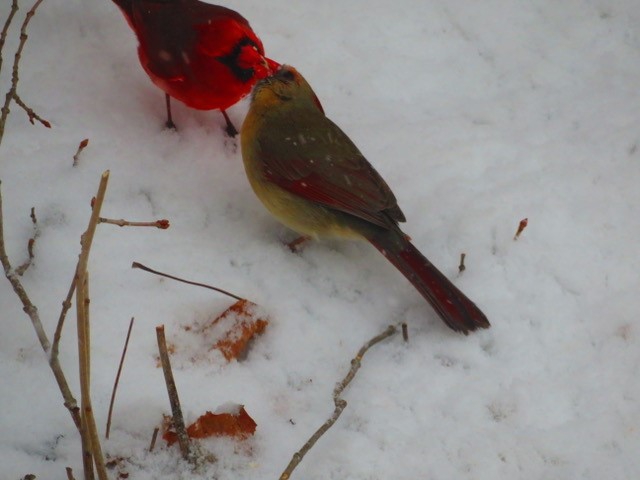 There they are, at it again, but no grain is involved. They're just...well, beak-kissing?
Discovering that this action is, indeed, a part of a cardinal romance was frosting on the cake. Yep, cardinals display this behavior when they're mating.
Pretty cool, eh?
All in a day's work for an over-fifty writer...learning from the people and activity around us, taking time to hone our own observation skills, and pondering how everything fits together. Or not.
My World War II research often takes me back to events that simply don't fit. They don't fit in lots of ways. For example, the Allied Forces raid on the Germans ensconced in French city of Dieppe. No matter how much I read about this fiasco, I end up with even more questions.
How could commanders have sent thousands of young men into such a death trap? Why didn't they think to do some preliminary reconnaissance? What gave them such ardent faith in the tanks accompanying the infantry—it was the first time in history this occurred, so what made them so confounded confident in success?
And of course, the consequential questions: how could anyone who had a part in this assault have lived with the guilt? So many bodies strewn along the beach, so many double rows of Canadian soldiers' graves...and the surviving troops. Oh so many questions about them—surely, the failed attack lived forever in their minds and hearts.
So what does this have to do with our April snow, or our temperature being seven degrees F this morning? I wrote a blog on my website about that, if you'd like to take a peek. https://www.gailkittleson.com
But for our present purposes, all of this has to do with sharing how an over-50 writer fills a typical day.
Observes. Ponders. Researches. Tries to see how it all fits together...and gives thanks for the opportunity to call herself a writer.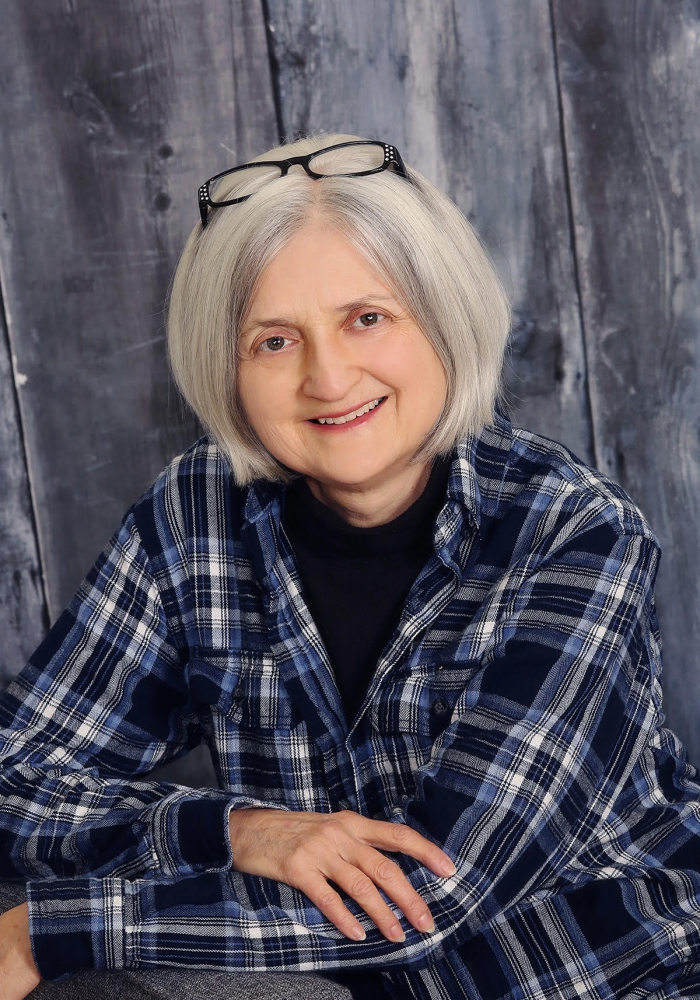 Gail and her husband Lance are native Iowans, and live just south of the Minnesota border, where they enjoy their grandchildren and traveling. Winter finds them in the Arizona mountains, where the birdwatching continues.
Memoir writing led to Gail's first fiction attempts, and on December 7, the final installment of Addie and Kate's stories released. A Purpose True makes an apt title, because like many WWII women, these characters sought to contribute to the war effort in any way they could. The World War II era still consumes much of Gail's focus, and several other novels are in process.
Connect with Gail:
SUBSCRIBE TO PATTI'S BLOGS HERE