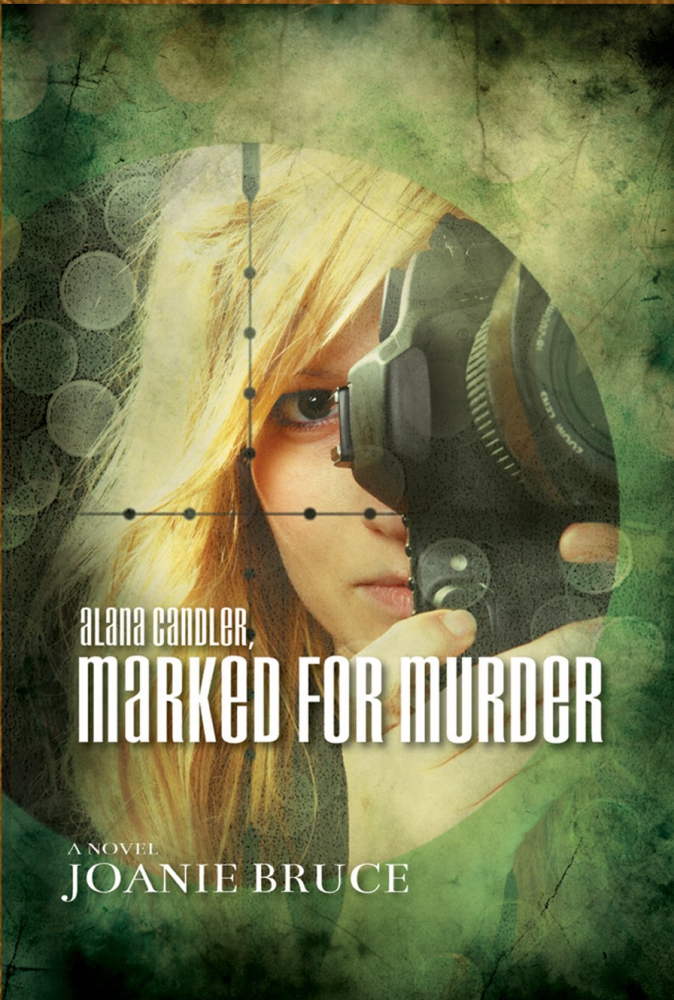 Title: Alana Candler, Marked for Murder
Author: Joanie Bruce
Publisher: Ambassador International
Genre: Christian Suspense/Romance
Series or stand alone: stand alone
Target age: adults, but suitable for teens
IT IS MY PLEASURE TO WELCOME AUTHOR JOANIE BRUCE TO THE OVER 50 WRITER. JOANIE SHARES HOW SHE LEARNED THAT WE CAN SERVE GOD AT ANY AGE AND IN SOMETIMES UNEXPECTED WAYS.
JOANIE IS OFFERING A GIVEAWAY! SIMPLY LEAVE A COMMENT BELOW TO ENTER THE DRAWING FOR A PAPERBACK COPY OF ALANA CANDLER, MARKED FOR MURDER
CAN I STILL SERVE GOD AFTER FIFTY?
by
Joanie Bruce
If you come away from this post with anything, PLEASE cherish the thought that no matter what age you are, God has something new in store for you. Sometimes it's hidden during your younger years, and God opens the door, after you turn fifty, to show you a new talent or skill you had no idea you possessed. That's what happened to me, and here's my story:
Many of you understand that feeling when your last child moves out of your house, and you face an empty nest with time on your hands. When my children were young, I considered homeschooling and raising them as a way of obeying the Lord, but as they became more independent, my heart yearned to find additional ways to serve God.
One of my Sunday School students gave me the book, In His Steps, for Christmas one year. If you remember, this book started the whole "what would Jesus do?" movement, so I asked myself the question, "What would Jesus have me do with my life, now that my children are grown?" I wanted to use any talents and skills I possessed to honor and serve the Lord. I begged God to reveal the answer to that question, and when he did, my whole life changed. God opened my eyes to two ways I could serve Him: first He revealed a talent for art, and a few years later, God affirmed a second plan for me: writing.
I always enjoyed painting, but I had no idea I could draw, especially not a portrait; However, when I received an eight by ten photograph of George W. Bush in response to a letter I had written, God planted the idea in my head to draw that picture.
My first attempt at drawing his picture was less than flattering, and my daughters teased that it looked like a "monkey." lol When I tried again, after purchasing the proper tools, the second attempt looked so much like President Bush, that a friend hired me to draw a portrait of her two children. That commission lead to another, and another, and another. My gratitude was overwhelming. I thanked God with every drawing for showing me a new way to honor Him and show others His love with my drawings.
After selling many pencil portraits, a friend talked me into trying an oil portrait. I had never painted a face before, and I wasted a huge amount of paint trying to mix the right flesh color for that first portrait. lol But God gave me a peace to know He was right there helping me. I only had to obey his leading, and because of that He blessed my efforts to honor Him.
I now have many paintings scattered all over the United States. Included in that list are:
a painting of George W. Bush, (owned by the former President and his wife)
a landscape painting of a man and his son fly-fishing, (hanging in the governor's private office in Atlanta, GA)
a painting of a house in Madison, GA, (commissioned by the late Senator Charlie Norwood for his Washington, D.C. office, now hanging in Historical Society building in Madison, GA.)
When my art commissions began to lull, God started prodding me to try something else: writing a Christian novel.
As an avid reader, I always toyed with the idea of writing, and after reading my first Christian suspense book, I was hooked. I felt as if God were pushing me to try to show others His love through fiction.
At first, I was so sure my writing would be a flop, (I didn't have enough faith, did I?) that I wrote it in complete privacy. Even my family didn't know I spent my spare time alone writing. They were astounded when I received an offer from a Christian publishing house with a publishing contract. An amateur writer had been turned into an author of Christian suspense … all with God's help.
Today, I've had three full length novels published, a Christmas trilogy, a novelette, and I've illustrated a picture book which launched in April of this year.
So … what can you learn from my story? God has a purpose for us all … no matter your age.
If you would love to serve Him but feel you are too old to "learn new tricks," think about my testimony and realize you can offer God your life for service at any age. He might reveal a new talent hidden deep inside you. Open your heart to what God reveals to you, obey
His commands, and He WILL bless you … even after you turn fifty. ??
Book blurb for Alana Candler, Marked for Murder
Alana Candler is on someone's hit list. But why? A stalker is breathing down her neck at every turn, hiding in the shadows, waiting for her to make a mistake— to freeze long enough for him to make his hit. When the stalker kidnaps her from a hotel and leaves her to die, Jaydn Holbrook, CEO and owner of the largest company in Tennessee, saves her life and promises to protect her.
Jaydn's high school friendship with Brad, Alana's brother and the City's Police Chief, gives him incentive to protect Alana and shelter her from the growing danger. Alana's trust in God's protection intrigues him and compels him to explore her faith further, but when she mentions her aversion to rich, executive-type bosses, Jaydn keeps his position at his company secret—trying not to destroy their fragile bond.
As tensions build, Jaydn and Alana are caught up in a dangerous web of hiding from the pursuer trying to kill them and fighting the attraction they feel for each other. While Brad scrambles to find her stalker and Jaydn struggles to keep her safe, Alana searches her memory to find the motive someone might have for murder.
DON'T FORGET TO LEAVE A COMMENT TO BE PLACED IN THE DRAWING TO WIN A PAPERBACK COPY OF ALANA CANDLER, MARKED FOR MURDER BETWEEN NOW AND SATUDAY, MAY 19TH AT MIDNIGHT MDT.
As an avid reader, Joanie Bruce welcomed the transition from reading to writing and considers it a wonderful way to honor the Lord. She strives to capture the personality and characteristics of each subject in the oil portraits she is commissioned to paint. She lives with her husband on their Black Angus farm and enjoys writing and painting from her home in the country. She also enjoys various hobbies and taking long walks on the farm.
Connect with Joanie online:
SUBSCRIBE TO PATTI'S BLOGS HERE