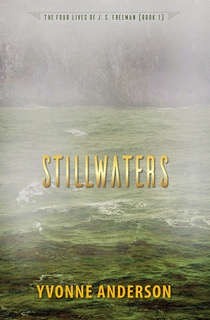 FEATURED BOOK: Stillwaters
AUTHOR: Yvonne Anderson
PUBLISHER: Gannah's Gate
GENRE: Speculative/sci-fi
SERIES OR STAND-ALONE: Book #1 in The Four Lives of J.S. Freeman series
TARGET AGE: Adult
IT IS MY PLEASURE TO WELCOME YVONNE ANDERSON TO THE OVER 50 WRITER. YVONNE TALKS ABOUT HOW SHE PRESENTS THE GOSPEL FROM A DIFFERENT WRITIMG PERSPECTIVE.
YVONNE IS OFFERING A GIVEAWAY! SIMPLY LEAVE A COMMENT BELOW TO ENTER THE DRAWING FOR WINNER'S CHOICE OF A PRINT OR EBOOK COPY OF STILLWATERS.
A Different Perspective
by
Yvonne Anderson
You're probably familiar with the parable of the blind men and the elephant. As the story goes, each sightless man's description of the elephant sprang from the part of its body he explored. "It's like a huge snake," declared the one who handled the trunk. "It's like a wall," argued the man who felt the beast's massive side. "It's like a rope," insisted the one who held its tail. And so on. The story illustrates how our viewpoints determine how we perceive our world.
It's no secret that older people see things differently than, say, their grandchildren. Whereas young people tend to have a narrow focus, those with more life experience are better able to see the whole animal.
And then there are people, young and old alike, who can look at their everyday surroundings but see a different world altogether. We call that person a sci-fi writer. And I'm one of them.
My current project is an extra-terrestrial autobiography (yes, you read that right) called The Four Lives of J. S. Freeman. The first-person narrator tells the story from the perspective of a woman at the end of her life.
I intended it to be a single book, but when it grew too unwieldy, I had to break it down into three. I released the first, Stillwaters, in February of this year and the second, Citizen, in May. I plan to complete the series with the release of the third title, Free, in September. You may read a brief overview of all three here on my blog.
Because my earlier books have a strong Christian theme, I've always marketed to a Christian audience. This time, though, I hope to give people outside that narrow world a chance to see the gospel from a new perspective.
Too often, an unbeliever sees the label "Christian" and thinks, That's not for me. People often don't realize that the truth of the gospel is for everyone, everywhere, no matter what our beliefs, heritage, or experience. It's my hope that a reader of secular sci-fi might pick up this series, become interested in the story, and see Christ in a new light through the eyes of the title character.
Another reason I don't market it as Christian fiction: it's not the sort of sweet story many Christian readers prefer. It contains nothing I'd be ashamed for Jesus to see—indeed, He was with me the whole time I wrote it—and the books include no graphic violent or sexual situations. But even delicately described, some of the character's experiences might be uncomfortable reading for a sensitive person.
Sci-fi is among the least popular of the literary genres. Writing for a secular audience when my only publishing contacts are in Christian fiction is not a good plan for success. Anyone who knows anything about the industry would tell me I'm doing everything wrong.
And I am, from the point of view of the professionals. But I'm not writing for advancement of a career. (At my age, what do I care about a career?) I simply write to tell the "old, old story of Jesus and his love"— and let Him do with it whatever He wants.
Blurb for The Four Lives of J. S. Freeman series:
One of the most prominent names in the lore of the planet Umban, J. S. Freeman is as mysterious and controversial as the island of Freemansland from which she came.
How did she rise from the shrouds of obscurity to become one of the world's most influential figures? In this series, Freeman breaks her long silence and tells the whole tale.
Come and see. The truth she tells is better than her fiction.
The Four Lives of J. S. Freeman
Book 1: Stillwaters
Book 2: Citizen
Book 3: Free
Blurb for Book 1, Stillwaters: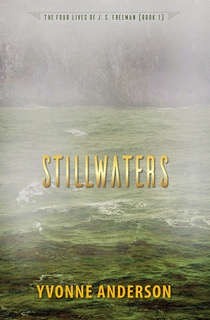 In Stillwaters, the first of Freeman's three-part story, the celebrated author brings us into the steamy, untamed land of her feral birth. When the City invaders capture her—they call it a rescue, but it sure doesn't feel like it—her first life ends. She wants only to run free again on Freemansland, but circumstances take her ever farther from home, until one snowy day, her second life ends as well.
Come and see. The truth she tells is better than her fiction.
Available on ebook and print at Amazon.
Blurb for Book 2, Citizen
In Citizen, the famous Umbani author J. S. Freeman tells of her third life: a fairy-tale marriage into the City's elite ruling class. It's a dream come true—until she wakes up in a nightmare.
The war in Arkentak nearly takes her life, and she seeks relief from her pain in a bottle. Her husband's stalwart love draws her out and encourages her to develop her writing talent. But nothing can restore what she's lost. Will she ever find what she's seeking?
Come and see. The truth she tells is better than her fiction.
Available in ebook and print at Amazon.
Blurb for Book 3, Free
In Free, the moving conclusion of the famed author's three-part story, we see the remainder of Freeman's supposedly safe world crumble to ashes. Losing husband, wealth, and status, she hides for her life, with no one to help but the twin brother she once tried to disown.
Just when she thinks she can't go on, she finds hope in a most unlikely place—the rejected legends of her own people. This leads to a fourth life – one that will never end.
Come and see. The truth she tells is better than her fiction.
Coming in September, 2018.
DON'T FORGET TO LEAVE A COMMENT TO BE PLACED IN THE DRAWING TO WIN A PRINT OR EBOOK COPY OF STILLWATERS BETWEEN NOW AND SATURDAY AUGUST 25TH AT MIDNIGHT MDT. (US ONLY ENTRATNS ELIGIBLE FOR PRINT COPY)
BY LEAVING A COMMENT, YOU GRANT PERMISSION FOR YOUR EMAIL TO BE REVEALED TO THE AUTHOR IF YOU ARE THE WINNER TO FACILITATE RECEIPT OF YOUR BOOK.
Yvonne Anderson writes fiction that takes you out of this world.
Anderson made her publishing debut at the age of 55 with The Story in the Stars, Book #1 in the four-title Gateway to Gannah series. Stars was a finalist in the 2012 ACFW Carol Awards.
Anderson contributed a short contemporary fiction piece, First Love, to a 2017 novella anthology, Coming Home: A Tiny House Collection. In early 2018, she launched a new series, The Four Lives of J. S. Freeman.
Except for the tiny house novella collection, she self-publishes under the Gannah's Gate imprint.
Connect with Yvonne online: