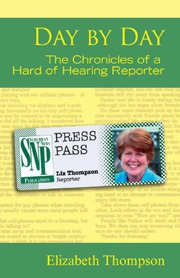 FEATURED BOOK: Day by Day; The Chronicles of a Hard of Hearing Reporter, 2008
AUTHOR: Elizabeth (Liz) Thompson
PUBLISHER: Gallaudet University Press
GENRE: Non-Fiction
SERIES OR STAND ALONE: Stand Alone
TARGET AGE: All
IT IS MYPLEASURE TO WELCOME AUTHOR ELIZABETH (LIZ) THOMPSON TO THE OVER 50 WRITER. LIZ SHARES HOW SHE LEARNED TO BUILD A SUCCESSFUL JOURNALISM CAREER DESPITE A SEVERE HEARING IMPAIRMENT.
DAY BY DAY
by
Liz Thompson
It took almost complete silence for me to author my first book. My hearing loss began as a child and by 50 I was considered functionally deaf. I was a reporter for a local newspaper sporting two hearing aids. Getting stories was a challenge, but my editor was my champ.
He said in the introduction of my first book that I had proven myself as a columnist and he wanted the reporter version. (Check out the link on my website and read his intro. You'll see where I learned about a hook.) I opted to be a copy desk typist but was soon hooked on the newsroom buzz.
When I said I wanted to be a reporter, the next day, I had my first assignment.
I utilized every tool available in 2000 to get the story. Each month I logged an average of 500 miles on my car driving to every interview and city council meeting. I had to read lips and get people to write down details. It was both exhausting and exhilarating. I loved every minute.
Many people told me they were hesitant to be interviewed because they had been misquoted in the past. I had a fold out keyboard and a handheld mini-computer that attached to it. I would type what I thought they said and turn the keyboard around.
"Here, read this. Add or edit as you wish."
I built trust person-by-person, all the while teaching people how to communicate with me. How to communicate with anyone, for that matter. It's polite to face someone when you are talking. It is best not to talk while eating or with your hand in front of your mouth. Noisy restaurants are not good places to have a discussion. And the list goes on for good communication.
My favorite story was when Dave Thomas, founder of Wendy's Restaurants, passed away. He lived in Columbus, Ohio, where I live and reported. I was assigned to cover his funeral.
He was a beloved man. The visitation the day before the funeral was held in their headquarters in Dublin, Ohio. The line was out the door when I arrived. With my credentials, I was able to get inside without a wait.
The lobby where the family stood receiving people was high ceilinged, stone floor and long windows.
Think echo. Think bouncing noise, clicking shoes, voices and televisions playing videos.
How was I going to interview anyone and know what they were saying?
I wasn't.
The man in charge saw my credential hanging around my neck on a lanyard and asked how he could help.
"Is there any way I could interview people in the carpeted hallway back there?" I said pointing to a divided area.
"We can do better than that."
He ushered me into a room and said he would bring people to me. My hearing loss apparently was well known by then and he figured it out fast.
They brought Dave's minister, his first employee, his marketing manager and various other people for about two hours.
I had my story. My faith in people was once again restored. All I had to do was let them know what I needed.
In 2002, I was finally a candidate for a cochlear implant – meaning I was truly deaf. Hearing aids only let me know sound was happening.
After the device was activated, I went from understanding zero percent in my right ear to 95 percent with clarity that makes me laugh! I became a bionic grandmother and reporter.
Everyone has a story, likely many of them. I love writing about my experiences and learned to love getting other people's stories and writing about them.
There is a difference between hearing and listening. I lost my hearing, but learned how to listen.
I'm still at it. Still writing and still loving it.
Thanks for listening!
Book Blurb for The Seventh Volume in the Deaf Lives Series
Elizabeth Thompson's hearing loss was detected when she was in elementary school, and her hearing continued to deteriorate until she became completely deaf. Like many other hard of hearing and late-deafened individuals, her hearing loss complicated the general challenges of life. She struggled through school, worked as a secretary, married, had a daughter, and then found herself living as a single mother. She remarried, and soon after learned that she had contracted Multiple Sclerosis (MS). Despite these hurdles, Thompson always expressed her determination to enjoy the best life had to offer. Her astonishing exuberance might have gone unnoticed if she hadn't accepted a new position as a reporter/columnist in 1998 for the Suburban News Publications (SNP). Day by Day: The Chronicles of a Hard of Hearing Reporter presents a marvelous blend of her experiences and best SNP columns that illustrate how she crafted her remarkable outlook.
In her columns, Thompson presented how she handled her hearing loss as a personal guide for readers. She used every stratagem available to function full-throttle – hearing aids, FM systems, lights for alarms, TTYs, even training her dog Snert. She also gently counseled readers on how to treat deaf and hard of hearing people with practical consideration and respect. Her pursuit of a fully realized life enabled her to do what she loved most, to meet and write about inspiring persons, many of whom are profiled in her memoir. Thompson eventually underwent cochlear implantation that restored 95% of her hearing, an exalting moment for her. Yet, Day by Day celebrates the entire arc of her life, a wonderful testament to her joyous resilience.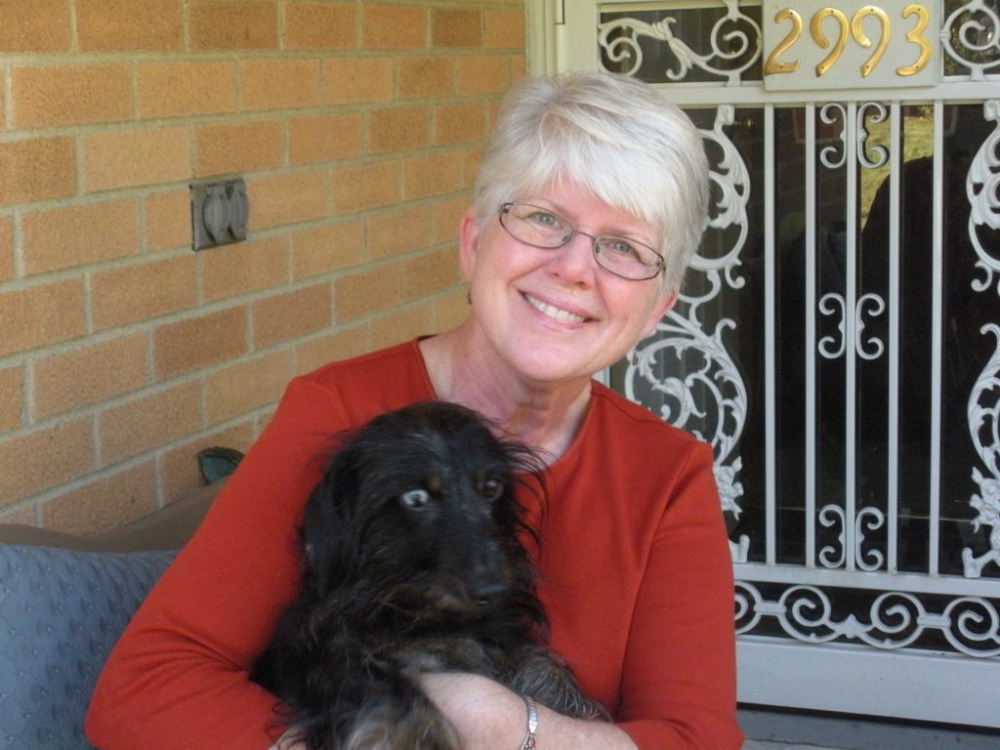 Liz Thompson has been a columnist since 1998; first with Suburban News Publications, in Columbus, Ohio where she was also a reporter for more than two years. From 2003-2005, she was a columnist for The Arizona Republic. Her columns now appear in ThisWeek News in Ohio. Her first book was published in 2008 and the second in 2013. She is married, has a daughter and three grandchildren and lives in Grove City, Ohio with her husband and her second Hearing Dog, Toby Bear.