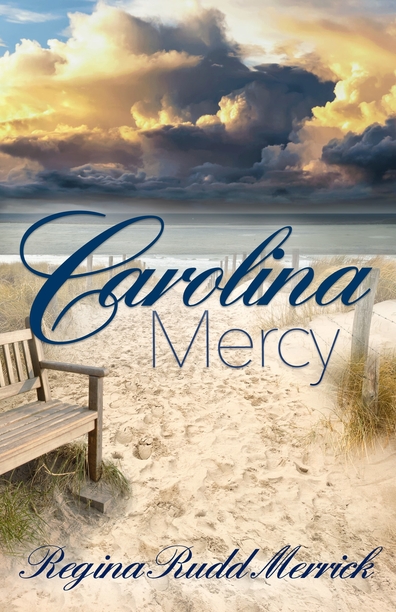 FEATURED BOOK: Carolina Mercy
AUTHOR: Regina Rudd Merrick
PUBLISHER: Mantle Rock Publishing
GENRE: Contemporary Romance
SERIES OR STAND ALONE: Book 2 in the Southern Breeze Series
TARGET AGE: 18+
IT IS MY PLEASURE TO WELCOME AUTHOR REGINA MERRICK TO PATTI'S PORCH. REGINA EXPLAINS WHY IT TAKES MORE THAN A GOOD EYE FOR EFFECTIVE EDITING. IT TAKE A GOOD EAR AS WELL.
REGINA IS OFFERING A GIVEAWAY! SIMPLY LEAVE A COMMENT BELOW TO ENTER THE DRAWING FOR AN EBOOK COPY OF CAROLINA MERCY.
READ-ALOUD WRITING
by
Regina Merrick
When I began my first novel, I didn't have a clue as to the depth and breadth of this thing called EDITS. I wasn't one of those who resented other people editing "my baby," because I'd re-written it too many times to be that sentimental about it. I was just grateful that my editor was kind, even when suggesting changes. Now, with my second novel, Carolina Mercy, I'm finding it more true than ever!
My publisher suggests to everyone that they read aloud their work as part of the editing process. I thought it was a good idea, but couldn't imagine reading my whole book again – and aloud. I'm a fast reader – reading aloud slows me down!
But after it was pointed out that I had way too many repeated words (smiled, grinned, laughed, etc.), I decided to give it a try.
It took about 3 days, in hitches, to read it aloud, and I couldn't BELIEVE how much it helped. Here are some areas that made the most difference to me:
1. Repeated words. When you read aloud, it shows you just how boring repeated words can be. You can imagine that I immediately looked up synonyms for "smile" and "laugh."
2. Unnecessary words. Along those same lines, when saying it aloud, you realize that you don't need to describe when the conversation lets you know what the character is emoting.
3. Out-of-place sections. Oh. My. Goodness. My last read-through showed me that the VERY FIRST PARAGRAPH, taking place in April, was repeated verbatim in a section taking place in JUNE. Oy. I had to change the entire first scene of the book on my last read-through. Neither I nor my editor caught that the first time. When I got to it in "June," I thought – wait a minute, I've seen that before . . .
4. Poor word choices. Sometimes we write things as dialogue that a human would never say. Sometimes we write things as description that will make a reader laugh when it is at a particularly poignant scene. For instance – Sarah's shoulders slumped slightly. Alliteration is fun, but not when the character is sad! When I read that one aloud, I literally laughed out loud.
There are many other advantages to reading your manuscript aloud. It's taught me that I not only need to do this at the end, but as I go. Punctuation, paragraph length, spelling – all those things can be caught on a read-aloud
So my advice? Slow down and read aloud. You'll be glad you did.
One thing it may not catch? When you put the wrong model car with the wrong make. My dad caught that.
Happy Birthday, Dad!
Book Blurb for Carolina Mercy:
She's always gotten everything she's wanted. He thinks he has to give up everything.
Her best friend's wedding is foremost on Lucy Dixon's radar. Her biggest concern is once again meeting Tom Livingston, who has ignored her since an idyllic date on the boardwalk of Myrtle Beach the previous summer.
At least, it is her biggest concern until tragedy strikes. Where is her loving, merciful God, now?
When Tom Livingston meets Lucy, the attraction is instant. Soon after, his mother is diagnosed with an untreatable illness and his personal life is pushed aside. His work with the sheriff's department, his family – they are more important. He knows about the love of God, but circumstances make him feel as if God's mercy is for everyone else, not him.
Can a wedding and a hurricane – blessing and tragedy – bring them together?
Buy Links:
DON'T FORGET TO LEAVE A COMMENT TO BE PLACED IN THE DRAWING TO WIN AN EBOOK COPY OF CAROLINA MERCY BETWEEN NOW AND (SATURDAY, OCTOBER 20TH AT MIDNIGHT MDT.
BY LEAVING A COMMENT, YOU GRANT PERMISSION FOR YOUR EMAIL TO BE REVEALED TO THE AUTHOR IF YOU ARE THE WINNER TO FACILITATE RECEIPT OF YOUR BOOK.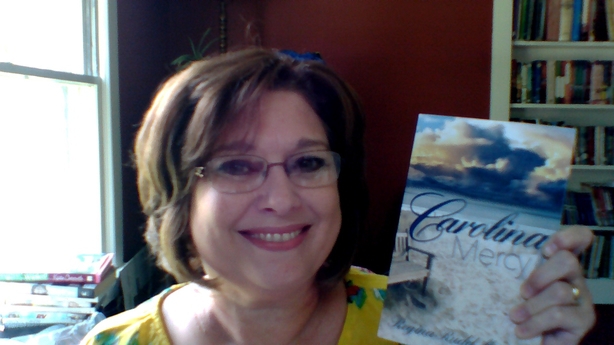 Regina Rudd Merrick is a writer, church musician, wife, mother, former librarian, and grateful follower of Jesus Christ. Having lived most of her life in Western Kentucky, she dreams of the sound of crashing waves and sandy beaches. Married to her husband of 35 years, she is the mother of two grown daughters, and the keeper of a 100-year-old house where she lives in the small town of Marion, KY. She is the author of three books. Carolina Dream (Apr. 2017), Carolina Mercy (July 2018), and Carolina Grace (2019), in the Southern Breeze Series. Regina and her husband have two grown daughters who share her love of music, writing, and the arts.
Connect with Regina online:
SUBSCRIBE TO PATTI'S POSTS HERE