Featured Book: Hair Calamities and Hot Cash
Author: Gail Pallotta
Publisher: Pelican Book Group
Genre: Romantic Comedy with Mystery
Series or Stand Alone: Stand Alone
Target Age: Adult
IT IS MY PLEASURE TO WELCOME AUTHOR GAIL PALLOTTA TO THE OVER 50 WRITER. GAIL SHARES HER THOUGHTS ON REVIEWS AND WHY A WRITER SHOULD PUT THEM IN PERSPECTIVE.
GAIL IS OFFERING A GIVEAWAY! SIMPLY LEAVE A COMMENT BELOW TO ENTER THE DRAWING FOR AN EBOOK COPY OF HAIR CALAMITIES AND HOT CASH
EMBRACING, IGNORING, TOLERATING, LIVING WITH REVIEWS
by
Gail Pallotta
Reviews are such an important part of a book's journey from our computers to the readers' eyes, and yet we have no influence over them. A person often purchases or doesn't purchase a book based on reviews. When we have good reviews, that's great! When we get one that isn't, we ask ourselves if everyone who sees our book will think only of the bad review. We tell ourselves it's only one person's opinion, but do the people reading the review think of it that way?
Readers don't all like the same books, so that means there are markets for different voices. Okay, that's rather reassuring, but what if someone slams a book and the writer never wants to put pen to paper again. What can we say to the author, or do for her or him?
Put it in perspective. While some readers might disregard a book because of one review, if there are good reviews, most readers will pay more attention to them. As a reader, I know I do. I've seen a few harsh reviews under some of my favorite authors' novels. When this happens, I don't think this book's not good. I'm inclined to ask, "What was the person who wrote that thinking?"
As an author, I've had upsetting reviews that made me not want to write for a while, but writing is a mission. I'm only using a gift from God. Without Him, I couldn't eek out the first word. He can take care of the books, using them where He wants, and the reviews, so why not leave it all in His hands? At Reg Forder's Christian Writers Conferences he used to say, "Always write for Him." His words give Christian writers a good perspective for weighing reviews.
Book Blurb for Hair Calamities and Hot Cash
"A comedic romp from small town to big city in search of missing money, hair catastrophes, and love. A truly fun read"—Cynthia Hickey, author of the Shady Acres Mystery series.
What happens when a New York stockbroker crashes his car into Eve Castleberry's North Carolina beauty shop...on the same day the young widow's defective hair products are causing wild hairdos? Soon Eve finds herself helping the handsome stranger hunt the thieves who stole his client's cash...and hot on the trail of two of the F.B.I.'s most-wanted criminals! Romance blossoms amid danger, suspense and Eve's hair-brained plan to get back the money.
Buy links:
DON'T FORGET TO LEAVE A COMMENT TO BE PLACED IN THE DRAWING TO WIN AN EBOOK COPY OF HAIR CALAMITIES AND HOT CASH BETWEEN NOW AND SATURDAY, NOVEMBER 17TH AT MIDNIGHT MST.
BY LEAVING A COMMENT, YOU GRANT PERMISSION FOR YOUR EMAIL TO BE REVEALED TO THE AUTHOR IF YOU ARE THE WINNER TO FACILITATE RECEIPT OF YOUR BOOK.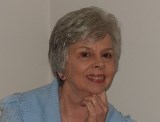 Award-winning author Gail Pallotta is a wife, mom, swimmer and bargain shopper who loves God, beach sunsets and getting together with friends and family. She's a 2013 Grace Awards finalist and a Reader's Favorite 2017 Book Award winner. She has published books, poems, short stories and articles. Connect with Gail online: