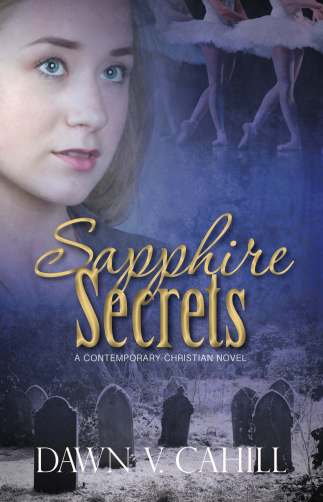 FEATURED BOOK: Sapphire Secrets
AUTHOR: Dawn V. Cahill
PUBLISHER: Spring Mountain Publishing
GENRE: Women's Contemporary
SERIES OR STAND ALONE: Book 1 of Seattle Trilogy
TARGET AGE: Women 18+
IT IS MY PLEASURE TO WELCOME AUTHOR DAWN V. CAHILL TO THE OVER 50 WRITER. DAWN TALKS ABOUT HER SEATTLE TRILOGY AND OFFERS A CHALLENGE TO READERS.
DAWN IS OFFERING A GIVEAWAY! SIMPLY LEAVE A COMMENT BELOW TO ENTER THE DRAWING FOR WINNER'S CHOICE OFA PRINT OR EBOOK COPY OF MOONSTONE SECRETS.
LIFE BEGINS AT 55
by
Dawn V. Cahill
Life begins at forty, so they say. But my life began much later at age 55.
Picture this. An empty nest. Oodles of extra time on my hands. The last of my sons – off to college. I found myself suddenly wondering, What to do?
Time to resurrect that dream I'd had since childhood…write, finish, and publish my first novel.
In September, I celebrated my 60th birthday. I'm sure my young self would have been proud to know she would someday realize her dream. Today, here I am, a real author, with four indie-published Christian novels, one in progress, plus one published short story. And what a journey it's been. Five years ago, I was only beginning Sapphire Secrets, my first published novel. Two years later, its sequel, Moonstone Secrets, hit the market. With books 1 and 2 in my Seattle Trilogy complete, I began the third and final book in the series, my current work in progress. Can you guess the name of book #3? I'll give you a hint. It takes place in Seattle, the ___________________ City. Leave your guess in the comments.
The series features identical twins/BFFs, Olivia and Dianna McCreary. Between the two of them, they make one really awesome brain as they dig up secrets and solve mysteries. In Sapphire Secrets, Olivia (Livy) seeks an answer to the question, what happened the day her mother died that no one wants to talk about? In Moonstone Secrets, Dianna (DeeDee) seeks to find out who really killed her boyfriend Nick's ex-wife, a crime that he was arrested for. The twins were not raised in a Christian home, in fact their father was a rock star. The books take the reader on the journey from their pagan upbringing to their dramatic conversion to Christ.
One of my favorite character arcs in Sapphire Secrets is Livy's conversion. She comes to know God as a young adult, as did I, and as I wrote, what joy it was to relive my own story of salvation, in all its glorious, life-changing power. Livy's journey to Christ is gradual, but once she believes, her transformation is dramatic and noticeable. So noticeable, in fact, that it puts a rift between her and her womb-mate, DeeDee, for the first time ever. How will she handle the sudden animosity from her twin? Can they ever recover their former closeness? Here are the blurbs for both books:
Blurb for Sapphire Secrets
Livy and her twin DeeDee lost their mother when they were six. Twenty years later, they open a dance school in her memory. They have everything they've ever wanted…except the truth. Livy is increasingly convinced there was more to the story of her mother's death than she's been told. As she seeks answers to what really happened that day, she also begins to question the New Age philosophy she was raised on. What if there is a personal God out there who cares about her?
But before Livy can discover answers, an accident brutally interrupts her search. Her life flips upside down as she faces a future she is not prepared for. Yet the unanswered questions continue to haunt her. She must continue with her quest, even if it means losing the two people most dear to her—her twin, and the man she loves.
Blurb for Moonstone Secrets
As the Christmas season sparkles around her, DeeDee McCreary eagerly anticipates visiting magical Victoria, BC, with her boyfriend, Nick, and meeting his family. But the trip proves disastrous. First, Nick finds his bank account cleaned out. Then he disappears. Frantic, she determines to uncover what happened. When she discovers something far worse than she anticipated, she questions everything she believes to be true about him.
With the man she loves in jail for an unspeakable crime, DeeDee knows the truth lies somewhere in Nick and his ex-wife's past. But if she pursues their secrets, will she put herself in danger, too?
DON'T FORGET TO LEAVE A COMMENT TO BE PLACED IN THE DRAWING TO WIN A PRINT OR EBOOK COPY OF MOONSTONE SECRETS BETWEEN NOW AND SATURDAY, DECEMBER 29TH AT MIDNIGHT MST. (US residents only eligible for print copy).
BY LEAVING A COMMENT, YOU GRANT PERMISSION FOR YOUR EMAIL TO BE REVEALED TO THE AUTHOR IF YOU ARE THE WINNER TO FACILITATE RECEIPT OF YOUR BOOK.
Dawn V. Cahill, an indie author from the land of microbrews and coffee snobs, published her first book, When Lyric Met Limerick, in 2015. She published her first full-length novel, Sapphire Secrets, in January of 2016. Her brand of Christian fiction, Hot Topic Fiction (HTF), isn't afraid to explore the question, how does God want us Christians to live out our faith in this not-so-brave new world? Without insulting the reader by offering pat or easy answers—because there aren't any—HTF tells stories of ordinary Christians following hard after Christ in a world of violence, upside-down morality, and hostility to Judeo-Christian values.
She has written several newspaper articles and more limericks than she can count.
Email her at [email protected] or connect online:
SUBSCRIBE TO PATTI'S BLOGS HERE