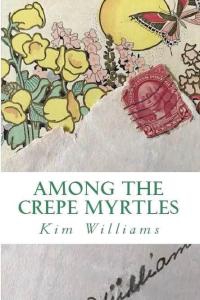 Featured Book: Among the Crepe Myrtles
Author: Kim Williams
Publisher: CreateSpace
Genre: Christian Fiction
Series or Stand Alone: Book in the Letters to Layton Series
Target Age: Adult
IT IS MY PLEASURE TO WELCOME AUTHOR KIM WILLIAMS TO THE OVER 50 WRITER. KIM SHARES TIPS ON HOW TO CHALLENGE YOURSELF TO PURSUE PUBLICATION.
KIM IS OFFERING A GIVEAWAY! SIMPLY LEAVE A COMMENT BELOW TO ENTER THE DRAWING FOR AN EBOOK COPY OF BOOK ONE IN HER LETTERS TO LAYTON SERIES, AMONG THE CREPE MYRTLES.
CHALLENGE YOURSELF
by
Kim Williams
"Zippy is a zebra who thinks he is a horse, but you can tell by looking that he's not of course." That was the opening line to the first book I ever wrote. I can only recall one more line from the book and can vaguely remember that the plot involved a zebra who was unhappy with his life at the zoo, escaped, and searched for contentment trying to be something he was not. I believe in the end, he came to appreciate his unique stripes. The book was approved to sit on the student author shelf in the Banberry Elementary School library. My claim to fame was nothing more than a completed class assignment.
Years later when I was a college freshman, my composition professor dropped one of my papers on my desk. "You cannot write." The entire class was privy to his critique. Somehow, he suggested, I was supposed to be strong enough to take the public humiliation and become better.
A few years later, I found myself teaching high school composition. I had always wanted to be a teacher and thoroughly enjoyed teaching others to write despite that professor's words echoing in my ears.
When I was forty-eight, my family celebrated my parents fiftieth anniversary. While sitting at dinner, my cousin shared about letters she'd discovered in family heirlooms. They were letters written by our great grandfather. He was begging my great grandmother to be forgive him and allow him to reunite with his family. None of us around the table knew the romance or tragedy of the couple. None of us around that table had ever known the author of the letters. My grandmother had grown up without a father.
The mystery grabbed me and would not let go. A couple of years later, I read the words of the letters and was stunned at both their potency and their beauty. I set out to write a series based on the emotions of the letters, and in June of 2017, my first novel, was released. I was fifty-six years old.
Though the beginning and endings vary, every author has a story of their first sentence, first completed manuscript, first edit, or first publication. Somewhere in the narrative of life, every writer took a chance and became vulnerable before an audience simply because a story had to be told. Becoming vulnerable with my creation felt uncomfortable, despite the exuberance of having written a story. I am learning to counter the discomfort with challenges to myself. I'll share some of them with you readers.
Be Confident: I can take a criticism and suck it dry and allow compliments to dissipate before my eyes. An imperfect first draft does not imply "give it up." My mantra became "make it better." Confidence comes in knowing you have a message to share in story and understanding this requires much time, effort, and tenacity.
Be Teachable: Writing is a lone effort, but putting out a book requires a crowd—a team. Editors, cover designers, formatters, beta readers, critique groups, reviewers, and a myriad of other folks will have valuable information to share about a written creation. Listen and learn from others. Take classes or read books on writing. Improve the craft. Keep reading the works of others.
Be Persistent: Start. Start. Start. Write. Write. Write. Promote. Promote. Promote. Read. Read. Read.
Be Social: Social media has an insatiable appetite. I am still figuring out the best way to keep this lively, vivacious beast under control. I'm learning to build my social media network with an investment of time and even some money. I have learned that social media has a tremendous capacity for getting my name beyond my own personal network, yet this expansion requires time and patience to see results. I had to become at ease promoting my beautiful stories both inside and outside of social media and with calling myself an author.
Be grateful: I salute and appreciate fellow authors for their craft. I am humbled by readers giving their time to read the stories of others. Publishing books and introducing my characters to the world is one of the greatest fulfillments in my life.
Blurb for Among the Crepe Myrtles.
Robbed more than once of what he desired from life, Ben Williams is disillusioned with his concept of fairness. The only person alive that matters to him is his son, but his work takes him from home, leaving someone else to parent the boy. The railman hides his resentment behind a facade of good-naturedness and an illusion of self-reliance. He has every intention of his mind outwitting his emotions.
Eighteen year old Katherine McGinn is unaware that she views herself as an emotional victim, despite her strong faith. Her longing for acceptance and a desire for more from her common life are both held prisoner by her practicality. The only world she knows exists inside a rural community where she shares a house with her siblings and where mundane work is a necessity for survival. She guards her emotions for fear of disappointment.
When their lives cross paths, Ben and Katherine attempt to help one another move beyond their inner conflict, but their bond is threatened by new circumstances that demand the need for forgiveness.
Blurb for When The Butterflies Dance
Life can be thwarted by misunderstanding.
Forced to leave home after making a devastating decision, Ben Williams longs to be forgiven and reunited with his wife and child. His efforts to provide and parent from a distance and his written pleas for forgiveness to his wife seem to go unheeded. Separated from those he loves, Ben finally relinquishes his longtime grudge against God and accepts His forgiveness. However, despite this new faith, Ben struggles with the courage to do what restoration with his family requires.
Katherine Williams is torn between the love she feels for her estranged husband and the reasoning that he does not deserve to be reunited with her and their child. The tension has slowly transformed her into a guarded, controlling, and unhappy woman who cannot forgive her own mistake. When she at last releases her harsh feelings, life threatens her hope of restoration and the well-being of those she loves and protects, forcing her to either maintain a tight control over her family or release them to God.
Inspired by true events, When the Butterflies Dance is the second book in the Letters to Layton series by author Kim Williams.
DON'T FORGET TO LEAVE A COMMENT TO BE PLACED IN THE DRAWING TO WIN AN EBOOK COPY OF AMONG THE CREPE MYRTLES BETWEEN NOW AND SATURDAY, JANUARY 12TH AT MIDNIGHT MST.
BY LEAVING A COMMENT, YOU GRANT PERMISSION FOR YOUR EMAIL TO BE REVEALED TO THE AUTHOR IF YOU ARE THE WINNER TO FACILITATE RECEIPT OF YOUR BOOK.
A former school teacher for the past twenty-five-plus, Kim Williams has served on staff at her local church as the Director of Preschool Ministries. This role has allowed her to meet hundreds of wonderful volunteers, families, and staff. It has also given her the privilege of teaching leadership and ministry to children both nationally and internationally. Yet through those years, she always had the desire to write.
Kim has been a follower of Christ since she was eight years old. The summer between fifth and sixth grades, she met her future husband at camp. They were married in 1981. They are blessed with a wonderful daughter and son, who are both educators, and have amazing spouses. Kim is a proud grandmother as well. She lives in North Metro Atlanta.
Kim's Letters to Layton series is based on true life events.
Connect with Kim online:
Marketers on A Mission interview