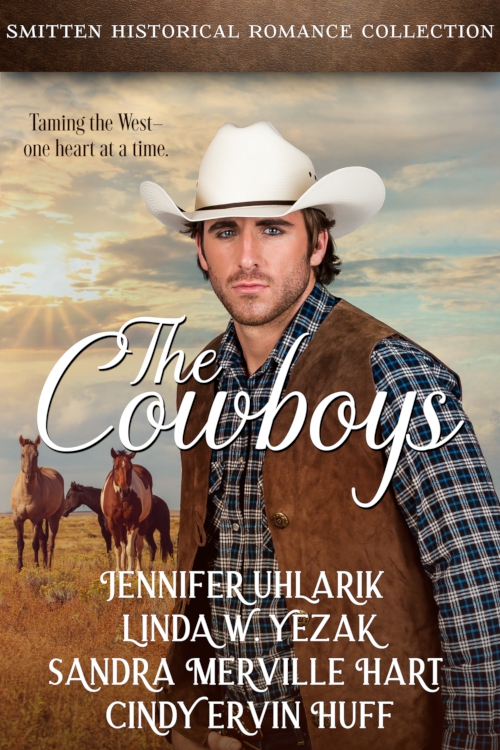 FEATURED BOOK: Smitten Historical Novella Collection: The Cowboys
AUTHOR: Cindy Ervin Huff
GENRE: Historical Romance
SERIES OR STAND ALONE: Stand Alone: (A novella collection
including Healing Hearts by Cindy Ervin Huff)
TARGET AGE: Women over 30
IT IS MY PLEASURE TO WELCOME AUTHOR CINDY ERVIN HUFF TO THE OVER 50 WRITER. CINDY GAVE UP ON WRITING FOR PUBLICATION—UNTIL SHE TURNED FIFTY AND RECEIVED INSTRUCTIONS FROM GOD.
CINDY IS OFFERING A GIVEAWAY! SIMPLY LEAVE A COMMENT BELOW TO ENTER THE DRAWING FOR WINNER'S CHOICE OF A PAPERBACK OR EBOOK COPY Of THE COWBOYS.
JUBILEE – A GIFT RESTORED
I'd given up writing for publication. My life was too hectic. Homeschooling for years, then working to pay tuition for my youngest to attended private school drained me. Inspiration eluded me. I resigned as a columnist for the local paper and quit writing altogether. At the time the lie—Christians don't read and certainly don't write fiction had gripped my heart and held it for a decade. I squelched the stories in my head and only released them to write skits for church.
Then at 50, while on a short-time mission trip, God spoke to me very clearly. He wanted me to use my active imagination. He beckoned me back to writing. God reminded me that the fiftieth year is the year of jubilee in the Jewish culture. If a man had to sell his land or become a slave because he fell on hard times, the year of jubilee-fifty years later, the land had to be returned to the family. The slave and his family were set free to claim that land. God commanded all to be restored.
"I want you to write novels." His declaration scared me.
"But Lord, I'm rusty. What publishers want is drastically different now. Besides, I only wrote children's stuff." He knew I had a partial novel tucked away in a drawer. I came home from the mission trip still questioning if I'd truly heard the Lord.
"If you want me to write again, provide the money for me to take an online writing course." That was my prayer. I am not a fleece kinda gal, but I was desperate to be certain he was calling me back into the writing world. I knew it wasn't easy to get published.
Of course, miraculously he provided the funds. The online course inspired me and reignited my passion. I completed my first novel. Then, I spent ten years polishing it after each rejection, 20 in all. I went to conferences, joined Word Weavers and read craft books and blogs and pressed on. After ten years of sending out my manuscript I was discouraged. "Lord. I'm weary. I want to quit."
Once again God gave clear direction. I won the Editor's Choice Award in 2014, then a contract with Lighthouse Publishing of the Carolinas. At age 60 my Historic Romance Secrets & Charades was published. The Maxwell Award and Serious Writers Medal soon followed. The next year I signed a contract with my agent, Cyle Young. My second novel, a contemporary romance, New Duet was a 2019 Selah Finalist. My novella, Healing Hearts is coming out in August as part of the Smitten Historical Romance Collection: The Cowboys. I've three more novels completed.
My blog Jubilee Writer was birthed as an encouragement to others who started their writing career later in life. If not for God's direct call, I know I'd have quit this journey. It's full of rocky roads and flooded streets. Yet, I am grateful that God restored and continues to lead me on my way.
Back Cover Blurb for Healing Hearts:
Lonnie Holt's external scars remind him of his failures, his internal scars torment him. Genny Collins seeks safety at the ranch once owned by Lonnie's uncle. When Lonnie and his brother arrive, sparks fly and distrust abounds. While Lonnie and Genny fight the love growing between them, his past haunts him, and her past pays them a visit.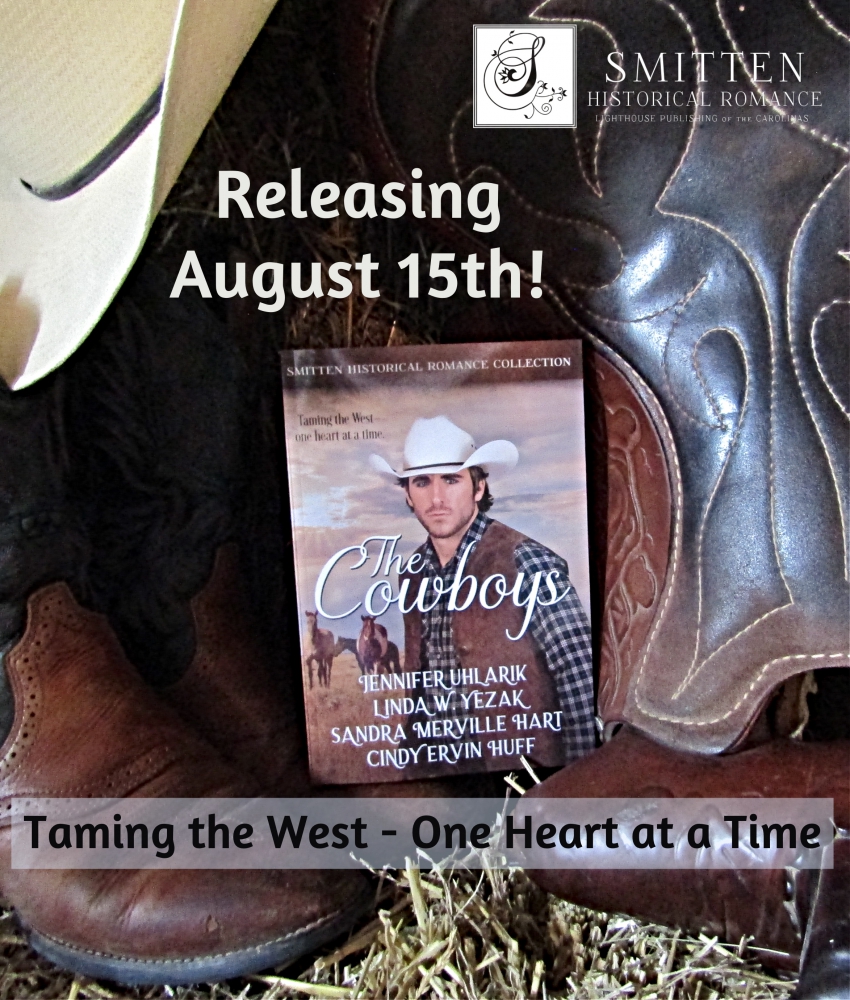 Healing Hearts is my upcoming novella. It releases on August 15th. It is part of the Smitten Historical Novella Collection: The Cowboys. There are three other wonderful stories in the collections written by Sandra Melvile Hart. Jennifer Uhlarik and Linda W. Yezak.
DON'T FORGET TO LEAVE A COMMENT TO BE PLACED IN THE DRAWING TO WIN A PRINT OR EBOOK COPY OF THE COWBOYS BETWEEN NOW AND SATURDAY*, AUGUST 10TH AT MIDNIGHT MDT. (US residents only eligible for paperback copy).
BY LEAVING A COMMENT, YOU GRANT PERMISSION FOR YOUR EMAIL TO BE REVEALED TO THE AUTHOR IF YOU ARE THE WINNER TO FACILITATE RECEIPT OF YOUR BOOK.
*The Cowboys releases after the drawing closing date and will be delivered when available.
Cindy Ervin Huff is a multi-published freelance writer who loves to bring her imaginary characters to life. She a mentor for Word Weavers International and founding member of the Aurora Illinois chapter. Her award-winning Historical Romance, Secrets and Charades debut in 2017 and her contemporary romance New Duet in 2018 was a 2019 Selah finalist. Her passion is to encourage other writers in their journey and believers as they grow in faith. Check out her blog, Jubileewriter.
Connect with Cindy: